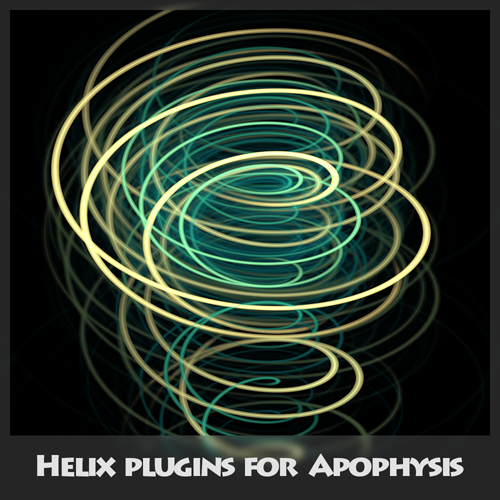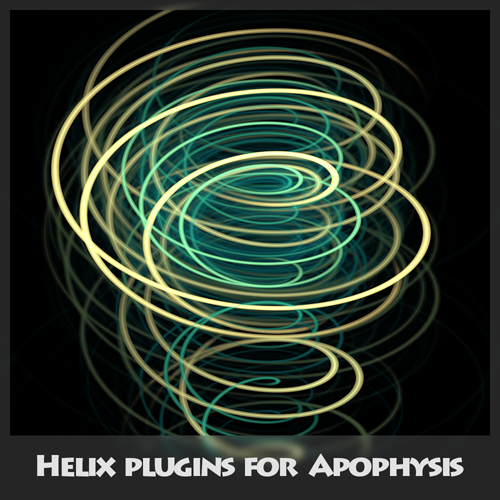 Watch
This pack contains two plugins for Apophysis 7x: helix and helicoid.
Visual effect of these transformations is similar - both create 3d helix by modifying x and y based on z. The difference is that helix offsets x and y, and helicoid rotates them.
The variables should be easy to figure out without instructions. Contact me if you have any issues.
Examples of usage:
Lumia
,
...and Again
,
Glasshouse
. Spiraling ribbons in all three pictures are helix.

Thank you , that will be handy in 3d bloomies

Reply

Nice. But when I try to open the flame file in Apop.7x is shows errors as 'It requires additional variables such as helicoid'.
Reply

I assume you tried opening the example parameters without installing the plugin itself.
To install the plugin copy the helicoid.dll to Plugins folder in your Apophysis folder.
Reply

I had already tried that. Can I send you the screen shot?
Reply

It looks like you're using the 64bit executable. Different version of plugin is needed in such case, compiled specifically for 64bit Apophysis. I don't provide such versions for multiple reasons.
You can google for "64 bit Apophysis plugins". Some people created plugin packs for 64 Apo and they should have included this plugin as well.
Alternatively, you may just use the 32 bit executable. I'd recommend going this way.

Thanks for using my plugins and sorry for complications. Historically most people used 32 bit Apo but I believe the community is growing and switching to 64 bit gradually.
I'm currently working on a small side project that's intended to resolve some issues with Apo, including bitness. I'll write a journal entry when it's done so you'll get a notification of you're interested.
Reply

Reply

Reply

Reply

lol I think I already got these ^^
Reply

Reply