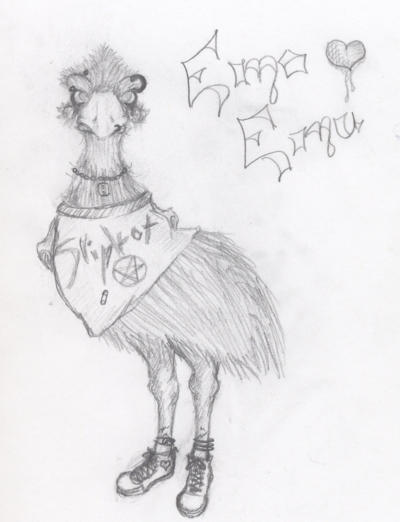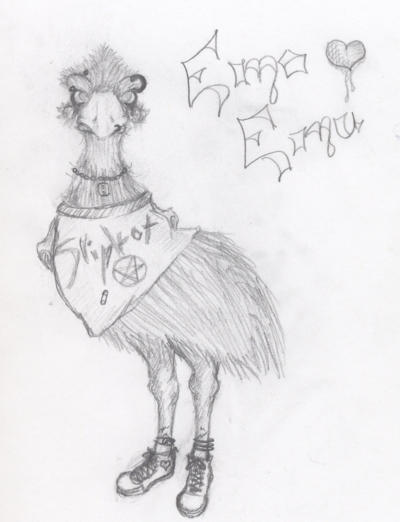 Watch
Yeah. Done to make fun of people I dislike... they thought it was cute though. I guess I failed.


I love how I stereotyped them, which is something that they always bitch on about, and yet because they thought it was 'cute' it was okay... I mean, what if I drew a drunken mexican in an old pick-up trunk!? HUH!? WOULD IT BE CUTE THEN!?

...sorry, nothing against mexicans...just trying to prove the stereotype thing... I luvs you mexicans!

Augh... I hope no one actually reads that...


ANYWHO!
Emo Needs(I wanted to get everything so I asked someone at school):
-Converse... but "make sure you put a heart on one of them, only the hardcore Emos know what that means!" (Did I ask? What do you mean did I ask? ...do you think I even care enough to bother? Okay then.)
-Jellies... (yeah, shh, I likes 'em too)
-Scars. Because faux suicide makes you different! ...augh.
-Slipkot shirt (What do you mean that's just like Slipknot, but without and N?). Because they [Slipknot] suck and emo bands suck. I put two and two together.
-Random safety pins
-Running eye liner
-Piercings (uhhg god... I loves them good too)
-blah blah blahhhhh...

...with only a little self mockery. o____o

so that's what an emu looks like?!

*shifty eyes*
Reply

mmm i met a lawyer once....i had to kill him almost immediatly though...i just felt so dirty....so cold and dirty standing next to him on that crowded street corner...luckily no one cared, i mean...he was a lawyer....ya know.....anyway...

pass the dip...
Reply

:

uts down pencil::looks down at half finished drawing of an Emo Ostrich::
...expect a call from my lawers
Reply

heh just kidding! i love it!

and anyway, an Emo Emu flows better then an Emo Ostrich ::calls off bloodsucking lawyers::

i think its awesome, consider it faved!
Reply

Mahah XD I luffs. It should be like... A mascot or something.

"Feeling a little emu?"
Reply

Hehe! Thanks... that's a great idea. o_o;
..you know they're go for it. Most of them don't know better.
(Aughs... I feel a little bad that I'm talking about them like they're less than human

)
Reply

Haha, this is hysterical. I love your description. It's so perfect. There are so many idiot emo kids at my school, and they make me want to kill things. Great, awesome, I'm going to

it.

Reply

Hehe, yups same with my school. Same with killing things... ahhhh! Thank you for the favorite!

Reply