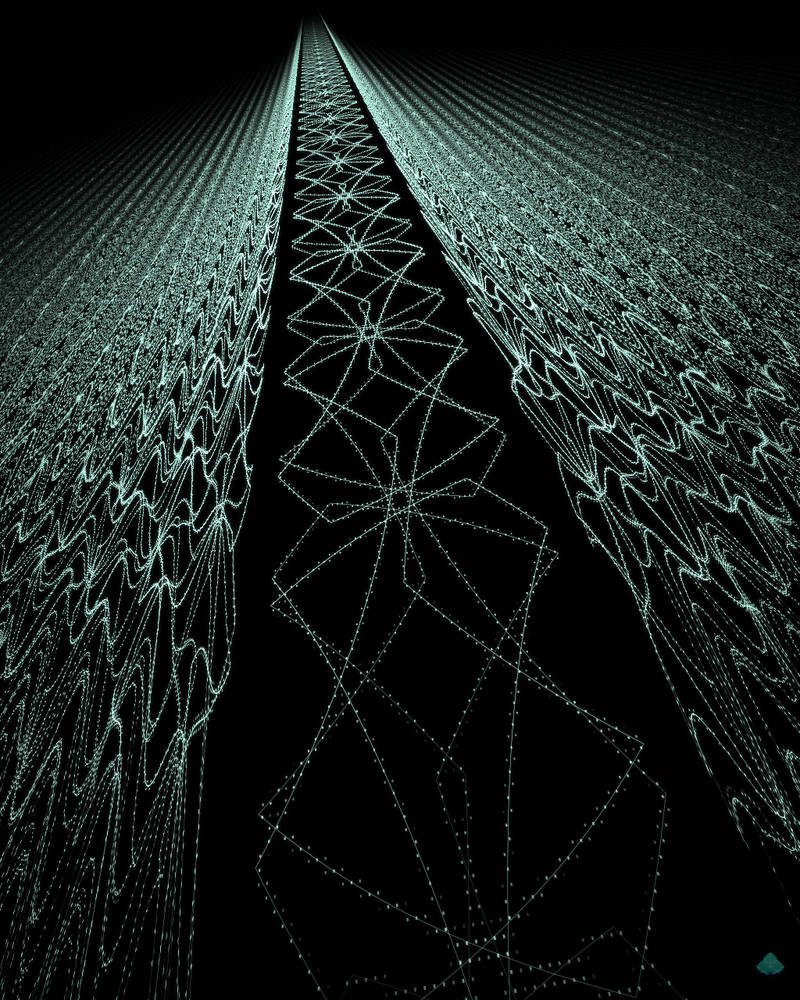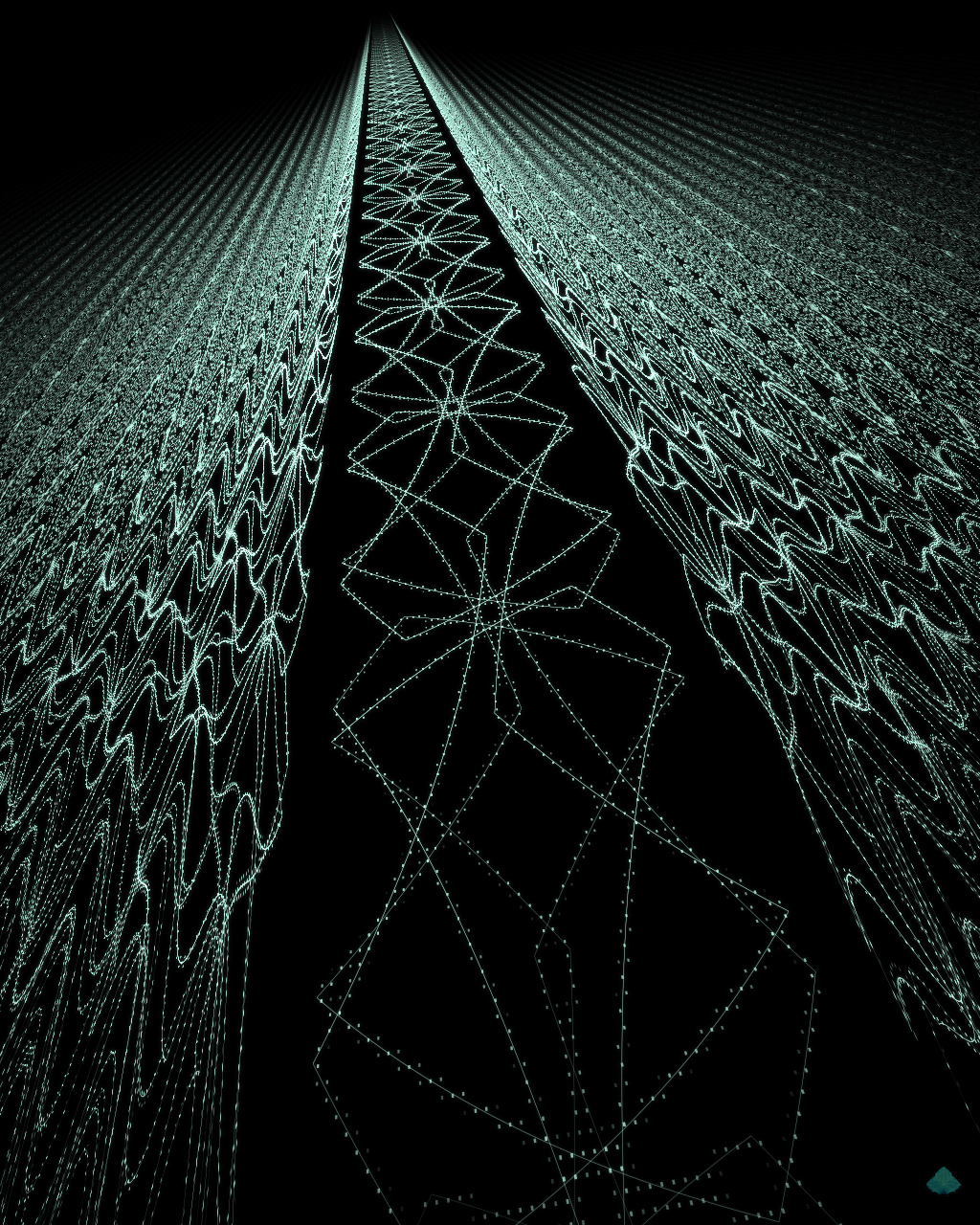 Watch

My entry to Apo-Weekly-Challenge #58 - 10++ Transforms

Apophysis 7x Version 15B
Parameters
<flame name="awc58" version="Apophysis 7x Version 15B" size="1024 1280" center="0 0" scale="51.2" angle="3.3227578299468" rotate="-190.38" cam_pitch="-0.00959931088596881" cam_perspective="8" oversample="1" filter="0.2" quality="5" background="0 0 0" brightness="100" gamma="4" gamma_threshold="1" estimator_radius="9" estimator_minimum="0" estimator_curve="0.4" enable_de="0" plugins="" >
<xform weight="0.1" color="0.408" symmetry="0.454" crackle="1" coefs="1 0 0 1 0 0" crackle_cellsize="8" crackle_power="0.001" crackle_distort="0" crackle_scale="0.4" crackle_z="0" chaos="0 0 0 0 0 0 0 0 0 0 " opacity="0" name="crackle"/>
<xform weight="0.5" color="0.408" symmetry="-1" linear3D="1" coefs="0 -1 -1 0 0 -2" chaos="1 1 1 1 1 1 1 1 1 1 0 " opacity="1" name="linear3D=0.5"/>
<xform weight="0.5" color="0.408" symmetry="-1" linear3D="1" coefs="1 0 0 1 2 0" chaos="1 1 1 1 1 1 1 1 1 1 0 " opacity="1" name="linear3D=0.5"/>
<xform weight="0.5" color="0.408" symmetry="-1" linear3D="1" coefs="0 -1 -1 0 0 2" chaos="1 1 1 1 1 1 1 1 1 1 0 " opacity="1" name="linear3D=0.5"/>
<xform weight="0.5" color="0.408" symmetry="-1" linear3D="1" coefs="1 0 0 1 -2 0" chaos="1 1 1 1 1 1 1 1 1 1 0 " opacity="1" name="linear3D=0.5"/>
<xform weight="0.5" color="0.408" symmetry="-1" blur_pixelize="1" coefs="1 0 0 1 0 0" blur_pixelize_size="0.04" blur_pixelize_scale="0.2" chaos="1 1 1 1 1 1 1 1 1 1 0 " opacity="0" name="blur_pixelize=0.5=invis"/>
<xform weight="0.5" color="0.408" symmetry="-1" linear3D="1" coefs="1 0 0 1 -2 -2" chaos="1 1 1 1 1 1 1 1 1 1 0 " opacity="1" name="linear3D=0.5"/>
<xform weight="0.5" color="0.408" symmetry="-1" linear3D="1" coefs="0 -1 -1 0 2 -2" chaos="1 1 1 1 1 1 1 1 1 1 0 " opacity="1" name="linear3D=0.5"/>
<xform weight="0.5" color="0.408" symmetry="-1" linear3D="1" coefs="1 0 0 1 -2 2" chaos="1 1 1 1 1 1 1 1 1 1 0 " opacity="1" name="linear3D=0.5"/>
<xform weight="0.5" color="0.408" symmetry="-1" linear3D="1" coefs="1 0 0 1 2 2" chaos="1 1 1 1 1 1 1 1 1 1 0 " opacity="1" name="linear3D=0.5"/>
<xform weight="2" color="0.96" symmetry="-1" linear3D="0.8" roundspher="1.105" coefs="1.416106 0.660341 -0.660341 1.416106 0 0" post="0.905632 0.079232 -0.079232 0.905632 0 0" chaos="1 1 1 1 1 1 1 1 1 1 0 " opacity="0" name="linear3D roundspher link1"/>
<finalxform color="1" symmetry="0.95" auger="0.5" post_smartcrop="3.169" splits="0.256" coefs="1 0 0 1 0 0" auger_sym="0" auger_weight="0.5" auger_freq="4" auger_scale="4" post_scrop_power="2" post_scrop_radius="1" post_scrop_roundstr="0" post_scrop_roundwidth="1" post_scrop_distortion="1" post_scrop_edge="0" post_scrop_scatter="0" post_scrop_offset="0" post_scrop_cropmode="1" post_scrop_static="1" splits_x="0" splits_y="0" />
<palette count="256" format="RGB">
277A794C8C8D78C4BAC1E7E7EEFFFFFFFFFFFFFFFFFFFFFF
FFFFFFFFFFFFFFFFFFFFFFFFFFFFFFFFFFFFFFFFFFFFFFFF
FFFFFFFFFFFFFFFFFFFFFFFFFDFFFFB7E8F189BCC654A096
698E987FA5A7A7C8C4CAFCF2FFFFFFFFFFFFFFFFFFFFFFFF
FFFFFFFFFFFFFFFFFFFFFFFFFFFFFFFFFFFFFFFFFFFFFFFF
DEFDF8BAE4EA92BCC47390977A706032495B1C3449090909
090909090909090909090909090909090909090909090909
0909090918370D3E512C61754E737D6F97A5A2CCD7C3ECF9
FFFFFFFFFFFFFFFFFFFFFFFFFFFFFFFFFFFFE7FFFFBDE3E0
6BA5A151898D45767344828B4F8C9D83AEAFB3D7D2D2F8F8
FEFFFFFFFFFFD2FCF3AAD6CF6E929A4170780B3E4D090B23
090909090909090909090909090909090909090909090909
090909090909090909090918122F45273F5445594D8C5832
BA6F40AE85567B8CA089A7ADA9E0D0B2F2DAA1DCD096BAB5
769D976C8D8E526F762F4F60091735090909090909090909
090909090909090909090909090909090909090909090909
090909090909090909090909090909090909090909090909
090909090909090909090909090909090909090909090909
090909090909090909090909090909090909090909090909
090909090909090909090909090909090909090909090909
090909090909090909090909090909090909090909090909
090909090909090909090909090909090909090909090909
090909090909090909090E1814394A4662705D918985A6A7
B7DBD9BDE4DECBF3EDC1EAE1B8E1D9CBE1CDECC187DCB59C
D4EEE8D6FFF7FFFFFFFFFFFFFFFFFFFFFFFFFFFFC7E1F4EC
97C3BA698B9645596E222D29090909090909090909090909
090909091F3509534E09464F091E5109091A090909090909
0D09094C0B094E140976230993573EC36F4DE08251D6A766
9F97A689A19FBCA092B482548D572F621C09481009090909
090909090909090909090909090922240909090909090D12
09363A1F4660395466415D6E28747517626C0B414D092229
090909090909090909090909090A0B094344123E61176270
</palette>
</flame>
Other entries for Apo-Weekly-Challenge #58 - 10++ Transforms here:
apo-weekly-challenge.deviantar…

Reply


you reveived it???
Reply

I think you mean "received", not "revived"....? I was referrencing Paris terrorist situation. A lot of emotion and mixed "noise" from those closer to the impact point, whereas those of us further away could extract a clear(er) signal and be a bit more objective about what it all means to us all, collectively, as a point in our common evolution. Well, some of us. Others...not so much.

Reply

you are right of course...

oh, this paris thing is really mebarrassing and very harmful to the world for sure... to us it looks like a very poor fake, and the fact, that so many people went on the streets FOR THAT is really disturbing - there are so many things that should concern them and make them go out - but not this... and again they use the jews - ooops, i got something mixed ip, no?
here in germany things change fast now, the direction things take lately is not good at all - we're worried...
on the other hand i'm so very happy to still have a good, peaceful place to live, a good familiy, good friends and my arts - be it music or photography - i'm living in luxory and i'm very well aware of it...

anu, i really hope you're doing fine as well...

Reply

Yes, it was all crazy hive/herd behaviour.
We have a retro dumbo leader but he's on the skids. His stupidity is obvious even to the thickest amongst us.
But I too have a peaceful life with nothing so bad I can't overcome and move on. Not exactly in luxury, more like a 3rd world idyl. But I feel blessed.

Reply

it definitely was, and it's a shame that it always works the same way again...
we are happy that putin was strong enough so far not to let himself get provoked - but there are rising forces against him in russia who want to let their muscles play like the drunk yobs on the fair - exactly what is expected from them...
i don't know the expression "on the skids", could you explain please?
but it`s good to know that you're alright over there...



Reply

Yes, well Putin can stand aloof, he has other worries...like Ukraine. Here we have a view of Putin as a high order gangster crook and a hard nosed strutting rooster. He is feared by those who even know who he is. But because we are so isolated and far far away from the Eurasian continent, if you ask the average young local person who is Putin, or who is the leader of the Russian people, they just wouldn't know. Very few would know any European leaders, or Asian ones either, come to that. So many are locked into sport, sport, sport. And the Tv feeds them British input or American shows like NCIS & CSI. Only the older people, mostly the ones who have been to university, pay much attention to global politics. Of course this is a broad blanket statement and of course there are a lot of intelligent young and old who are very much in tune, but it is all media generated knowledge and getting past the censorship walls of government- or Murdock-generated information to real truth...that takes more time & energy than the average person can afford to invest and still earn a living.
Very few people here really know what's going on in your world. I certainly don't have a clear view and I do watch the German, Italian, French, Al Jezeera Hindi and any other culture I can find News programs. Luckily, because of my travels, I have a sort of grasp of some 12 languages, and can figure out what's being said & shown; but I don't know too many others who have the language skills, or the interest to watch these broadcasts. Most Australians are self involved and the best they can manage is local and national politics & current affairs. I'm afraid Ozzies are mostly a very insular lot. Fortunately not ALL

.
"On the skids" means unable to stop on a fast downhill slide. Out of control and doomed to fail. I think it refers to Skid Row, that street of homeless derelect people who drink bad liquor out of bottles covered in brown paper bags. Bag ladies with all their worldly possessions in a supermarket trolley who live out of garbage bins. When someone is "on the skids" it usually means they are headed for that kind of fate. If you ever need to find out these kinds of vernacular refs, Google the Urban Dictionary of Slang ot one of those useful sites. There are a few. Just type in the phrase & ask Google find to translate it and you usually find those sites.
Reply

OMG, what the hell? SO COOOLLL!!!!!!
i loved XD
Reply

Reply

Hmm thats quite interesting really.
Reply