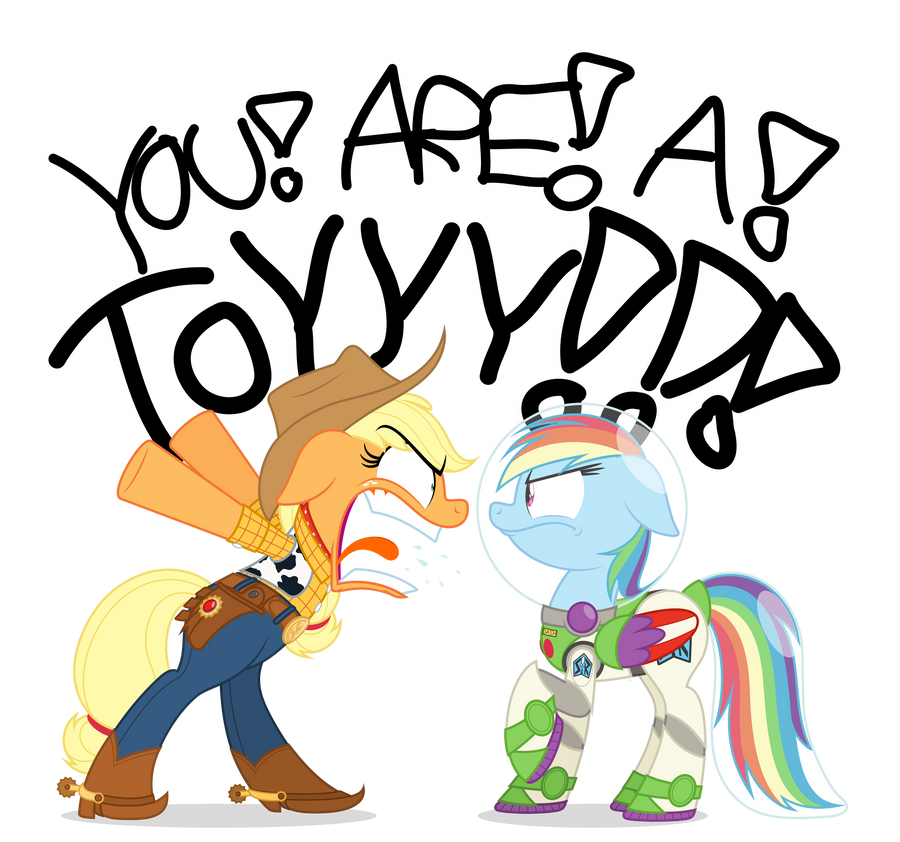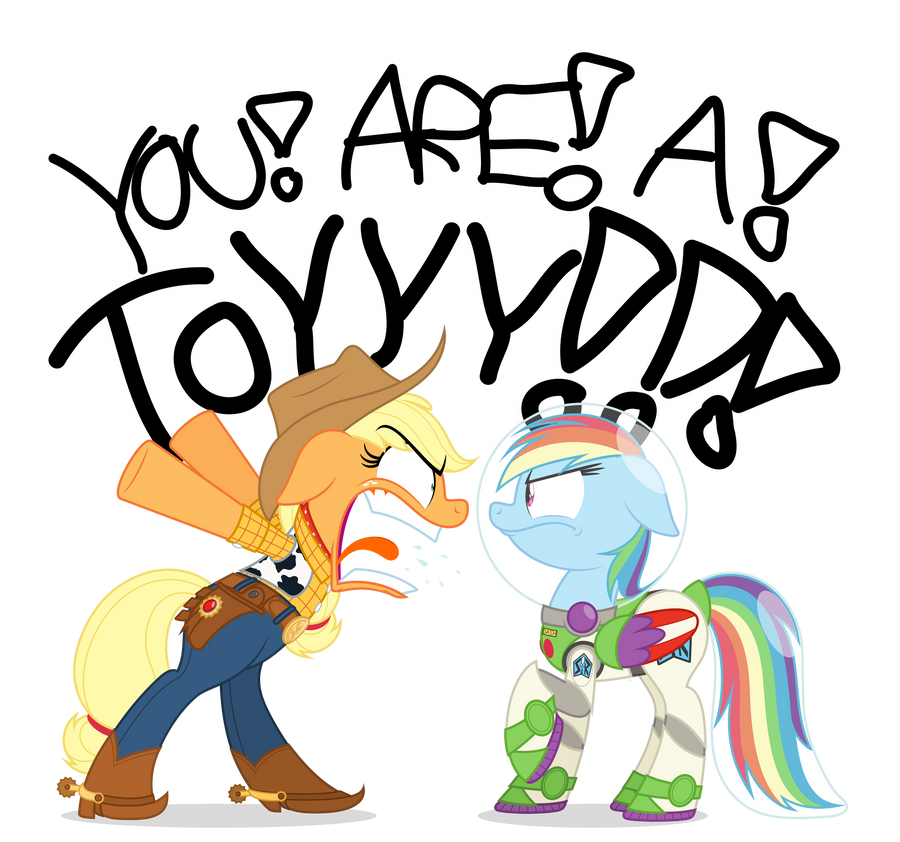 Watch
---------------
For extra nostalgia boost:
dl.dropboxusercontent.com/u/10…
I started creating it some time ago to celebrate finally getting myself a personal DVD of Toy Story 1, but only today I got around actually finishing it.
PS: Thank you very much for the overwhelming response! That was definitely a very pleasant surprise.

(I would appreciate though if you could quote something else than Lightyear's "You're a sad, strange little man" or Woody's "You're a child's plaything" lines in the comments. We have plenty of those already.)
---------------

Inkscape SVG file:
sta.sh/0gh3wbd8a8i
This vector was created from scratch in Inkscape, using only a mouse and no sketches of any kind.
Featured in EqD's Drawfriend #758:
www.equestriadaily.com/2013/03…
---------------










Based on "My Little Pony: Friendship is Magic" by Lauren Faust and on "Toy Story" by Pixar Animation Studios.
I am really happy that I happened to stumble upon this deviation. To me, it is the perfect mesh of one of my favorite nostalgic movies and one of the best animated shows on modern television. The costumes are spot-on, with every single detail in place, and they don't look awkward at all on Applejack and Rainbow Dash; in fact, you made it feel like they were MADE for these characters to wear. The expressions on their faces are perfect, conveying all the right emotions while still being delightfully over the top. It's also very colorful and bright, which I love for this particular situation. And the fact that you picked AJ for Woody and Rainbow for Buzz works splendidly; their relationship to each other is indeed very similar as Woody and Buzz's, so I could definitely picture this playing out the same way as the movie. I honestly think this would make for a hilarious episode of MLP, and you should be the creative consultant if they ever do. Keep up the great work!
The Artist thought this was FAIR
80 out of 83 deviants thought this was fair.
okay, the first thing that is AWSOME about this is that this is my favorite scene from one of my FAVORITE disney pixar movies and one one of my favorite shows.
and that they are making exact eye contact and that's just one of the things that are funny about this. the suits fit perfectly on them, and applejack and rainbow dash look great in them, espiecaly apple jack.
this is SO funny and this makes me want to watch the movie again.

i suggest people who love this pic and hasn't watched the movie should watch it and understand if they don't.
The Artist thought this was FAIR
5 out of 5 deviants thought this was fair.