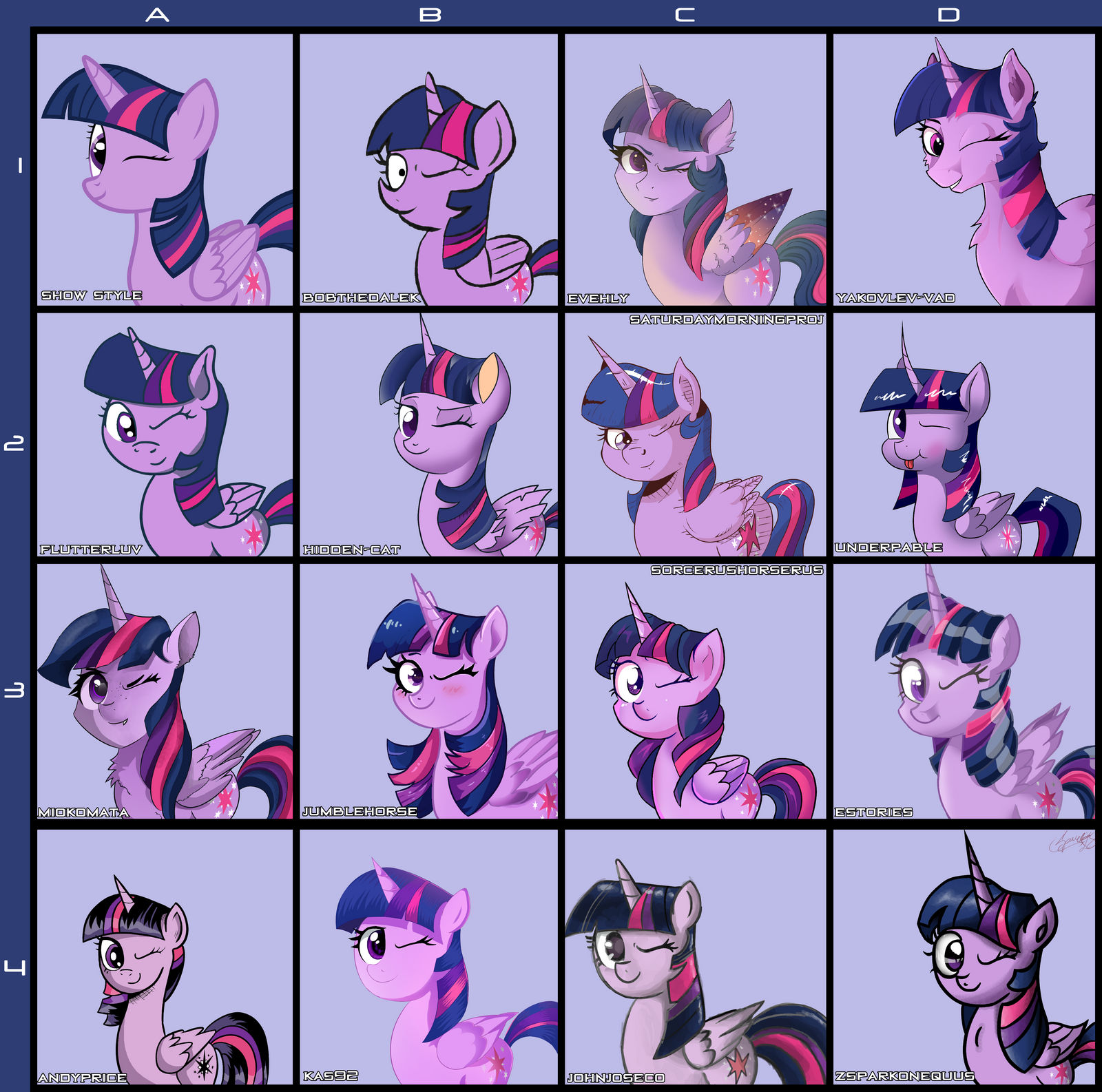 Watch
This is a very special piece, not just because I have never uploaded something like this but because is also a tribute to some of my favorite artists of the fandom by emulating their styles. I always wanted to do something like this but I also always ended up pushing it up for later. I have seen tons of images like this, but they always seemed to be about a character drawn in famous styles, you know, Disney, PPG, etc., so I said, why not try it with artists of a fandom? So here we are.
There will be a part two and maybe even three, I already have some of the designs for the next one done, they were gonna be in this but I couldn't make them "fit" in this because they weren't enough to make it a mathematical matrix.
For this I choose the artists that I liked the most (with the exception of me and the show itself) and I also tried to choose artists that are active right now in the fandom, I will maybe do some inactive ones in the next one but they gotta be artists that I REALLY like for me to include them.
I choose Twilight because she's one of my fav ponies but also because she's the one I like to draw and know how to draw the most, I don't have to look for any reference when drawing her. I also choose a pose that was simple to avoid major complications but with an expression cute enough to catch the viewer's attention.
This took much more time than I thought, sometimes, to draw her I referenced the artists' drawings and tried to look up if they had drawn Twilight; but turns out sometimes they had NEVER drawn twilight or at least not recently, sometimes they were more of a Rarity or Fluttershy artists so I had to totally imagine how Twi would look in their new style. Some times the artist's main style was show-style so I pick another style of them.
Also, at first I tried to look for images in which Twi was in a similar pose but I scrapped that idea because that would be like a total referenced pose and style and there was no point in doing that.
ALSO, I tried to sample the colors they use for major emulation accuracy.
I had never done this before, so, please tell me how it turned out! Have in mind that I had to guess what techniques they used by just looking at their art pieces, from line art to color, shading or even eye style. That's what emulation is about, not just think how it would look, but make it look exactly like the other styles.
It originally had a transparent background but I changed to light color, I think it looks better this way.
The artists are:
A1: Show style
A2:

A3:

A4:

B1:

B2:

B3:

B4:

C1:

C2:

C3:

C4:

D1:

D2:

D3:

D4: Spark (Me)
They were all fun to draw but the hardest one was probably Evehly, pretty beautiful pattern to follow but also kinda hard.
One funny thing to add it that I drew twilight first and then did the show-style vector later when I think it should have been the other way around.
The next one will be 16 styles from others, no spark and no show-style.
And now, to rest and to do the next one. You can also suggest artists for me to emulate!
Commissions open!:
www.deviantart.com/zsparkonequ…
Sketched traditionally in pencil and digitally in Paint Tool SAI 1.2.5 with a BAMBOO CTL-470. Colored and shaded with Photoshop CS4.

HASBRO
and it's logo
MY LITTLE PONY
and all related characters are trademarks of Hasbro and are used without permission © 2010-2018 Hasbro.
~Spark


Whew! It had been years since I wrote that much in a description, I guess I have said everything I wanted about this now n_n'