Birds 2 Brush Set

27 unique Photo based Hi-Res Brushes
PLEASE READ THE FULL DESCRIPTION

INCLUDING:

single bird stamp brushes
bird group brushes
Not only Stamp overlays, you can actually paint with them.
Ideal for sketches, good base for illustrations, concept art, matte painting
This brush set works very well with our
Birds Brush Set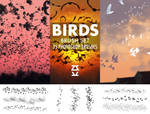 The Brushes are compatible with
Photoshop CC
and
Procreate 5.0
as well (you should be able to import .abr files into Clip Studio Paint v1.10.5 or newer, Affinity Photo and Substance Painter as well)
Please feel free to give feedback, I'm working towards to make the best possible tools for you!
Have fun!

Don't forget to extract your brushes after download them!
How to import Photoshop brushes into Procreate, check out the
tutorial
for more details!
Disclaimer:
100% money back guarantee is only valid if the product is faulty and can't be fixed.