- For my artworks I use Krita paint program -
Art Status : I'm back and ready to paint!
Gift artwork - closed
Commissions - Art for You Commission are "OPEN"
Requests - closed
My works - Soon
Where you can find me :
> on DeviantArt
- I am most active here, contact me if you have any question for me
> on YouTube
- I'm active on youtube but I don't publish
> on Pinterest
- I am sometimes active on pinterest but I do not publish anything
- Commission prices -
> For Points :
- New Year's, Christmas and Halloween YCH price: 100 Points
- YCH Regular price: 160 Points
- Headshots and background : 160 Points
- Full body and background : 400 Points
- Special Artwork : 800 Points
> Payment via PayPal, You can pay me here: https://paypal.me/ZRBossPayPal?locale.x=en_US
- New Year's, Christmas and Halloween YCH price: 1€
- YCH Regular price: 2€
- Headshots and background : 2€
- Full body and background : 5€
- Special Artwork : 10€
More details:
(1€ Euro in dollar is a 1.16$)
(2€ Euro in dollar is a 2.31$)
(5€ Euro in dollar is a 5.78$)
(10€ Euro in dollar is a 11.55$)
The Empress Zhalia :
Welcome to my page, enjoy!
Before I came to DeviantArt, I was painting and perfecting my skills, since a kid, Now I'm Adult and I'am ready to show my skills.
I'am Empress Zhalia R. (ZRBoss), You can call me Zhalia, I'am Imperial Highness, I try to show only the good side of my because my predatory side isn't very nice, I'am a wise dragon, full of knowledge and understanding.
I don't want to show the Monster inside me, because you might not like it that monster site, All dragons have it.
I'm a dragon and if you know the dragons?, well you will understand me, because I'am primarily part of the kind I belong "Like any dragon I love my mighty kind" and that's my kind, I'm proud of it.
Most combative dragon, Superior Fighter of the Strongest Category that's me mighty empress Zhalia, the Strongest Dragon, because of my hard work to deserve the crown and the throne, to be the most powerful goddess.
I fight against evil and villains, lead my dragons, I crush evil souls and shine with light, I punish evil to burn in hell, I fight fearlessly, I have no fear because I'am fear, evil will never exist again, I will destroy it forever with my power and wisdom.
I also have secret powers.
My dragon type is: Armored Celestial Dragon
Explanation of meaning:
- Armored because I have armored scales
- Celestial because I have special celestial powers and body transformation
- and a dragon as a species
To add, I'am a good and positive dragon with a strong attitude.
("I'am a very good person, optimistic, friendly but I'm not naive or stupid")
One more important point, I understand things as a dragon, not as a human
("Well, in these 20 years I have understood how human understand the world around them" this means that I understand people very well now)
- I'm a trusted dragon -
My favorite artists on DeviantArt - Follow them All !!! :
My Groups - QR Codes :
If you do not have a mobile phone at hand, click on the code to visit the group .
Dragon World Studio: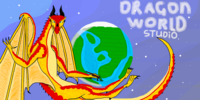 The Deity of Dragons: