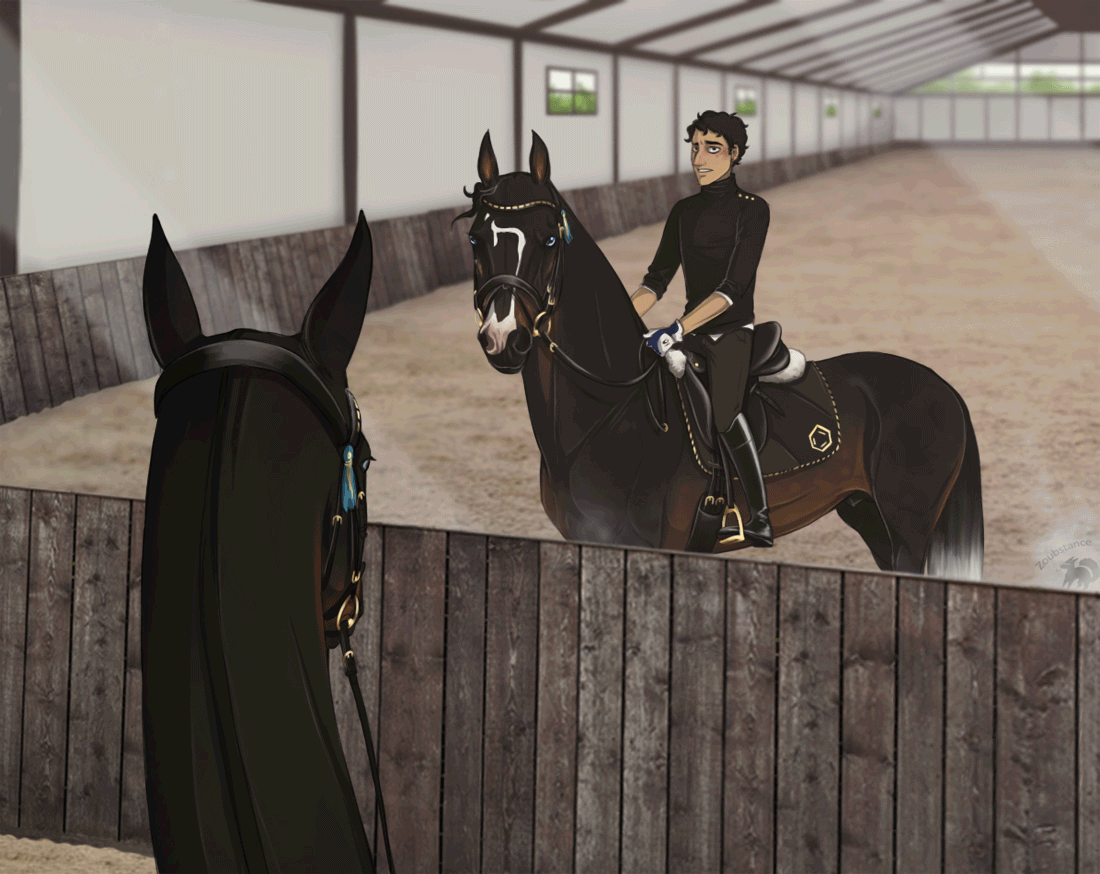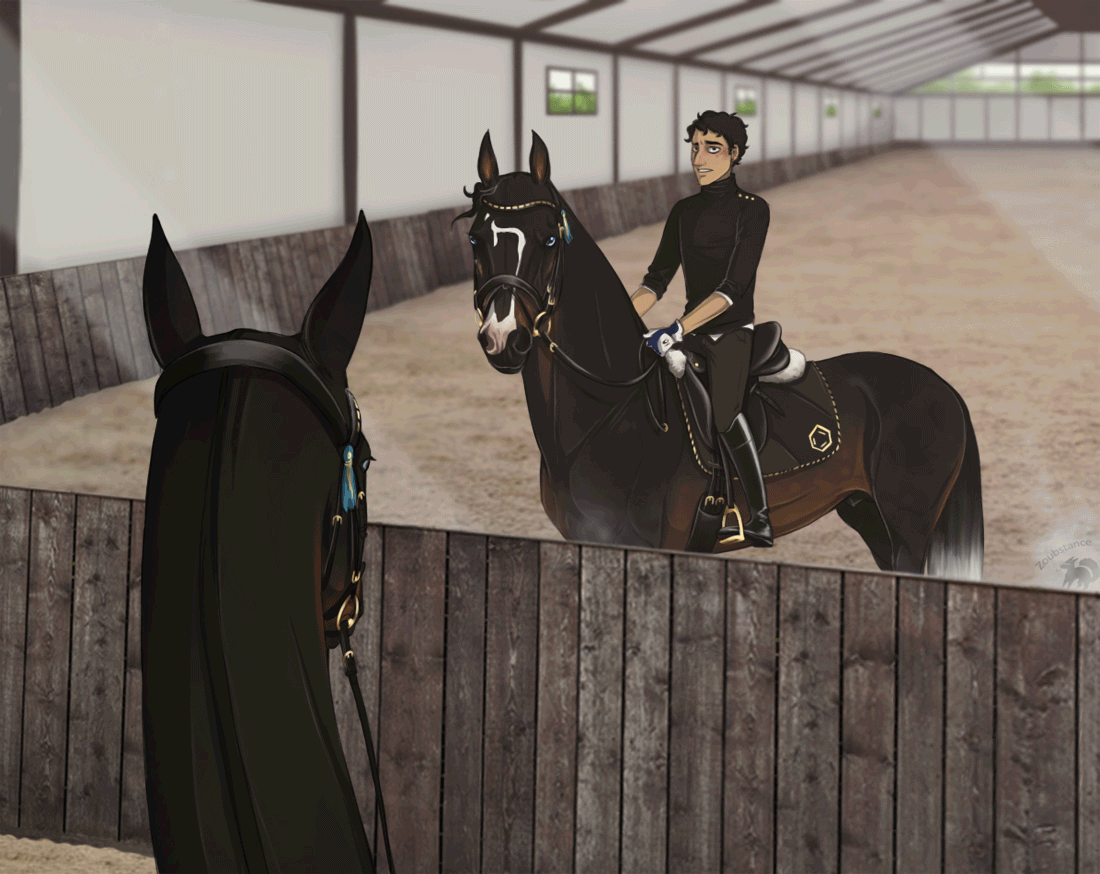 Watch
Ahh yes, glorious .gif quality... :')
Previously:
'They grow up so fast'.
Almost a banality, this sentence; a platitude typically used by parents in reference to their children. It was also true about horses, Gideon reflected as he watched his trainer 'Steinadler' trotting Karn around the arena at Stridsholt. It felt like only yesterday Gideon had played with the long-legged colt in the paddock in winter, and now here he was: a strapping, muscular young stallion of three, fresh under saddle and already starting to resemble a future dressage star. Stein had done a tremendous job during these first days of breaking him in. It was merely his fourth time under rider and he took it with grace and good manners.
,,Not bad," Stein commented as she passed. Her voice was flat and neutral but Gideon knew his trainer well enough to know that this was as upbeat and ecstatic as she would ever get about anything. She was clearly impressed with Karn's progress so far.
,,Not bad indeed," he agreed in the same flat manner - like trainer, like student.
,,He might be a strong contender for next year's young horse championates." Stein continued. ,,That is, if that is your plan, of course."
Gideon shrugged, not really sure about anything anymore. His future still came with a lot of 'ifs' and 'buts' - nothing was carved in stone. And then of course there were other futures to take into consideration as well: the plans of Zdarloch Sejrbank might not align with his own.
,,I don't know, Stein," he said with resigned honesty. ,,Maybe. If the stars align just right."
Steinadler sucked on her teeth, eyes squinted half shut. She held up the horse in a halt and sent her student a penetrating glare.
,,You're such a waste of talent, Gideon." was her very blunt reply. Gideon blinked a few times in return, almost choking on how direct she sometimes was.
,,Eh... excuse me?"
,,You heard me. I think you're wasting your talent." She propped one hand against her side and kept her stern expression. ,,Before the accident you had all the possibilities in the world to go the entire way in this sport - and you kept holding back and making it hard for yourself. You've ridden many horses for me and my clients, but none of the horses you've ridden have been your own. And every time you've gotten somewhere with a horse, it has been sold or otherwise taken from you. Now, even as you're beating the odds of never returning to the saddle, you still return to these old ways of just passively letting horse after horse slip through your fingers."
A palpable silence ensued as Gideon chewed on those words.
,,...I have already guessed what you're thinking." Steinadler went on. ,,'Oh Stein, I just don't want people to see me as every other talentless rich kid who cheated their way to succes by purchasing a great horse!'. Well, my boy, you've already proven you're not. But right now you're cheating nobody but yourself - why are you holding yourself back? That Sejrbank kid sure won't once he realizes that Karn Evil here might be capable of".
,,Kvark didn't cheat his way to success by just buying a great horse," Gideon countered.
,,Indeed not" Stein agreed. ,,But unlike you, he certainly doesn't let morality and 'fair game' stop him from taking the chances that need taking. You could learn from him. By the time you've brought Karn up to Small Tour classes I expect Kvark will be eager and willing to take the reins from you by fiddling with the Sejrbank contracts. And then you'd lose the 3rd horse you brought to that level. Don't let that happen. Be a shark for once: just buy the horse."
Gideon chuckled nervously.
,,Stein, you may need to backtrack a little." he said politely. ,,I'm just a cripple who can't walk. I have never even sat on Karn. I may never return to competitive riding. Who says I'll even be able to ride him at any level?"
Steinadler just pulled a wry kind of smile at that and let herself slide off the horse.
,,Well. Why don't you try him, then?"
She made a very saying gesture towards the saddle.
,,Ehm..." Gideon swallowed. ,,He's been ridden... four times."
,,He's a perfect gentleman, you know him. He likes you far better than he likes me anyway. Go for it."
Without waiting for his answer she went to get the stepping stool and before Gideon knew it he found himself climbing onto the tall stallion's back.. with some assistance from his trainer. Karn turned his head to watch him settling in the saddle but appeared entirely unruffled by his presence there. Ever the gentleman.
To Gideon, though, 'unruffled' was far from descriptive of how he felt in this moment. To finally sit on the back of his favourite 4-legged friend... the feeling was ecstatic. It easily rivaled the exhilaration he had felt after the gallop on Hilas.
,,There you go." Steinadler said matter-of-factly and patted his leg. ,,Off you pop. Take a walk."
Karn stepped forward, his stride much larger and covering far more ground than Hilas', but it was pleasant to sit to. Gideon let him walk relaxed on a fairly loose rein as they both got used to each other. He passed the mirror, casting an appreciative glance at the reflection of himself and the dark stallion – only, something in that reflection caused him to halt rather abruptly, giving the image an intense stare. A detail he had seen but never really noticed before – mostly because he had never seen it reflected from this angle. In the mirror image Karn's head marking resembled a specific, powerful symbol.
It all made sense now. The way his subconscious mind had played tricks on him following the accident. The answer had been right in front of him all along, a clue hidden in plain sight.
,,Oh, there you are," he said to the mirror image. ,,Good to see you again – Chaim."


To be continued ~

Next: 3.9: Plotting




DUN DUN DUNNNN...
Ready for your daily dose of wtf?





Con and ZS Karn Evil ( = Coooorn) reside with me
Own ground texture
Wood texture from cgtextures
This was my inspiration for the angle, but I used no refs in particular (and I had to hide Karn's horrible corgi legs behind the wood panel, because GOOD LORD xD)