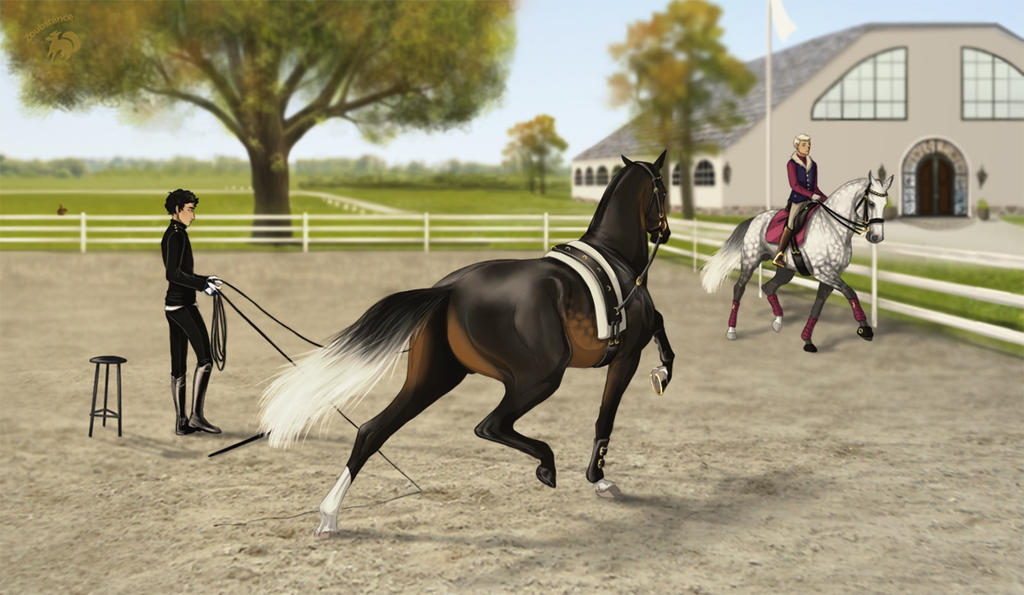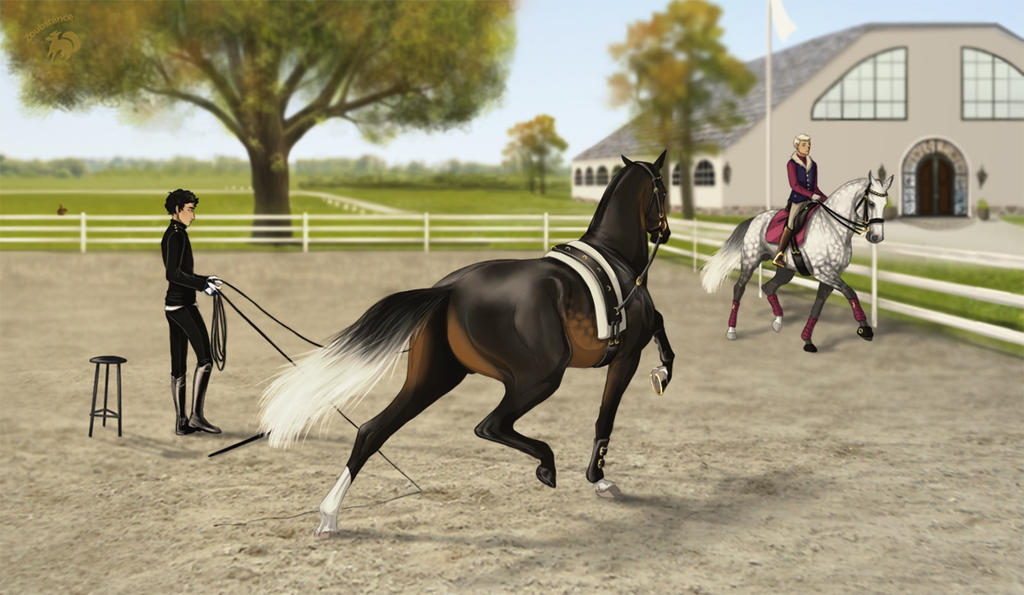 Watch
Previously:
''Don't allow jealousy to cloud your judgment. It doesn't suit you."
That had been Andy's verdict. Not word-for-word what he had actually said, but it was essentially the essence of it. It was surprising: of all the things Gideon has expected to hear, that had not been one of them. Yet it helped him put things into perspective - knowing Andy would never subdue his most prized horse to faulty riding (and knowing Sagadir was too high-strung to settle for an insensitive rider), he thought critically about it and realized that Andy may have had a point.
Gideon had been robbed of his chance to finally show Sagadir at Grand Prix level - after 4 years of meticulous, dedicated training to get the horse to that level, Fate had denied him this opportunity through unfortunate circumstances. And now, fresh out of a 7 months long hospital stay, he had to watch his old rival -a guy he did not hold in high regards on a more personal level- take over and harvest the fruits of his hard work. Was it possible he had seen what he wanted to see that day? That his own jealousy and bitterness wanted to find flaws in Simon's riding so he could point it out and emboss himself?
Absolutely. He had a word for it too: Schadenfreude. What an absolutely awful character trait to possess. Once he became aware of it, he studied it within himself with the same cool, calculated fascination that a scientist might study a particularly rare growth of fungus. He came to the realization that Andy's verdict was probably more on point than he had first assumed. Drawn brows, clenched jaw, gritted teeth, regretful sighs – all these things he started noticing himself doing whenever Simon was working the big grey in his proximity. It was not Simon who was the problem: it was himself - and it was the ugliest eye-opener he had ever received.
Determined not to become that guy he took care not to nurture this unfortunate trait within himself further and instead strived in a different direction: to overcome the need to comment on flaws and to apply more neutral eyes to what he was seeing.
A week went by. Then another.
…And it worked: Simon remained his own arrogant self, but laid off the acidity. And, perhaps to Gideon's initial regret, he began to realize that Simon and Sagadir were actually a very good match. Simon was someone who focused less on perfecting the details in his riding and more about delivering a show, something spectacular. There was something about this less rigidly ''correct'' style that seemed to fit the grey very well. It had less emphasis on meticulous groundwork, flawless figures and textbook precision (something that 'Connor' had always placed above everything else) and more focus on harnessing the stallion's high energy level and flashy moves into something useful. Unleashing it instead of trying to control it. It was evident the horse enjoyed it. Simon had been right – there was more than one way to do something. As for hyperflexion, no traces of it in Simon's riding were seen again. That just goes to show that you cannot always trust your own eyes to make an initially unbiased assessment of any matter that holds personal value to you.
September ended in rain, rain, rain and October arrived with heavy, muddy steps. The temperature dropped steadily, especially at night, and gave rise to dim, freezing mornings with a tincture of that rich, earthy autumn smell that marked the change of seasons. While the trees remained clothed in robes of green, undertones of yellow and orange began to adorn the hems of their gowns. Some days still held an accent of summer and on one such day Gideon made sure to take advantage of it by moving Karn Evil's training outside.
The young stallion had been introduced to the saddle in February, before the accident. He had been remarkably calm about the entire ordeal, and now eight months later he did not appear to have forgotten what he had learned back then. Still, Gideon thought it wise not to rush things – a 'growth break' had been planned for Karn anyway, and while this impromptu 'break' had been somewhat longer than planned, they were in no hurry. Better to start them right and at their own pace – it would save time later on.
Karn Evil himself had grown into an impressive horse. He was tall, large-framed and for his age remarkably well-muscled. He carried himself with large ground-covering strides, tremendous power and a light-footedness that may not have been expected from such an equine powerhouse. But most importantly: the horse was a perfect gentleman. He was young and energetic, yes, but one of the gentlest, politest horses Gideon had ever worked with. He did not scream and prance and lose his concentration every 5 seconds like Sagadir but followed quietly, always attentive. And maybe he sensed his handler's frailty by instinct because he always saved his happy bucking and leaping until he was safely out of reach, either in the paddock or at the end of a longe line.
Gideon watched the horse trot in circles around him, silently appreciating the natural positive tension in the topline as Karn drew his neck forward as much as his strength and balance would allow at this time. He got so absorbed watching the horse that he did not notice Simon at first. Only when a flash of movement at the periphery of his vision caused him to look up did he see that Simon and Sagadir had entered the arena. They must have kept to the other half of the ring until now.
Gideon instinctly tightened his grip on the longe line as Simon and Sagadir came closer. He expected Sagadir would lift his head and scream at Karn the first few times they passed.
…but he did not. There was the slightest hint of attention in Sagadir's eyes as he passed swiftly by, but he kept his collection and did not break contact on the rein. The second time they passed the same thing happened. Third time: not even the hint of distraction. Now that was odd…
,,How did you do that?" Gideon asked Simon after the fourth time. Simon looked up and took Sagadir to a walk.
,,Do what?"
Gideon called Karn to a halt.
,,Sagadir is notoriously distractable, in particular by other horses," he explained. ,,Whenever I took him to shows it was a rather hellish experience to keep his concentration in the warm-up ring with plenty of other horses around. Now he didn't even react to passing right by Karn. So I wonder: how did you do that?"
,,Hmm. I didn't do anything. I guess that's my secret." Simon replied cryptically after thinking about it for a second. ,,I think it's about anticipation."
,,Anticipation from the rider?"
,,Exactly. You started riding him when he was a youngster with no manners. You learned to anticipate his reactions, and in doing so you prepare to correct it before it happens: tiny shifts in seat and hand you don't even notice yourself doing. Sagadir is sensitive enough to pick it up; thinks 'something is about to happen' and responds accordingly. Now me, I don't know the horse that well yet. I don't know what he reacts to. Thus I stay quiet and so does he."
,,Hmm.."
Gideon chewed on that. Perhaps he had been seeing things the wrong way the entire time. As it had been a problem he did not have with other horses, he had assumed the problem was with the horse's concentration – but this did make sense. He himself was a famously nervous wreck before shows... or at least he used to be. Now he just had wrecked nerves - literally.



To be continued ~
Next: 3.6: Still got it
Token cliché arrogant, upperclass blonde villain who also just happens to use questionable training methods...? I see you and I raise you: jealous, biased, imperfect main-character who may have seen what he wanted to seeeee ~

Hehehe, I think I may have started myself on a new quest to finally show more of Zdarloch's setting in my drawings, even if the perspective is... questionable.... Regulars might recognize
#TheBigAssTree
B) ...as for the riding arena.. urgh. Not sure about that facade, but it got a bit overwhelming and I might explore that in detail
later
:')
BEHOLD KARN'S BUTT


These kiddoes reside with me
So do
Sejrbank Sagadir
and ZS Karn Evil

Ground texture: own