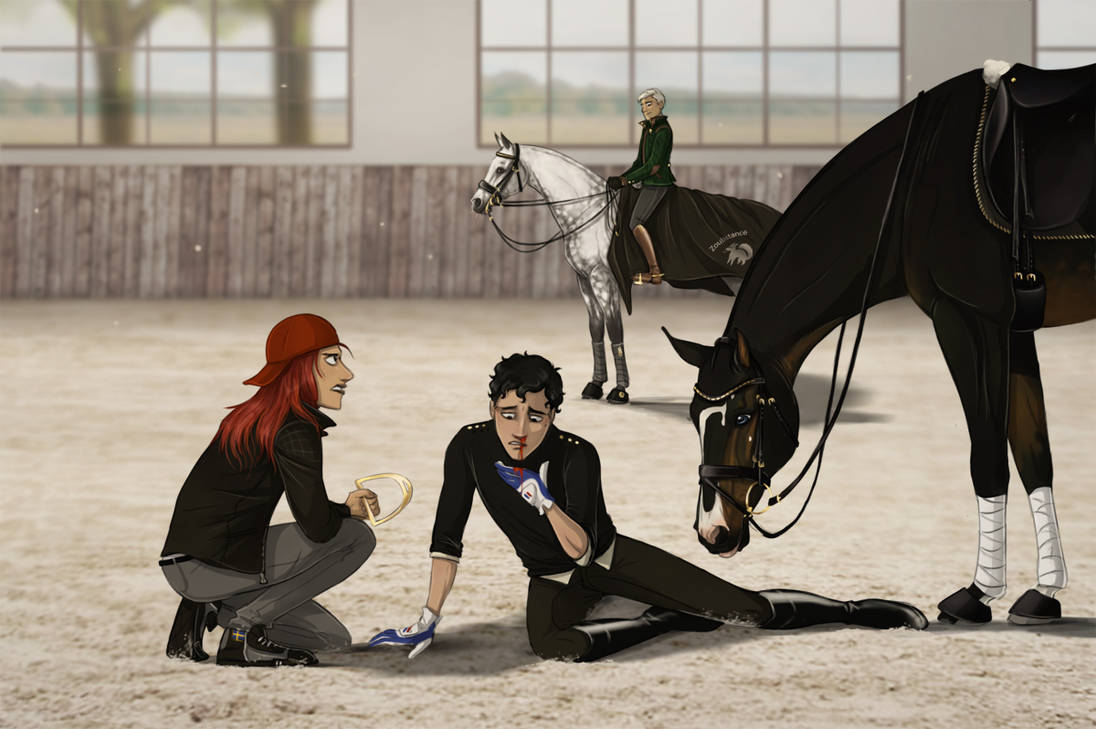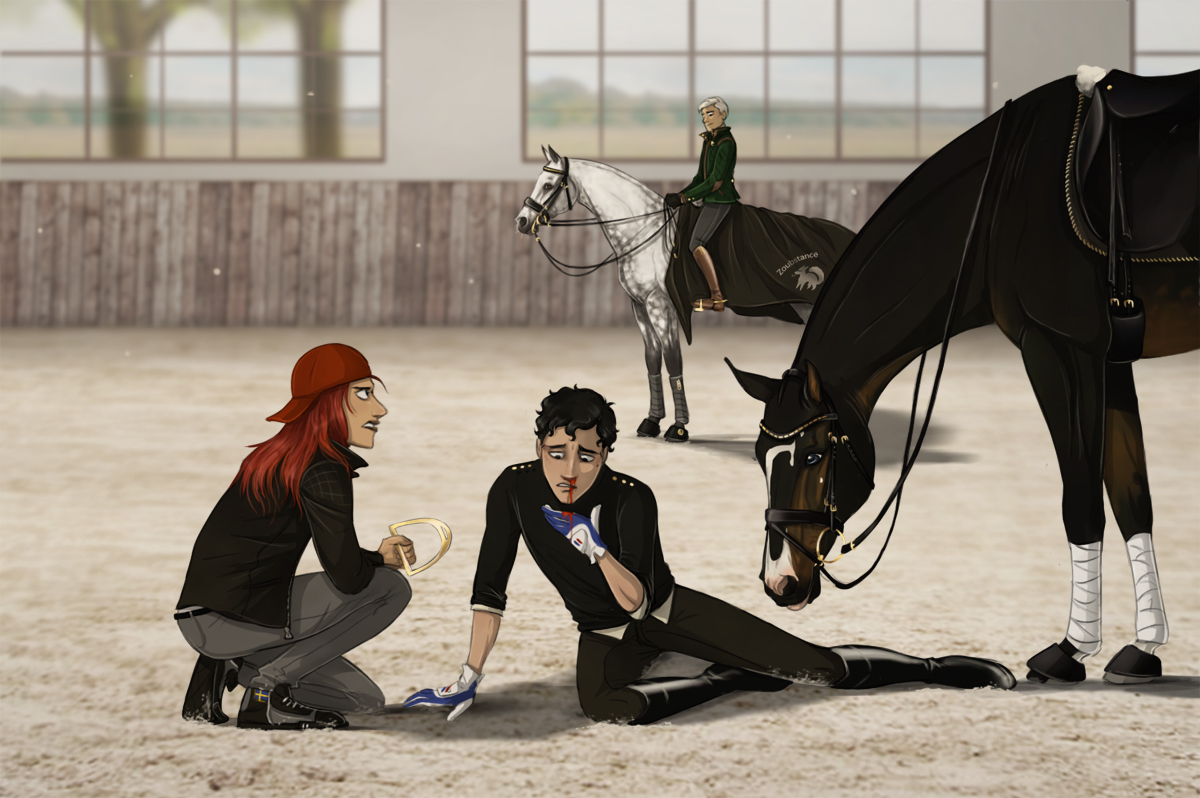 Watch
Previously:
,,…but I rather like her style. Riding-style, of course – because she doesn't even colour coordinate her clothes with her tack, can you believe that?"
Gideon listened with politeness as Simon relayed his recent adventures. The snarky blond had just returned from a training stay at a German facility in preparation for a Pas de Deux later this month… teamed up with none other than Kaira van Leeuwen. How exactly to feel about that was something Gideon was not sure of: while his rational mind told him that this team-up was not too strange considering the fact they knew each other peripherally, his gut-feeling told him to disapprove. Why Kaira of all people? He knew he was being unreasonable, but once again that jealousy bobbed to the surface like the bloated body of a corpse you thought you had disposed of.
,,I can, in fact. I happen to know her rather well. She's my ex, as you are aware." He replied flatly, feeling the polite smile getting a bit strained. 'Rather well' had to be the understatement of a century. His and Kaira's relationship had been a brief, but intense experience – her absence now still felt as if someone had gouged a hole out of his soul. Logic told him their break-up had been the best for both parties – for Kaira to be stuck with a guy who was paralyzed neck-down was a bit too much pressure to put on a three-months-old relationship. He did not want her to waste her life like that – and he most certainly did not want her as his 'nurse'.
Even now, though he had not stayed entirely paralyzed, he remained a cripple and that skewed power balance would have killed both their spirits. She would have been exhausted eventually and he would not have blamed her one bit. There was no need for more suffering. Better end it before it ever got to there even though the pain of it was palpable.
Simon did not seem to really have noticed Gideon's reservations – of course, the guy only had eyes for himself. Himself and Sagadir. It was like a stab to the heart to see how fast the tall stallion had bonded with his new rider compared to the years Gideon had spent trying to win the grey's affection. It seemed as if everyone was starting to betray him in favour of Kvark…
,,Your ex, right." Simon went on entirely unaffected as he tightened Sagadir's girth. ,,On that subject; rumour has it a guy from her team took a liking to her. Handsome fella. Must be a relief to hear she might finally be moving on."
Gideon felt himself gritting his teeth a little as his jaw went tight, reflecting to himself how 'relief' was absolutely not the word he would have chosen himself.
,,It's kind of funny how I'm always destined to be Third Wheel, isn't it?" Simon went on. ,,But speaking of handsome fellas: that pretty new horse of hers - now that guy has the potential to go the entire way. One of Stein's ex-sales actually; perhaps you remem--"
,,Simon."
Gideon blurted out the word without even stopping to think about it. Had he allowed himself a moment to do so he would instead have gritted his teeth and pretended not to care, as he did not want to let Simon catch a whiff of his weakness. Simon thrived on other people's weaknesses – he could prod for it with the same calculated patience as a vulture waits for a wounded animal to lie down.
But everything had suddenly been too much at once. Of course Gideon wished Kaira the best: she had been saddled with a new horse, she had made it to the national team, taken the chance to team up with another skilled rider… and possibly found a replacement boyfriend as well. Those were great news and he should be happy for her. Should be happy for her…
Simon shot a look back over his shoulder, just a glimpse of that carefully concealed satisfaction in his eye as he realized he had found a weak spot there. Gideon knew that this had been a fatal error… No, he had to be mistaken. On second observation there was no schadenfreude in the look Simon sent him. He seemed to be about to speak when Azaria entered the stage, Karn Evil on a loose rein behind her.
,,Did I do it correctly?" she asked with a sweeping gesture to the tack on the dark stallion – it was the first time she had ever tacked up a horse unsupervised. Gideon looked it over briefly as the horse was brought closer, a vague smile tugging at the corner of his mouth.
,,Looks correct to me. The saddle is even turning the right way." He announced in his usual flat manner.
He heard Azaria mutter a reactionary proud 'yessss' in reply. From the corner of his eye he witnessed Simon taking the leap onto Sagadir's back – not even touching the stirrups. That damned show-off never missed a chance to brag, did he? It struck Gideon as another annoying reminder of his own crippled condition – not that he had never been able to leap onto a horse's back like that, even at his physical best…
Azaria led Karn to the mounting block and Gideon followed, placing his cane against the barrier and instead leaned on Azaria for support while making the climb. Mounting the horse remained the most perilous part of getting back to business, and as he balanced on his right leg to place his left foot in the stirrup he was grateful that Karn was such a calm, well-mannered gentleman despite his young age.
There was a loud, sharp snap. Karn sprang forward like a rocket as the leather strap hit his flank and Gideon, suddenly losing his footing entirely, went down with the grace of a wingshot goose. The audible 'crack' as his nose collided with the mounting block was sickening.
,,Karn WHOAH!" Azaria gasped with horror as she attempted to hold onto the reins, but upon taking a look to her right, she immediately let go of the horse and instead rushed to the aid of her friend.
,,Con, are you ok?!" she all but gasped as she knelt down beside him, almost violently jerking his head around to inspect the damage. Gideon gently pushed her away and sat himself up, sniffling loudly as the blood rushed from his nose like a faucet. In a less-than-bright moment he wiped his gloved hand across his upper lip as if to conclude that yes, he was indeed bleeding.
,,Anything broken?" Azaria went on, her voice strewn with urgency.
,,Don't… think so…" Gideon replied meekly. ,,What happened? It was as if my foot just… disappeared."
Karn Evil had circled back and gently bumped his muzzle against his master's shoulder as if to check that he was alright. Azaria glanced at the horse, noticing one thing missing from his tack.
,,Hold on –" she said, scanning the ground briefly and before picking something up – a singular stirrup.
,,Your stirrup came off—" she mused, a frown slowly darkening her face. ,,The strap must have… snapped."
,,You ok, bud?"
Simon's voice, remarkably less cocky than usual. A single deep wrinkle had etched itself in between his brows in what could have been mistaken for worry, but Azaria had already found her prime suspect.
,,You!" she hissed and sprang to her feet, angrily stomping her way over to where Simon and Sagadir were halted. Her aggressive demeanor made the horse shy back, and Simon wisely moved himself and the grey a little further away.
,,Wooowowow –" he countered. ,,'Me' what?"
,,YOU caused this, didn't you?" Azaria barked at him, waving the stirrup like a lynching mob waves torches.
,,What are you accusing me of, exactly?"
,,That saddle is BRAND new. Been used less than a month. Wear and tear hardly caused this - straps don't just snap!"
,,And so your first instinct is to blame me for that?!" Simon spat back, mirroring her attitude by responding in the same aggressive manner. ,,For all you know it could have been caused by anything from bad quality leather to rodent infestation – hell, maybe a squirrel did it!"
,,'A squirrel did it'?! Are you fucking kidding me?!"

Tempers were red-hot and flaring and Gideon knew things would only escalate from here. Azaria and Simon had never been on friendly terms and they were both too stubborn and temperamental to back down in a conflict – it was up to him to calm the waters to prevent things getting ugly.
,,Azaria," he called out softly. ,,Will you lend me a hand?"
That was all it took, luckily. Azaria sent Simon one last acidic glare before rushing to the end of her friend, but Gideon knew this would not been the end of it. Whether or not Simon had been responsible for the stirrup incident… he did not know. But he did know how to recognize a problem when he saw it – and he knew this would not be the last time Azaria and Simon would be butting heads. After this exchange a bigger conflict seemed inevitable.
To be continued ~

Next: 3.11: Not according to plan



The training stay and Pas de Deux hinted at would be these:






#ArtBlockingMyWayThroughThis


Soooo, DID a squirrel do this?

Maybe the hints suggest so...



...or are we just warming up? ~


_____

Azaria, Gideon/Con and Simon Kvark reside with me
So do Sejrbank Sagadir and ZS Karn Evil
Refs n/a
Own ground texture
Wood texture from cgtextures