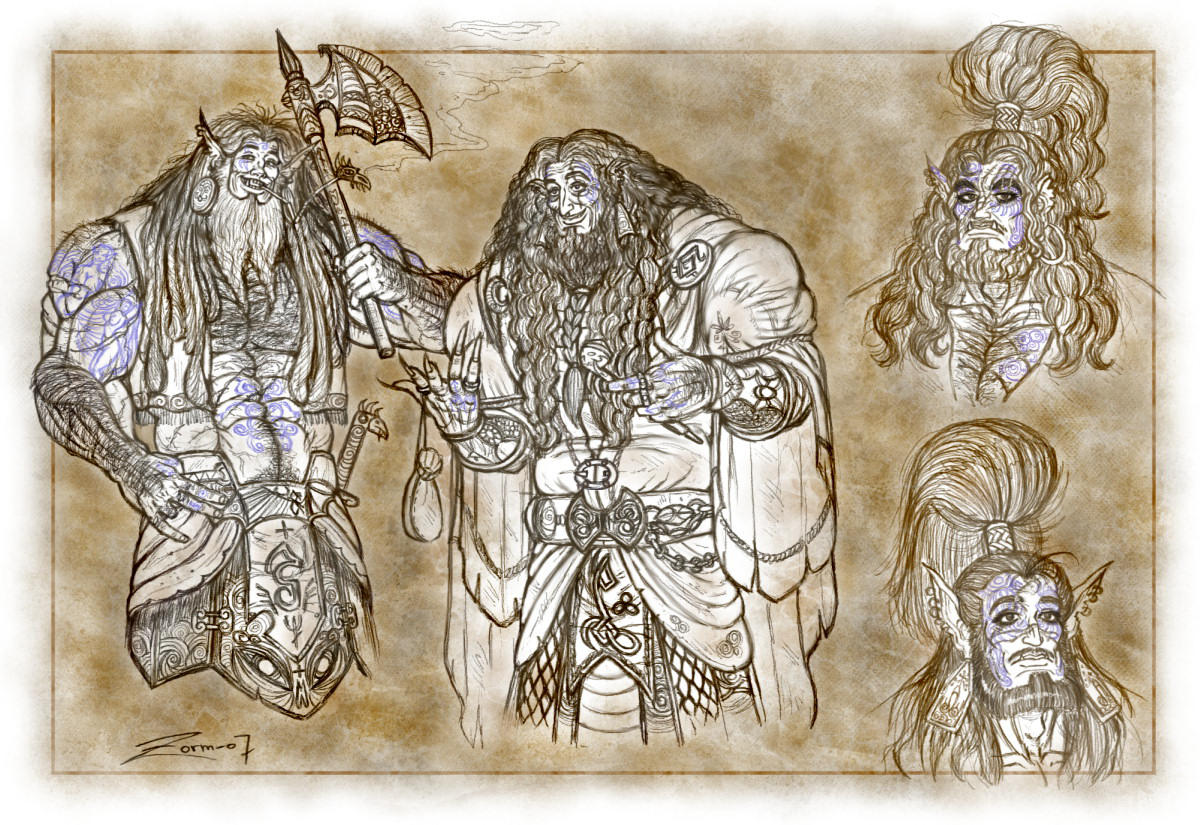 Watch
Sketchystuffies, don't care if it's a bit wonky. Some minor Rha-kan'Ocka characters from the recent chapters.
Commentplz. Zorm hates silence.


Tl;dr.
Aaschgh'rd G'Uhageid
Ponytail guy in the upper right corner, after his hair has grown a bit back after the daimon attack (and with these guys the hair grows thick and faaast). About 14000 years old, he's one of Guarh's older sons, or what's left now. Khran-Av'ees and his accidentally summoned shadow-monster caused the death of six of his brothers. He managed to survive due to his skill in spellweaving, but became permanently disfigured (though, a common ailment those lands...), lost some teeth and fingers, etc.
As a character, he's broody, impulsive, and quite short-tempered like his mother. The mishap of getting trice widowed hasn't improved his nature. He's also the bloke whom Khran-Av'ees deemed 'disturbingly familiar' till the greatest degree. Shows that our Dark Lord doesn't much go for mirrors. XD
Ghgalev'jenschus G'Uhageid (Ghgalev)
Ponytail dude #2; another son of Guarh's who survived the daimon perils. Equally after his mostly off-burned hair has grown partially back (he and Aaschgh'rd both used to have a good two meters of it) and the skin in his face has knitted together with the aid of some healing spells. He used to be quite much in the status of a prettyb0i princeling amongst the girls of Uhageiden Rho-dkhl'haakgz, but after the scarring and acquiring a prominent disability to his left arm, he plummeted down in the ranks.
Ghgalev is around 10500. The facial markings are a clan symbol amid the G'Uhageids; according to the old tradition the men come to their inheritance at the age of 10000 and become branded with the marks. Guarh shares the same symbols, as does King Lhietd.
Yesyes, I know he kinda looks like Qui-Gon Jinn. It wasn't intentional. XD
Gho-Ni'ngobsch
Neckless, stooping oldtimer in the middle. He's one of Khran-Av'ees's oldest battlefield friends, and currently an officer in the warlord's inmost circle. At the age of 27000 he hasn't lost much of his youth-time strength, even if his hair has gone gray and skin rather sagging.
Ghaagh'urih
The last fellow who looks like a Nordic troll. Akin to Khran-Av'ees, he isn't a boorish dolt despite his appearance. He's one of the few around the warlord who can read and write well the complicated elven hieroglyphs and knows a bit more about history and alchemy than a slug's slimetrail. Being cautious by nature, quick, 7.5 feet tall, and almost annoyingly loyal, he was suitable for one of Khran-Av'ees's bodyguards.
I haven't determined his age, but he's maybe around 18000. Ghaagh'urih fancies girls with glasses. XD
Did someone read all that tripe?
The Curse of Rha-kan'Ocka belongs to me.