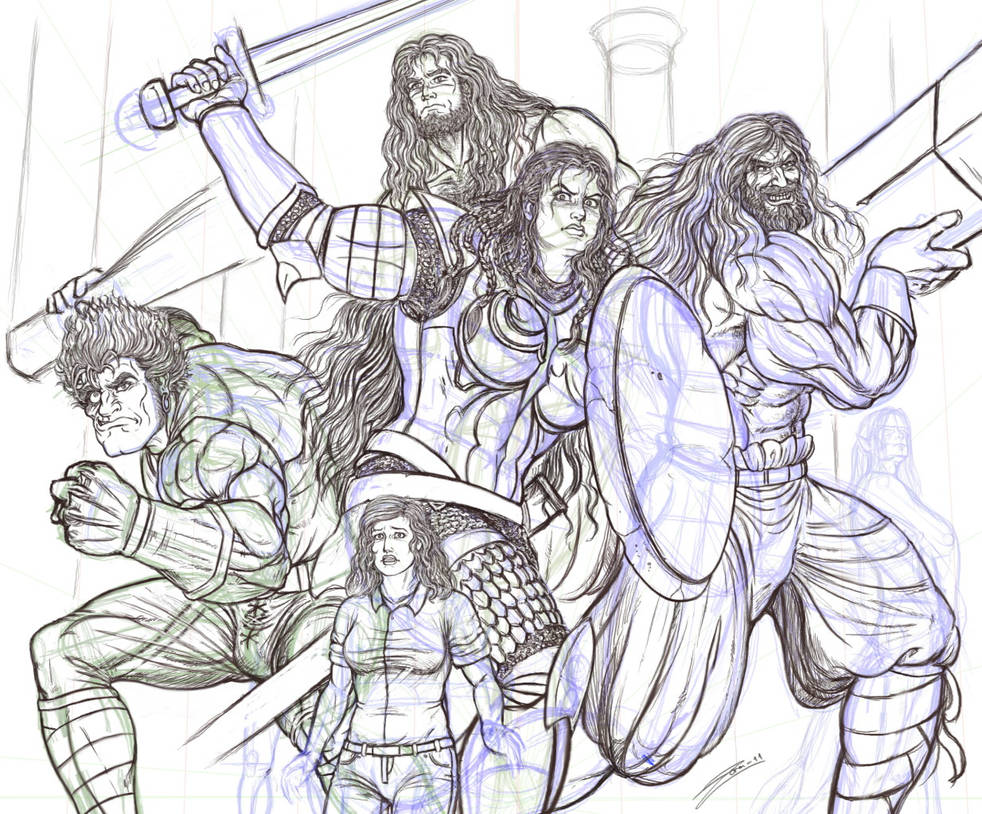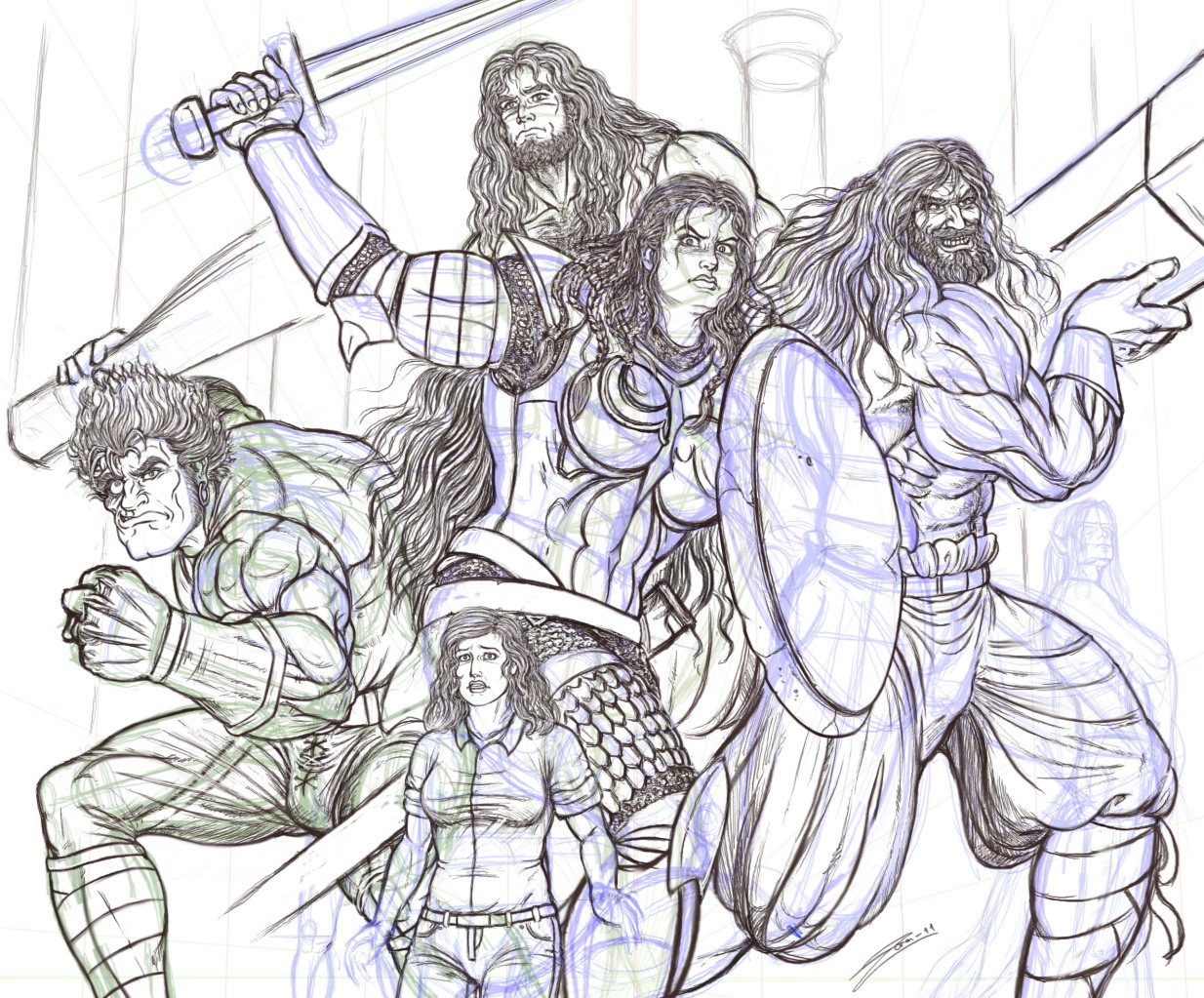 Watch
Egads, why do I start such megalomaniac projects on the whim of a moment, when I have about three other unfinished drawings sitting on my hard disk??

This is only a part of a larger picture. Has bzillions of errors, needs crits big time
. I'm hideously struggling with the composition right now, and have no idea how many characters I'll end up adding or if I chuck someone away entirely. Needs a foe to the foreground, at least in the form of a silhouette, otherwise it won't make any sense.
Essentially, more fanart from Stephen R. Donaldson's
Second Chronicles of Thomas Covenant: The One Tree
[link]
. I was debating between this and a rather poignant scene from the end of
White Gold Wielder
[link]
and this one won. This is from the chapter
Charade's End
, where the 'gang' tries to escape from Kasreyn's Sandhold.
Characters, starting from the Giants:
In the right grins Grimmand Honninscrave, Captain of Starfare's Gem. His brother Cable Seadreamer, who's a kind of a seer, rendered mute due to the intensity of his Earth-Sight, looms behind everyone. Swordmain First of the Search (stern Valkyrie-ish lady) and Pitch (the deformed hunchback) are a married couple.
Humans and whatnot: Probably have to draw Thomas somewhere, even though he's in a catatonic state at this point. Chick in the very front's Linden Avery, the second main character. Debating whether to add any of the Haruchai. The very faint figure that's so sketchy it doesn't even resemble a proper human's the Elohim Findail (the bastard doesn't ever fight); no inkling whether I'll actually keep him in the picture.
WHY did I start this? Because I'm really, really saddened by the lack of TC fanart here at DA. The 2nd chronicles belongs to one of the best series I've ever read, albeit horribly dark, tragic, and an intense psychological rollercoaster (then again, I like also George R. R. Martin...). Cue the realization that Lord Foul, no matter how stupid a name he carries, makes villains like Sauron look like part-time lollipop thieves...
Gah, what a wall of text. Does anyone even read these? XDD

I quite enjoy your art.

And I read the textwall!
Reply

Absolutely love this - well done!!
Reply

You know, I've never read anything by Martin. I plan to eventually, but I have so many books that I haven't read already...
Reply

Yes, I read them! I love your take on these characters - I'm just about 100 pages off the end of White Gold Wielder, and I was craving some art for the books. I love what you've done with the characters here.
Reply

Finally someone recognizes what I've been drawing lately (outside Kevin's Watch forums, I've pretty much felt like I'm the only person that has ever even heard of these books). XD

So, how do you like the series so far? Egads, White Gold Wielder is just so sad I kept crying all over the place even on my second re-reading round ;__;
Reply

Never heard of them, sorry.

I'm saddened by the lack of Myth Adventure art here on DA, and I will hopefully be remedying that somewhat soon.

Anyway, the biggest two problems I see with this are that the main Giant's head seems really small for her body, and the human character seems so...static while everyone else has these great motion shots.
Of course, I always love your artwork anyway, and love how detailed it is.

Reply

Hmm...the First looked ok-ish before I slapped that huge breastplate on her, but since I have to tweak her face anyhow, probably going to see what she'd look like with a bigger attic. The Giants however don't share the same relative proportions with humans.
Linden would look more action-oriented if I had not cut the picture (she's in a half-running position and kind of bemused as of what to do). Well, her staticity might be more plausible if I put her partly behind one of the Bloodguard. Or something... *scratches head*
Thanks.

Reply

Compositionally I like what you've got going on here, nice action poses and a sense of perspective. Frankly I don't we necessarily need to see what they are facing to get a sense of what is happening.
Reply

Thanks for the input, I actually may do it like you suggested.

Figured the image might just get too crowded and the actual humans too small, if I push the characters further back.
Reply