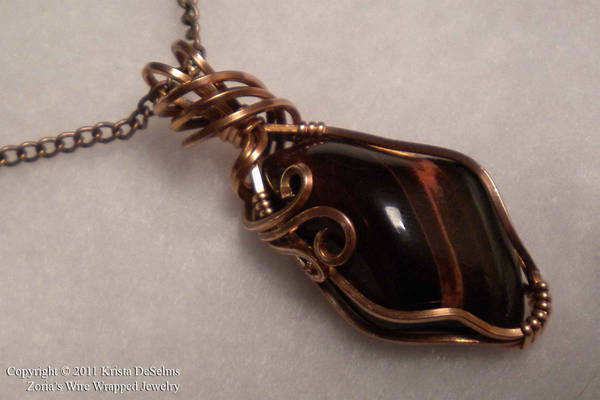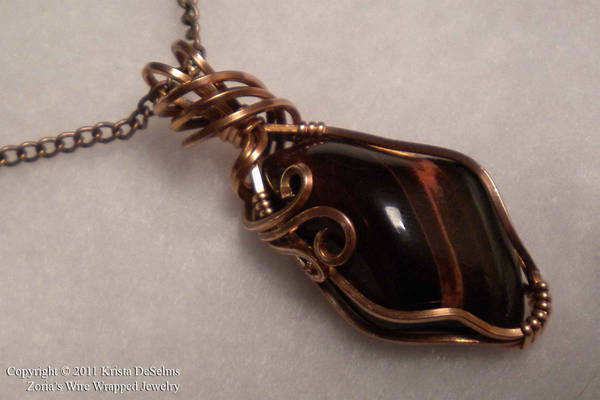 Watch
Piece # 105
A Zoria's Creation. Krista DeSelms ©2011
This is a gorgeous piece of Red (cherry) Tiger Eye that at certain angles looks really black except for the striking line of copper red that slices through it.
Cherry Tiger Eye in 20 gauge, square copper wire.
Tiger Eye is a type of quartz that is chatoyant from inclusions of crocidolite. It is lustrous yellow to brown. The name is from the appearance of the stone, banded browns and golden yellows. Tiger Eyes normally start out blue but with oxidization turns to the yellow and brown color that is more popularly known.
Red Tiger Eye, or Cherry Tiger Eye, is heat treated, either naturally or by man which changes a Gold Tiger Eye to a dark reddish hue. Heat treatment is generally rather undetectable.
Copper is pure metallic element that is malleable and has a warm brown tone. Some people believe that wearing Copper can help with the pain and stiffness of Arthritis, though it has not been scientifically proven.
Yes, I do custom work.

Krista
vv Please Like my FB page! vv vSign my Guestbookv
Like Zoria's Facebook Page
|
Go to Zoria's Store
|
Visit Zoria's Etsy