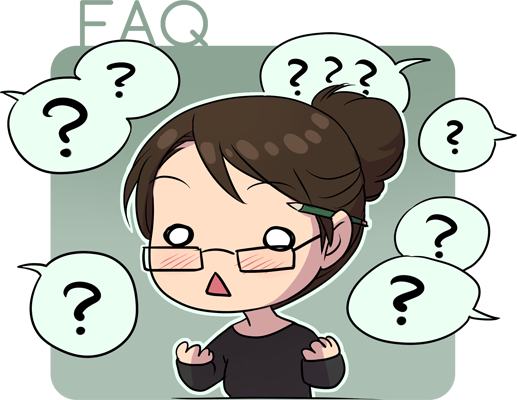 For work and hiring, e-mail me at
mikikoponczeck[at]gmail.com
Since I get a lot of mails and comments that asks similar things, I have tried to put together a FAQ, because I am having a hard time replying to every one of them individually.
One thing you must understand though, is that art is different for everyone, so some of the things you will have to learn and discover for yourself. Unfortunately I do not have all the answers for you.

Sorry.

What's your job?
I am a freelance comic artist. Clients ask of me to draw: Cover art (CD/Film/Books), writing/pencilling/inking/colouring of comics and manga, game/film concept art, storyboards, character design, workshops, logo designs, mascot designs, TV host (comic/manga/japan/game related) and even videos (reviews, drawing timelapse, promotional work). You can contact me for professional work at Mikikoponczeck[at]gmail.com.
Personal commissions are currently only available through Patreon.
How long have you been drawing?
Since childhood, I simply never stopped. I started drawing professionally around 2006.
Where did you study art?
I am entirely self-taught and have not studied art in a school or university.
Where should I study art?
Since I don't have any experience with this, I don't think I am fit to answer such important questions for you. You should probably research and find a place that suits you and your plans for the future best.

Can you teach me?
Sorry, no. I get too many requests and don't have the time.

Can you look at my art and give me your opinion/any tips?
As much as I'd like to do this for everyone who asks, I do not simply due to lack of time.
I will however take my time to analyse your work and give you personalised advice if you are my patron. (Patreon)

How did you become a comic artist?
At age 12 I decided that was what I wanted to do. I focused on art and drawing, joined contests, failed, and kept at honing my skill until I was an adult.
Once I was around 23, I applied with an indie publisher and got my first (crappy) comic done and printed. With the indie publisher I then went to manga conventions regularly while still building an online presence and taking multiple jobs. I kept publishing new material, did workshops, talked to people etc.
One day Tokyopop's boss watched my workshop on panelling, and bought one of my books because he was impressed. We then talked and eventually I got my own project with Tokyopop after a few years.
These days I self-publish or publish through PYRAMOND.

What tools do you use?
These are my favourites and most used tools.

Traditional:
Pencils: H for rough sketch and mechanical pencil 0.5 (lead: B) for clean sketch.
Lines: Copic multiliner 0.05 or 0.1, or Deleter pen with Saji, Maru or G-pen nibs
Colour: Polychromos by Faber Castell (colour pencils)
Colour: Copic Ciao,
Colour: Pebeo Colorex watercolour
white gel pen
Digital:
Paint Tool Sai
Clip Studio Paint
Photoshop CS5
Cintiq 27 HD Touch
What tablet do you use/recommend?
I use a Wacom cintiq 27 HD Touch. I only have tested Wacom products: the companion 2, the cintiq and mobile studios (13, 16, 22, 24, 27) and intuos series (3, 5, pro, comic in sizes S, M and L), Bamboo Spark and Slate. Because of this I can't make any recommendations aside from Wacom as a brand since I have no other experience... I think starting with a low cost tablet to try things out is a good idea.
I want to make my own comic. where do I start? what do I do?
The first step is to write a story. Here's a guide to how I make my own comics.
A huge chunk of it is practice and years of trial and error. I also recommend you read Scott McCloud's book, Understanding Comics.

I have a story, will you draw it?
Sorry, no. Unless you have a contract with a publisher (and pay me per page) or have published books successfully in the past, I am not interested.

How do I get my own style?
Style is a result of experience, in my opinion. You don't pick it, you develop it as you draw.

How do I improve?
I think it's essential to: use reference, practice a lot, read, research, learn to observe and analyse. The internet has so many free options and infos, it's important to simply sit down, do work and use the resources at your fingertips!

How do I gain a following?
There's a lot of factors, but the basics are these: create good material, update frequently, be friendly, keep your promises, be patient. Talk to a lot of people and spread your work around to get noticed.
Remember it takes a lot of time sometimes. I have been doing this since 2006.

How do I get a publisher?
I made a video with some basic info on there. you can watch it here.

What's your favourite manga?
Manga: Berserk, hands down. I really like Dark fantasy in general! :3
What's your favourite Anime?
Berserk again, both the old Anime series and the new Golden Age Arc are my favourites.
Who influenced you artistically?
Yoshihiro Togashi (Yuu yuu Hakusho), Tite Kubo (during his Zombie Powder time), Kentaro Miura (Berserk), Miwa Shirow (Dogs). I also really love Murata Yuusuke's art.

Can I interview you?
Sure, send me a message with the questions and I will get back to you when I have the time.

Can I make a base/render from your work?
No. No exceptions.

Can I animate/make a 3D model of your work for practice?
Yes, if you link me back and credit me.

How many languages do you speak?
Four: German, English, Japanese, French.

Do you do requests?
No, only paid work, sorry.