Recently my D&D friend lost her character in our Friday campaign. (Disintegrated)
She was so devastated, I drew her character a tribute.
This is Ciel, Warlock Paladin of the Red Knight, taken from us too soon. T_T She was a lovely person and Carmen's friend.
Carmen->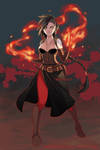 Have you ever lost your characters? How and what was the reaction of the group? It's hard to stay composed for me, I'M NOT CRYING, YOU'RE CRYING!


digital shop!

physical shop!


Mikiko.art
|
Patreon
|
or buy me
coffee
to keep me drawing! ♥
Please share by
linking back
to my work and
social media accounts
, and crediting me by correct username/name and website. Thank you!
Image details
Image size
874x1084px 386.19 KB