Please do not thank me for llamas, favs, comments, or watches. Your comment WILL be hidden if you do so!
About me:
I'm just a depressed 23-year old autistic artist. I joined deviantART when I was just 14, and largely focused on drawing Chao; creatures from the Sonic the Hedgehog series. My own Chao Character: Zipo the Chao, is my account mascot, and was created a little over a month before creating my account here. I am primarily a Fan Artist, though I occasionally draw more original stuff from time to time. In particular, the Sonic and Pokémon franchises I tend to draw the most fan art of, as they were what I ultimately grew up on, and are near and dear to my heart. Aside from those two, I also enjoy drawing fan art of Keroro Gunsou, My Little Pony G4, and on rare instances, something related to outside franchises.

Please note, that, I suffer from severe clinical depression and social anxiety, among other things. Because of that, I am not likely to respond to comments, or comment on your deviations, should I be watching you. Do not assume that I am being rude just because I don't comment often. Also, while I am a fan of raunchy jokes, DO NOT make autism jokes, or use autism as an insult on ANY of my pages, doing so will result in an INSTANT block!

While I'm nowhere near as active as I once was, I do still hope you enjoy looking through my art.
I do not take Requests, so don't even bother asking.
Art Trades I may consider, but only if you are someone I trust.
Current Drawing Obsession:
???
Current Gaming Obsession:
Bokujō Monogatari (Story of Seasons/OG Harvest Moon)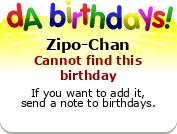 ---
YouTube:
Twitter:
Art Status: