Hey guys
Long time no write!
Lately I've been into speed painting. You may ask, "WTF is this dude?" well, you you basically franticaly paint...that's what it is. It's painting at lighting speed. I took time out of my crazy schedule to try it out and this is what I came up with: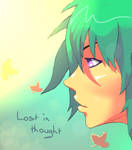 Seems simple right? Well to me it is. I think I might do a tutorial on it, it's super easy and super simple! You'll be surprised at what you can do with speed painting!
So what's happening in my life? I know you actually don't want to know, but I'll let you know anyways. Work's the best! I can work and paint (Not always in that order). This weekend I'm off to Durban and meeting my friend to go to the Wavehouse!! How awesome! I'm getting my licence soon! My friends and I have started a bucket list, crazy times indeed!
Until next update.
Rock on!