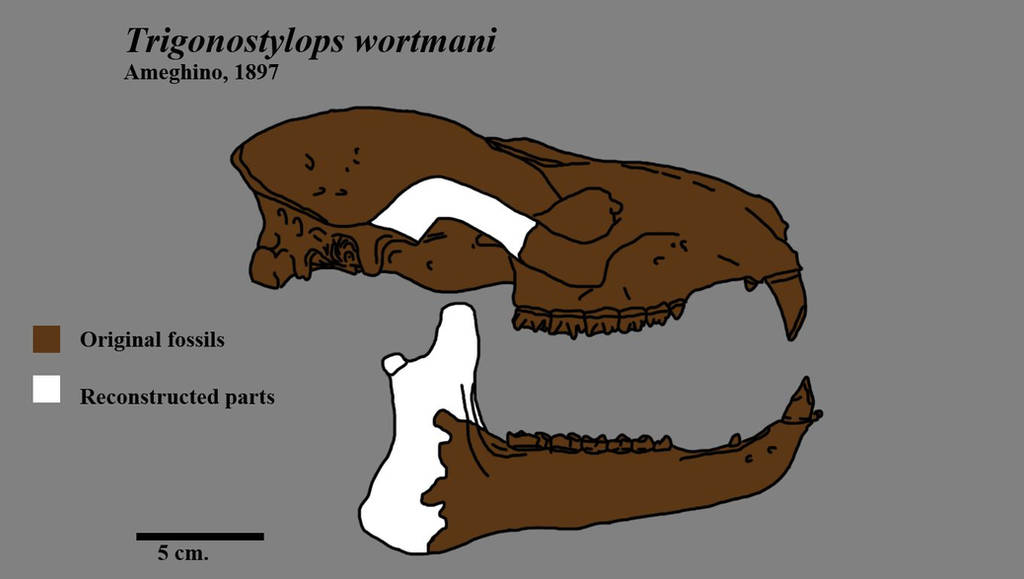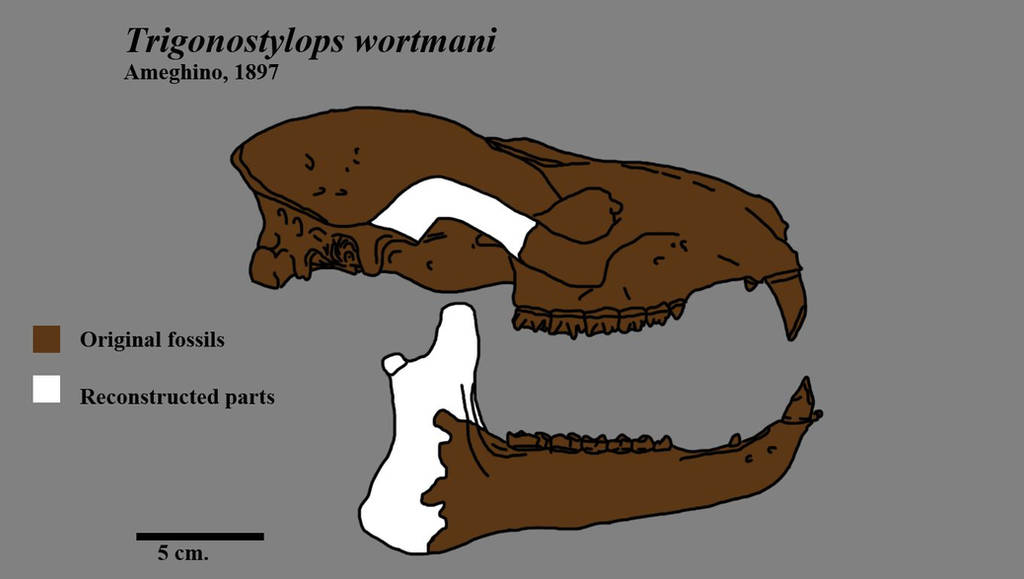 Back to the astrapotheres. Here is
Trigonostylops wortmani
, a primitive member of that group, from the Early Eocene of Chubut, Argentina. This image is mostly a redraw from the work of Mariano Bond and Miguel Soria (1984), in which they showed a "new" image for this animal. Many restorations of
Trigonostylops
that you can find online are based in the classical skull diagram made by Simpson in 1933
1.bp.blogspot.com/_5jlwbDMAFdQ…
in which the frontal part of the skull was missing and was restored as if the animal had an enlarged nose; but here, based in new discoveries of pieces of the skull and mandibles, shows a maxilla and nasal bones with a normal look not retracted, although the premaxilla is certainly reduced, without incisor teeth.
----------------------------------------------
De regreso a los astrapoterios. Aquí está
Trigonostylops wortmani
, un miembro primitivo del grupo, del Eoceno inferior de Chubut, Argentina. Esta imagen es básicamente una versión redibujada del trabajo de Mariano Bond y Miguel Soria (1984), en la cual ellos mostraron una "nueva" imagen para este animal. Muchas de las recreaciones de
Trigonostylops
que se pueden hallar en la red se basan en el clásico diagrama craneano realizado por Simpson en 1933:
1.bp.blogspot.com/_5jlwbDMAFdQ…
en el cual faltaba la región frontal del cráneo y fue restaurado como si tuviera una nariz agrandada; pero aquí, con base en nuevos descubrimientos de piezas del cráneo y mandíbulas, se muestran huesos maxilar y nasal de aspecto más normal, no estando retraídos, aunque el premaxilar si está reducido y carece de incisivos.
References:
- Bond, M. (1984). Adiciones al conocimiento de
Trigonostylops
Ameghino, 1897 (Mammalia, Astrapotheria; Trigonostylopidae).
Ameghiniana
,
21
(1), 43-51.
- Simpson, G. G. (1933). Structure and affinities of
Trigonostylops
.
American Museum of Natural History
.
digitallibrary.amnh.org/bitstr…