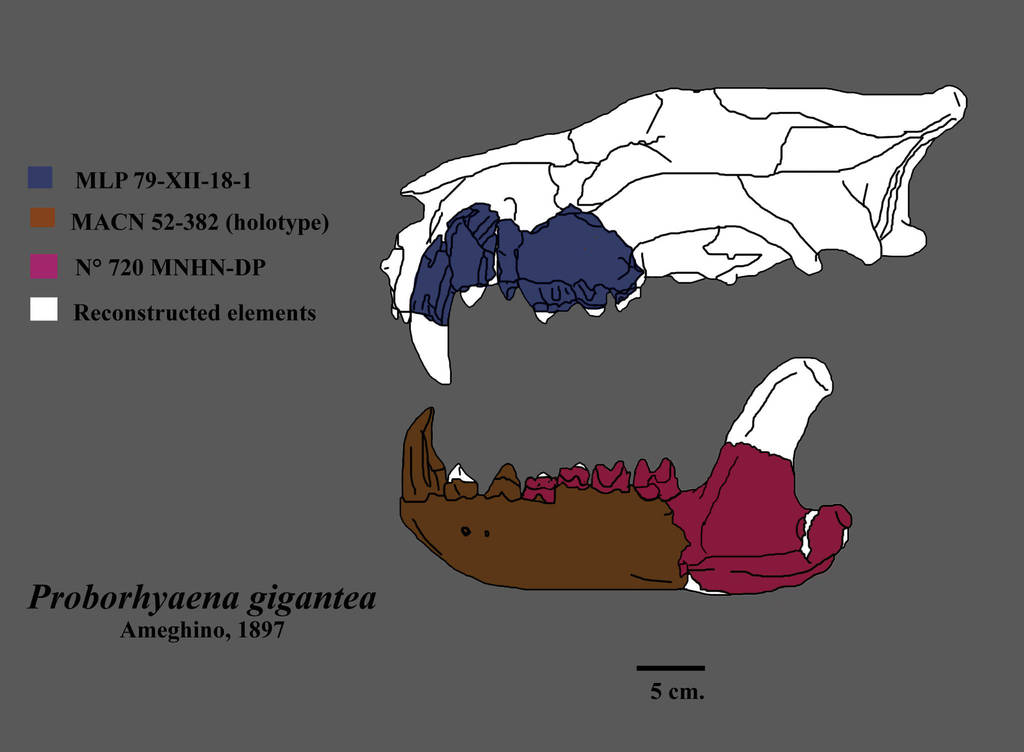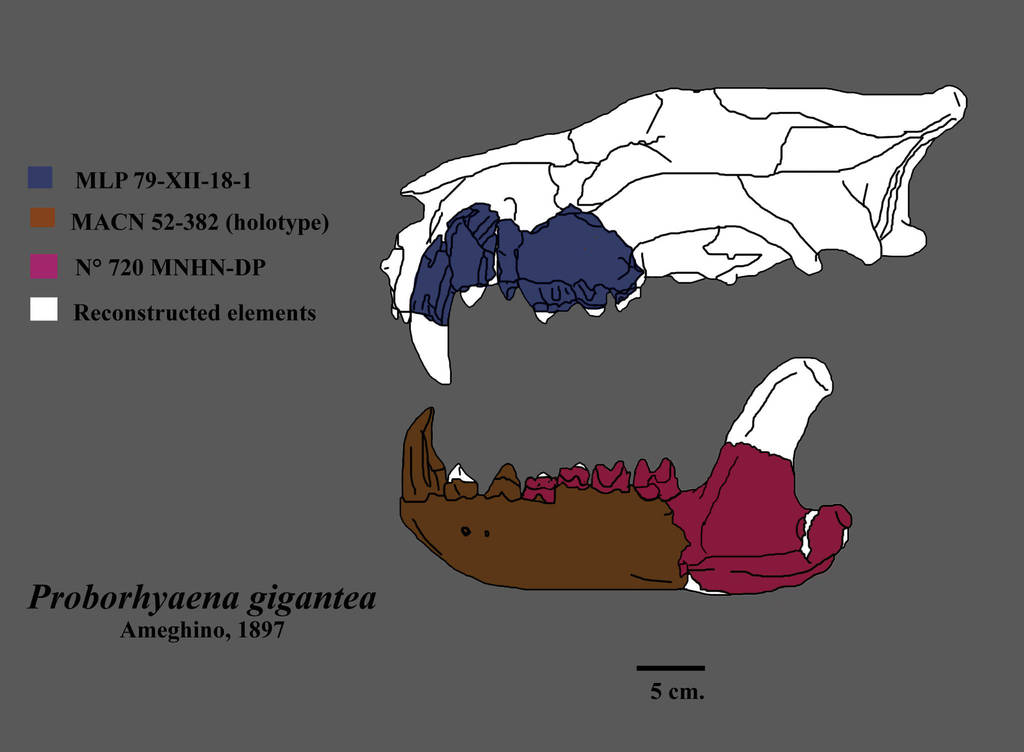 Watch
Hypothetical reconstruction of the skull of
Proborhyaena gigantea
, the largest of the sparassodonts, the predatory relatives of the marsupials that inhabited South America during the Cenozoic.
Proborhyaena
has been discovered in Argentina and Uruguay, in sediments of the Deseadan epoch (lower Oligocene) and gives its name to the Proborhyaenidae, a family characterized by their large skulls, long evergrowing canines and very robust jaws. Although cleary is a big animal, exists certain myths arounds its size, due to the incomplete remains. For example, that it was a kind of "marsupial bear" had a skull of over 60 cm. (two feet) in length, a size originally reported in the scientific literature in 1977 by Larry Marshall, however using the most complete relative of
Proborhyaena
,
Callistoe vincei
(which is known from a complete skull and most of its skeleton) appears that its skull measures over 40 cm, like an African lion... Also there is a weigth estimation mande by Sorkin in 2008, of 600 kg, in a paper with suspiciously high estimations, and the most recent estimations from researchers like Natalia Zimicz and Fernando Goin shows a range between 93 to 220 kg, more comparable to the marsupial lions from Australia (still, is larger than the other big sparassodonts, like
Thylacosmilus
and
Arctodictis
).
As you can see, the skull showed here is made of three different specimens, and completed with the skull of
Callistoe
.
References:
Argot, C., & Babot, J. (2011). Postcranial morphology, functional adaptations and palaeobiology of Callistoe vincei, a predaceous metatherian from the Eocene of Salta, north‐western Argentina. Palaeontology, 54(2), 447-480.

Babot, M. J., Powell, J. E., & de Muizon, C. (2002). Callistoe vincei, a new Proborhyaenidae (Borhyaenoidea, Metatheria, Mammalia) from the early Eocene of Argentina. Geobios, 35(5), 615-629.

Bond, M., & Rosendo, P. (1983). Nuevos y elocuentes restos craneanos de Proborhyaena gigantea Ameghino, 1897 (Marsupialia, Borhyaenidae, Proborhyaeninae) de la Edad Deseadense. Un ejemplo de coevolución. Ameghiniana, 20(1-2), 47-60.

Goin, F. J., Woodburne, M. O., Zimicz, A. N., Martin, G. M., & Chornogubsky, L. (2016). Paleobiology and Adaptations of Paleogene Metatherians. In A Brief History of South American Metatherians (pp. 185-208). Springer Netherlands.

Marshall, L. G. (1977). Evolution of the carnivorous adaptive zone in South America. In
Major patterns in vertebrate evolution
(pp. 709-721). Springer US.
Mones, A., & Ubilla M. (1978). La edad Deseadense (Oligoceno inferior) de la formación Fray Bentos y su contenido paleontológico, con especial referencia a la presencia de
Proborhyaena
cf.
gigantea
Ameghino (Marsupialia: Borhyaenidae) en el Uruguay. Nota preliminar.
Comunicaciones Paleontológicas del Museo de Historia Natural de Montevideo
. 7 (1), 151-158.
Sorkin, B. (2008). A biomechanical constraint on body mass in terrestrial mammalian predators.
Lethaia
,
41
(4), 333-347.
Zimicz, A. N. (2013). Ecomorfología de los marsupiales paleógenos de América del Sur (Doctoral dissertation, Facultad de Ciencias Naturales y Museo).