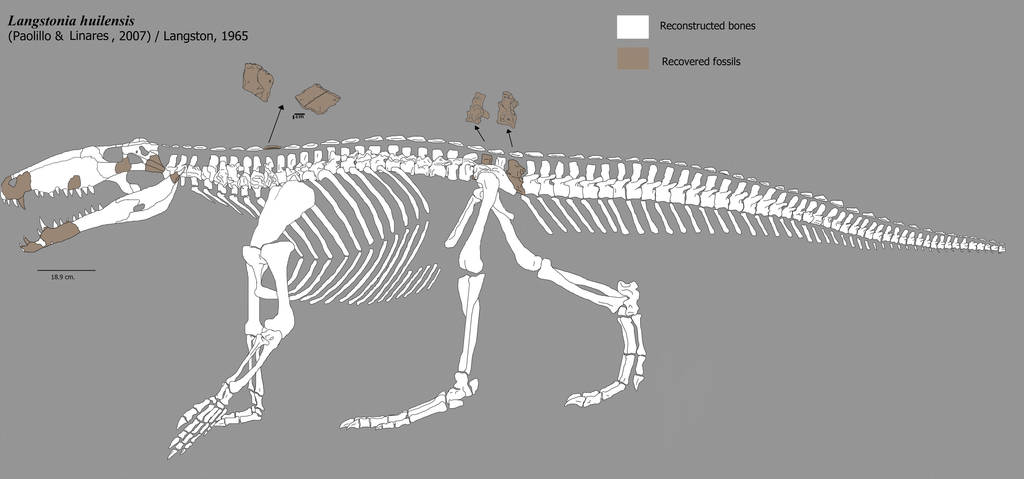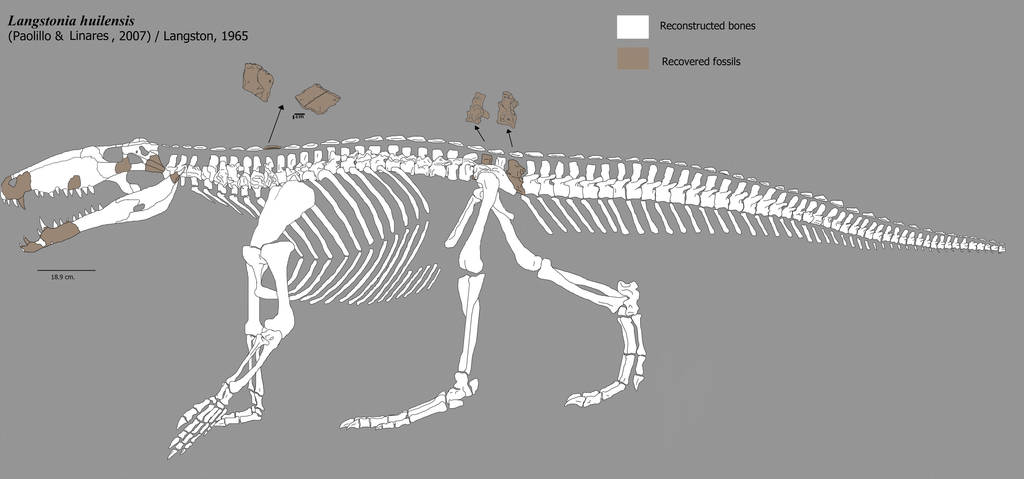 English: This is an (purpoted) accurate reconstruction of
Langstonia huilensis
(or
Sebecus huilensis,
if you prefer), the Miocene terrestrial 'crocodile'. The idea here, as my another skeletal images, is try to improve my own knowledge about this animals for future images, since that my previous image (
zimices.deviantart.com/art/Ret…
) is inaccurate, specially in the osteoderms and the shape of the jaws. Any criticism or comments for this image are welcome.
As you can see, for this animal the known remains are very scarce, mostly teeth - here only some are showed, since that I don't get any image of these -, and fragments of the skull and the lower jaw. The front bone of the mandible is the most complete and largest bone for this genus, with 18.9 cm in length. On another hand is the only sebecid (besides
Sebecus
itself) that have postcranial bones: an broken osteoderm of indeterminate position, that you can see in two views above, a sacral vertebra and one anterior caudal. The basis for the reconstruction are the nearest relatives with more or less complete skeletons, specially the species of the Brazilian
Baurusuchus
(in fact the general shape of this skeleton was originally based in the reconstruction by Felipe Elias :
www.deviantart.com/art/Baurusu…
), and some remains of
Stratiosuchus
, specially for foot, hand, ribs and the tail bones. The vertebrae of neck and back, and the bones of hips and limbs are based in the new remains of
Sebecus
published in 2012 (
www.morphobank.org/index.php/P…
). If the reconstruction is right, the dimensions of this reptile are 95 centimeters to the shoulders and 3,3 meters in total length.
Scientific references are listed below.
------------------------------------------------------
Esta es una reconstrucción (pretendidamente) mejor documentada de
Langstonia huilensis
(o
Sebecus huilensis
, si se prefiere), el 'cocodrilo' terrestre del Mioceno. Mi idea aquí, como en otros dibujos de esqueletos, es tratar de mejorar mi propio conocimiento sobre estos animales para imágenes a futuro, tomando en cuenta que mi anterior imagen (
zimices.deviantart.com/art/Ret…
) es inexacta, especialmente en sus osteodermos y la forma de las mandíbulas. Cualquier comentario o crítica para la imagen son bienvenidos.
Como se puede ver, los restos conocidos de esta especie son muy escasos, en su mayoría dientes - aunque solo se muestran algunos aquí dado que no conseguí ninguna imagen de los mismos -, y fragmentos del cráneo y la mandíbula. El hueso en el frente de la mandíbula es el más completo y grande para este género, con 18.9 cm de largo. Por otra parte es el único sebécido (aparte del propio
Sebecus
) que tien huesos postcraneales: un osteodermo roto de posición indeterminada, que se puede ver arriba en dos vistas, una vértebra del sacro y una vértebra caudal anterior. La base para la reconstrucción son sus parientes más cercanos con esqueletos más o menos completos, particualrmente las especies de Brasil
Baurusuchus
(de hecho la forma general de este esqueleto se basa en la imagen creada por Felipe Elias :
www.deviantart.com/art/Baurusu…
), y de
Stratiosuchus
, sobre todo para los huesos de las manos, pies, costillas y la cola, ribs and the tail. Las vértebras de cuello y espalda, los huesos de la cadera y extremidades se basan en los nuevos restos de
Sebecus
publicados en 2012 (
www.morphobank.org/index.php/P…
). Si la reconstrucción es correcta, las dimensiones de este reptil son de 95 centímetros a los hombros y de 3,3 metros de longitud total.
Referencias científicas:
Busbey, A. (1986). New material of Sebecus cf. huilensis (Crocodylia: Sebecosuchidae) from the Miocene of La Venta Formation of Colombia. Journal of Vertebrate Paleontology, 61: 20-27.
Langston,W. (1965). Fossil crocodilians from Colombia and the Cenozoic History of the Crocodylia in South America. University of California Publications of Geological Sciences, 52: 1-127.
Langston, W. and Gasparini, Z. (1997). Crocodilians, Gryposuchus, and the South American gavials. In: Kay, R. F., Madden, R. H., Cifelli, R. L. and Flynn, J. J., eds., Vertebrate Paleontology in the Neotropics: The Miocene fauna of La Venta, Colombia. Washington, D.C. Smithsonian Institution Press, pp. 113-154.
Pol D., Leardi J.M., Lecuona A. & Krause, M (2012). Postcranial anatomy of Sebecus icaeorhinus (Crocodyliformes, Sebecidae) from the Eocene of Patagonia. Journal of Vertebrate Paleontology 32 (2), 328-354.
R. Salas-Gismondi, P.-O. Antoine, P. Baby, S. Brusset, M. Benammi, N. Espurt, D. de Franceschi, F. Pujos, J. Tejada and M. Urbina (2007). Middle Miocene crocodiles from the Fitzcarrald Arch, Amazonian Peru. En Díaz-Martínez e I. Rábano (Eds.), 4th European Meeting on the Palaeontology and Stratigraphy of Latin America. Cuadernos del Museo Geominero, nº 8. Instituto Geológico y Minero de España, Madrid. ISBN 978-84-7840-707-1.

Paulo Miranda Nascimento and Hussam Zaher (2010)."A new species of Baurusuchus (Crocodyliformes, Mesoeucrocodylia) from the Upper Cretaceous of Brazil, with the first complete postcranial skeleton described from the family Baurusuchidae. Papeis Avulsos de Zoologia 50 (21): 323‑361.
Vasconcellos, Felipe, Marinho, Thiago, and Carvalho, Ismar. The locomotion pattern of Baurusuchus salgadoensis Carvalho, Nobre & Campos, 2005 and the distribution of Baurusuchidae in Gondwanaland. Available from Nature Precedings (2007)
**Note: This image is also in WikiCommons, under the license CreativeCommons 3.0, that allows a free use.