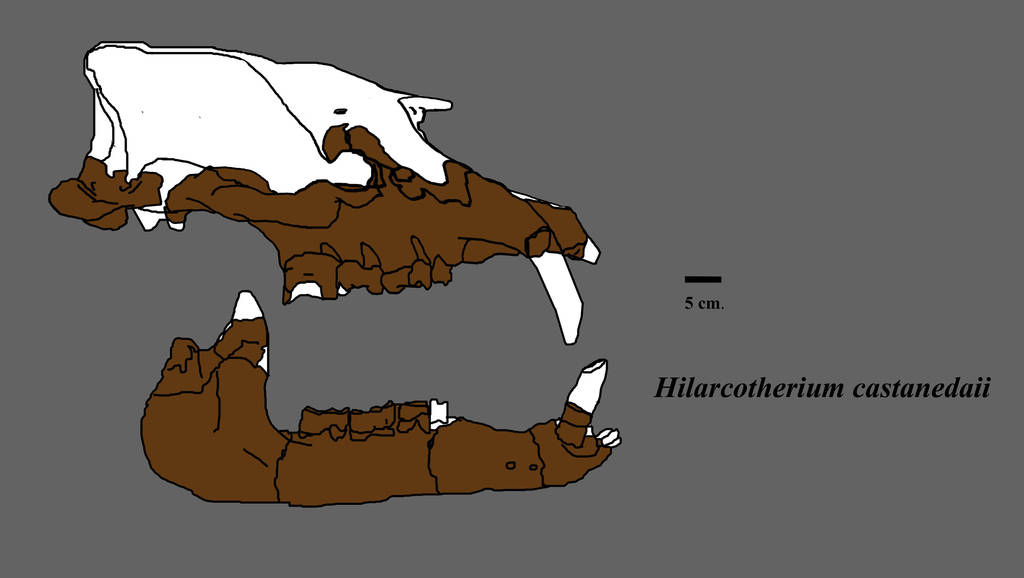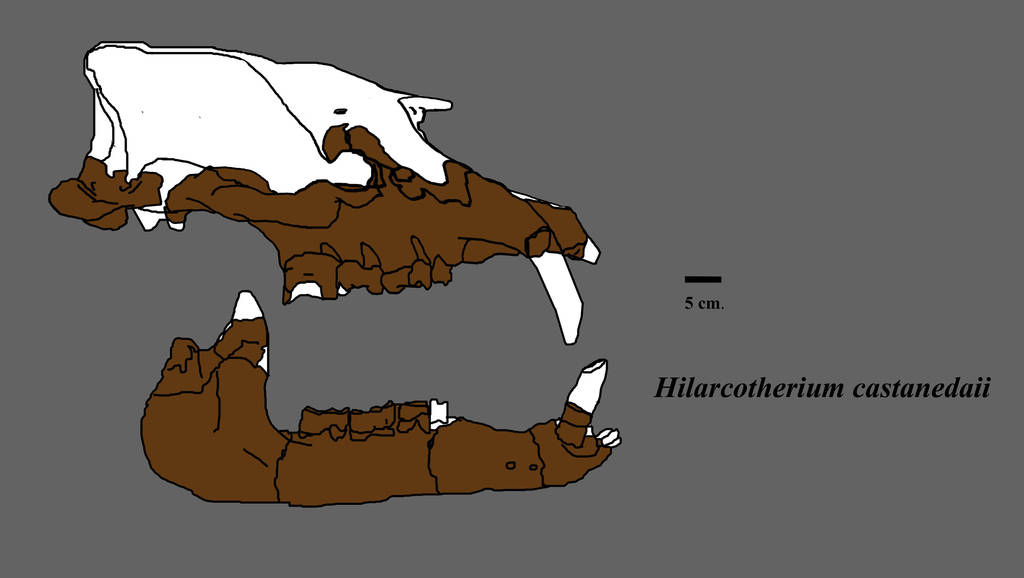 Reconstructed skull of Hilarcotherium castanedaii, a Middle Miocene (13 ma) astrapothere mammal from Colombia. The brown parts represents the recovered fossils, the white ones are based in Astrapotherium, Granastrapotherium and Xenastrapotherium.

---------------------------------
Cráneo reconstruido de Hilarcotherium castanedaii, un mamífero astrapoterio de Colombia. Las partes en color pardo representan los fósiles descubiertos, mientras las que están en blanco se basan en Astrapotherium, Granastrapotherium y Xenastrapotherium.

Referencias/references:
- M. C. Vallejo-Pareja, J. D. Carrillo, J. W. Moreno-Bernal, M. Pardo-Jaramillo, D. F. Rodriguez-Gonzalez and J. Muñoz-Duran (2015). "Hilarcotherium castanedaii, gen. et sp. nov., a new Miocene astrapothere (Mammalia, Astrapotheriidae) from the Upper Magdalena Valley, Colombia". Journal of Vertebrate Paleontology.

**Note: This image is also in WikiCommons, under the license CreativeCommons 3.0, that allows a free use.

cool, so you have seen the holotype personally?
Reply

Reply

si tenian trompa facilmente podian arrancar el pasto con ellas
Reply

Eso no significa que lo hicieran.
Reply

seria raro que no aprovecharan al maximo todas las posibilidades que les daba el ambiente y esa maravilla anatomicas que es una trompa
Reply

No es tan raro. La mayor parte de los ungulados suramericanos no desarrollaron adaptaciones para devorar plantas abrasivas, y eso a la larga les costó su extinción. En el caso concreto de los astrapoterios hay análisis de su ambiente, de la forma de sus molares (muy parecidos a los del rinoceronte negro) y los patrones de desgaste de los molares y colmillos y apuntan a la misma dirección: eran ramoneadores de tiempo completo. De hecho, se sabe por el desgaste que la trompa actuaba en conjunto con los colmillos para atraer las hojas y ramas y abrirse paso por entre la vegetación. Los toxodóntidos, que vivieron al mismo tiempo que los astrapoterios nos cuentan una historia diferente: cráneo corto, colmillos reducidos, incisivos grandes, molares altos y de crecimiento continuo, como en los caballos, esos sí eran pastadores.
Reply

poderosa mandibula, me gusta el detalle de los pequenos de los incicivos comparado con el resto de las piezas dentales, señales de una dieta muy variedad y de la existencia de una trompa
Reply

La mandíbula robusta es un detalle que también señalan sus descriptores, y eso que a mí me parece normal, excepto con respecto a Granastrapotherium cuya mandíbula es proporcionalmente más delgada. Trompa sin duda, pero su dieta debió ser básicamente hojas de árboles (claro, hay diversas especies de árboles en una selva), estos animales no tenían capacidad de pastar.
Reply

Nice, that thing looks pretty robust.
Reply