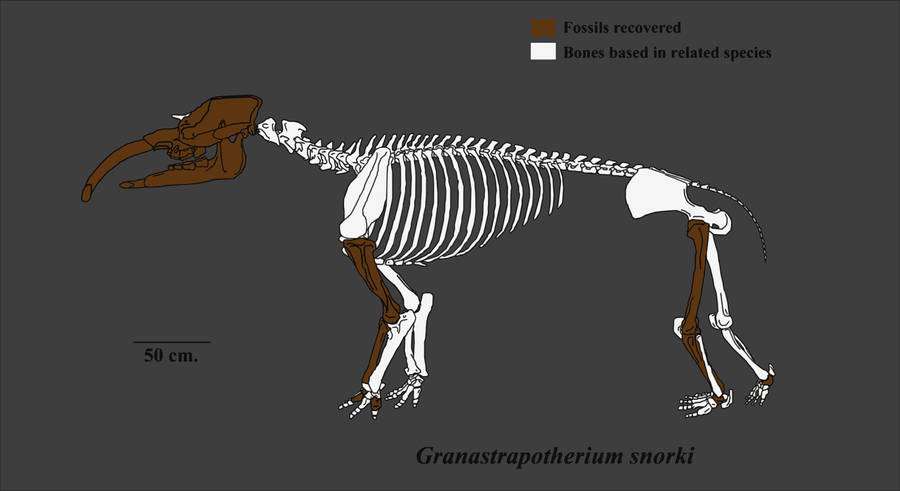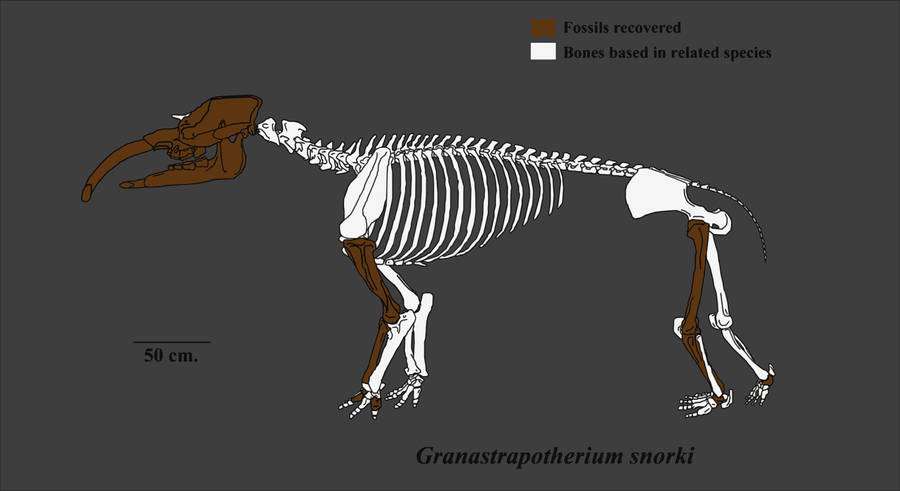 Watch
Reconstructed skeleton of
Granastrapotherium snorki
, the giant astrapothere of Miocene Colombia. The bones are based on
Astrapotherium
, and proportions in the reconstruction of this animal by Jorge Moreno Bernal. I've added tusks elongated and straight, typical of large males of this species.
Update (28/06/2015): I've changed the previous skeletal for a new version, with the idea of show how much of this animal has been found (also, to give it a better appearance). However, this image is still very speculative: the limb bones of this animal - femur, tibia, humerus, radius, two metacarpals and astragalus - have been described but not illustrated (as far I know), so what is showed here is modified from
Astrapotherium
and
Hilarcotherium
, and the skull is actually a composition based in different individuals - including two relatively complete skulls found in Peru, still undescribed - and also, is worth to note that these limbs are not from a same individual, although its proportions are relatively similar to
Astrapotherium
, but the radius and tibia are shorter, meanwhile the humerus and femur are more pillar-like, in order to support the larger weight of
Granastrapotherium
(over 3100 kg).
2nd update (08/07/2015): Now with a different (and, I hope, much better) anatomical posture, with a raised neck and less vertical limbs, following the postures of comparable mammals like rhinos and elephants.
------------------------------------------
Esqueleto reconstruido de
Granastrapotherium snorki
, el astrapoterio gigante de Colombia en el Mioceno. Los huesos están basados en
Astrapotherium
, y las proporciones en la reconstrucción de este animal hecha por Jorge Moreno Bernal. Le he añadido colmillos alargados y rectos, propios de los machos grandes de esta especie.
Actualización (28/06/2015): He cambiado la imagen anterior por una nueva versión, con la idea de mostrar cuanto de este animal ha sido hallado (y de paso, darle una mejor presentación). De todas maneras, la imagen continúa siendo muy especulativa: los huesos de las extremidades - fémur, tibia, húmero, radio, dos metacarpianos y astrágalos - han sido descritos pero nunca ilustrados (hasta donde sé), por lo que se muestra aquí ha sido modificado a partir de
Astrapotherium
e
Hilarcotherium
, mientras que el cráneo es en realidad una composición basada en individuos diferentes - incluyendo dos cráneos relativamente completos procedentes de Perú, aún sin describirse - y además, debe añadirse que estas extremidades no proceden de un único individuo, si bien sus proporciones son bastante parecidas a las de
Astrapotherium
, pero el radio y la tibia son más cortos, mientras que el húmero y el fémur son similares a columnas, a fin de soportar el mayor peso de
Granastrapotherium
(alrededor de 3100 kg).
Actualización 2 (08/07/2015): Le he puesto una postura anatómica diferente (y espero, más correcta que la anterior) con el cuello elevado y las patas menos verticales, siguiendo las posturas de animales comparables como rinocerontes y elefantes.
References:
Contexte biochronologique en Amérique du Sud
Jaramillo, Mauricio Pardo. "Reporte de un nuevo ejemplar de Granastrapotherium snorki en el Valle Superior del Magdalena, Desierto de la Tatacoa, Huila, Colombia." Revista de la Academia Colombiana de ciencias exactas, físicas y naturales 34.131 (2010): 253-256.

Johnson, Steven Carl.
Astrapotheres from the miocene of Colombia, South America
. University of California, Berkeley, 1984.
Johnson, Steven C., and Richard H. Madden. "Uruguaytheriine astrapotheres of tropical South America." Vertebrate Paleontology in the Neotropics. The Miocene Fauna of La Venta, Colombia. Smithsonian Institution Press, Washington and London (1997): 355-382.

Scott, William Berryman. "The Astrapotheria."
Proceedings of the American Philosophical Society
(1937): 309-393.
Scott, William Berryman. (1928). Astrapotheria of the Santa Cruz beds.
Rept. Princeton Univ. Exp. Patagonia, VI, Part IV
, 301-342.
Vallejo-Pareja, M. C., et al. "Hilarcotherium castanedaii, gen. et sp. nov., a new Miocene astrapothere (Mammalia, Astrapotheriidae) from the Upper Magdalena Valley, Colombia." Journal of Vertebrate Paleontology 35.2 (2015).

Reply

Glad you like this animal

Reply

Reply

No problem! Is nice to see that this be useful (although I'm still working in the revised version).

Reply

WOW excellent work.


Does this have any future of being on wikipedia?
Reply

Thanks a lot

Well, of course, this image could be useful in a future expansion of the article of this animal, although first I need to check some things (the actual proportions of the skull vs the body are still confusing me).
Reply

Hey,it's a less known species!

You always have some new tricks

May I use this for a reconstruction?
Reply

Thanks! Of course, if you want use it, go ahead.

Reply

Sure

Reply

I'll hope your reconstruction, I know that gonna be very good! if you need more visual references from papers, just ask me.

Reply
Well, what's its size exactly?
Reply

2 meters tall to the shoulder, more or less. Although there is no known complete skeleton, some leg bones have been found and the femur is about 75 cm long, while the femur of Astrapotherium is about 60 cm.
Reply
A very large creature then
Reply
IS this fauna related in any way, to the Sansan fauna?
Reply

If I remember well, are from the same age, and even share certain animals like Amphicyon major and Conohyus.

PD: I forget to ask, have you seen my new Langstonia?
Reply

Los astrapoterios son un ejemplo de evolución convergente increíble

Pero hay otro caso aún más desconcertante...
Pyrotherium era extraordinariamente parecido a Barytherium un proboscídeo africano contemporáneo. Si le hechas un vistazo a sus cráneos podrás comprobarlo.
Reply

Justamente, siempre he visto que comparan a Astrapotherium y a Pyrotherium con los elefantes, pero Granastrapotherium es el más "elefantino" que conozco. De hecho, tiene un parecido sorprendente con Gomphotherium, que es contemporáneo suyo.
Sobre Pyrotherium, he visto que en realidad sus colmillos son también incisivos, como los propios elefantes, pero sus molares están un paladar tan estrecho... no conozco ningún animal así. Claro, tampoco he visto imágenes del cráneo de Barytherium, aparte de algunas reconstrucciones en vida (hay una quí en DA), tendría que revisar, sobre todo teniendo en cuenta que nadie está seguro de que los piroterios sean realmente meridiungulados. Incluso podrían ser parientes de los arsinoiterios

Lo que si me curiosidad es ¿por qué los astrapoterios y piroterios no pudieron lograrlo?¿eran tan poco adaptables a fin de cuentas?
Reply

A lo que me refiero es que es una coincidencia increíble que dos animales completamente inconexos, con orígenes diferentes, viviendo en lugares tan apartados y en la misma época geológica llegaran a desarrollar las mismas características extrañas, considerando que nada similar ha aparecido en la historia de la Tierra...
[link]
[link]
Quién es quién?

No creo que los piroterios sean parientes cercanos de los arsinoiterios, ya que la dentadura de estos últimos es bastante regular.
Sobre tu último comentario, puedo decir que conocemos solo la punta del iceberg en cuanto a eventos en el pasado se refiere. Hasta hace poco tiempo aún se pensaba que los seres humanos o un cambio climático brusco fueron el elemento principal de la desaparición de la megafauna en Norteamérica. Ahora se cree que el estallido de un asteroide en la atmósfera o la caída de una pequeña lluvia de meteoritos también podría haber influido en ello. Otros acontecimientos para nosotros desconocidos podrían haber tenido lugar durante diferentes etapas de la historia de la Tierra.
PD: En mi opinión, la extinción de especies sudamericanas durante el llamado "Gran Intercambio" no fue causada únicamente debido a la competición con las especies invasoras, sino también a las enfermedades y pestes que estas podrían haber llevado consigo, y a las que las especies nativas no estaban inmunizadas.
Reply

Lo del parentesco de los piroterios con Arsinoitherium se debe a ciertas características de los huesos del tobillo, pero igual los han emparentado con los uintaterios, los didolodóntidos, los notoungulados... en fin son una pesadilla filogenética. Pero veo tu punto: entre los mamíferos de diversos eras y lugares ha habido una inusitada frecuencia de la evolución convergente. Considerando que hablamos de órdenes muy distintos, parece que el "diseño" de los mamíferos tiende a ciertas adaptaciones concretas. Por ejemplo, la natación horizontal de los sirenios y cetáceos. Si Barytherium y Pyrotherium se parecieron tanto (gracias por las imágenes, por cierto) habría que mirar que les permitió ser tan parecidos en sus ecosistemas y que clase de posibilidades tenían al ser vertebrados dotados de dientes heterodontos y musculatura facial, con pezuñas y cuadrúpedos...
Sobre lo del famoso gran intercambio estoy totalmente de acuerdo que no solo fue un juego de ajedrez entre invasores e invadidos, pero se debe tener en cuenta que la cronología de ese acontecimiento ha cambiado en los últimos años, por ejemplo Titanis arribó a Norteamérica hace 5 millones de años; algunos perezosos habrían llegado hace 8 millones y parece haber un mastodonte de Perú, Amahuacatherium, de nueve millones de años, fechas en las cuales ya no hay registro de animales nativos como astrapoterios y la mayoría de esparasodontes; algunas investigaciones geológicas que se están realizando en Panamá apoyan la idea de que empezó antes del comienzo del Pleistoceno. O sea que tal vez ese Gran Intercambio fue facilitado por un proceso gradual de intercambio que ya se estaba presentando.
Si me descuido me quedaría hablando de esto todo el día

Reply