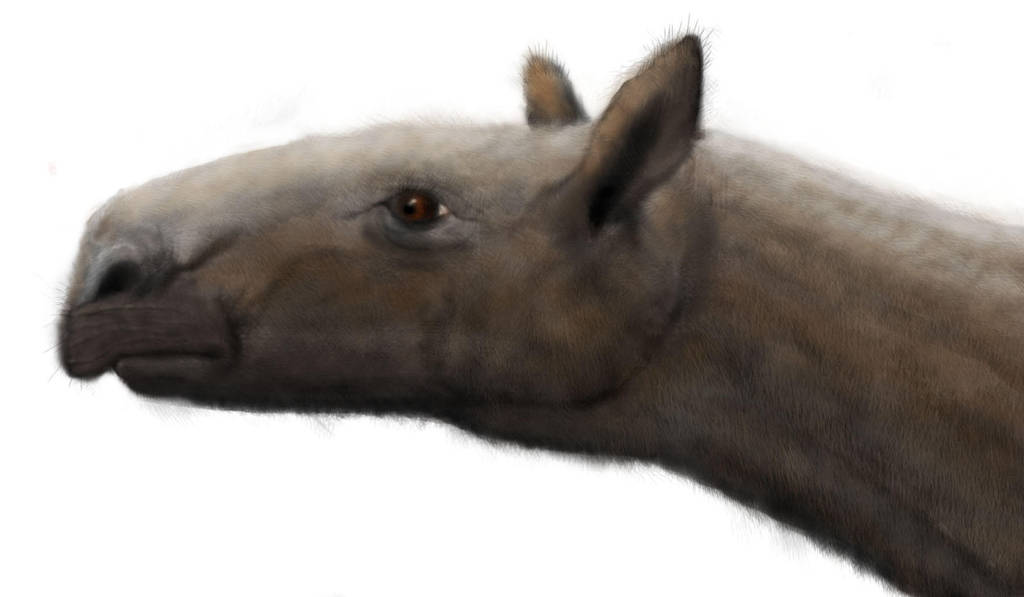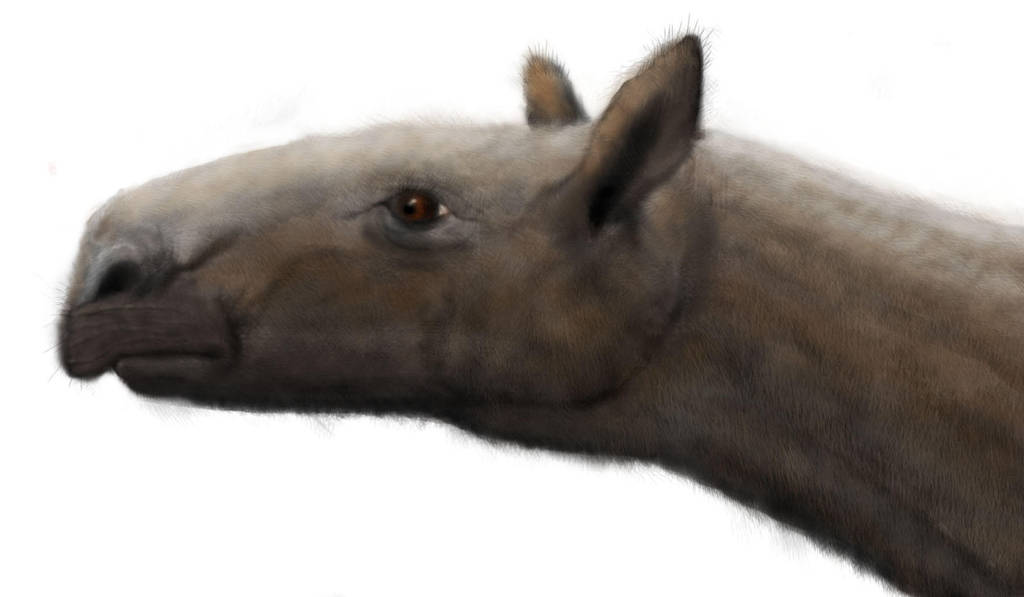 This is a reconstruction of the head of Forstercooperia totadentata, a primitive and smaller relative of the giant rhinocerotoid Paraceratherium from the Eocene of Central Asia.

-------------------------------------
Una reconstrucción de la cabeza de Forstercooperia totadentata, un primo más pequeño y primitivo de gigantesco rinocertoideo Paraceratherium, del Eoceno de Asia central.

**Note: This image is also in WikiCommons, under the license CreativeCommons 3.0, that allows a free use.

esta muy bueno me agrada el detalle del labio superior prominente propio de un animal ramoneador
Reply

¡Gracias! yo le iba a poner un labio más recto, pero alguien me sugirió que sería mejor esa forma de gancho, como bien dices era un ramoneador.
Reply

¿Crees que podría ser mas peludo? tengo varias publicaciones que me sugieren que Forstercooperia totadentata no seria mas grande que una jirafa, en cuyo caso aun estaría dentro del rango de tamaño en que los mamíferos aun conservan un pelaje completo.
Reply

Bueno, si entiendo bien Forstercooperia sería una criatura de tamaño moderado, de pronto me confundí con el la talla de cada especie pero consideré a esta en particular como una criatura similar a un caballo grande y tenía entendido que su ambiente era cálido y estacional, por esta razón le dí (o al menos pretendo) darle una pariencia de pelaje corto, como lo que se ve en un tapir o un caballo. Así que de pronto debo hacer más explícita la presencia de pelaje, ¿que animal consideras que podría ser un buen modelo?
Reply

Tapir, caballo, jirafa, me parecen buenas opciones, pero si ya lo basaste en eso entonces el problema son mis ojos jaja, supongo por que decidiste darle un pelaje gris que pensé que era calvo.
Reply

Jejeje, aunque creo que por seguridad será mejor darle unos retoques al pelaje. Gracias por la observación

Reply

jeje de nada

Reply

Reply

Se ve adorable con esos ojos

buen trabajo en especial con el pelo.
Reply

Muchas gracias (por cierto que parece tener cuencas oculares que me recordaron más a un caballo que a un rinoceronte).
Reply

Siempre me han llamado mucho estos animales, nose por que. Asi que este podria ser el ancestro del Paraceratherium? Lo que no entiendo es que si su nombre sinonimo Indricotherium ya no es valido, por que su familia se llama por un nombre, a noser que Indricotherinae se haya establecido antes.
Reply

Sí, son muy curiosos, a mí me llama la atención que siempre fueron muy delgados, incluso Paraceratherium luce delgado en comparación con los elefantes.

Ahora, eso que mencionas también me parece raro, pero parece que según las normas del código de nomenclatura zoológica sí se nombró a un grupo en base a un género inválido puede seguir en uso, a menos que haya sido nombrado otro grupo en base al nombre que sí es válido. Efectivamente, existe Indricotherinae pero parece que no hay ningún "Paraceratherinae", así que seguirá en uso. Además, creo que su uso es tan extendido que introducir un nuevo nombre crearía mucha confusión.
Reply