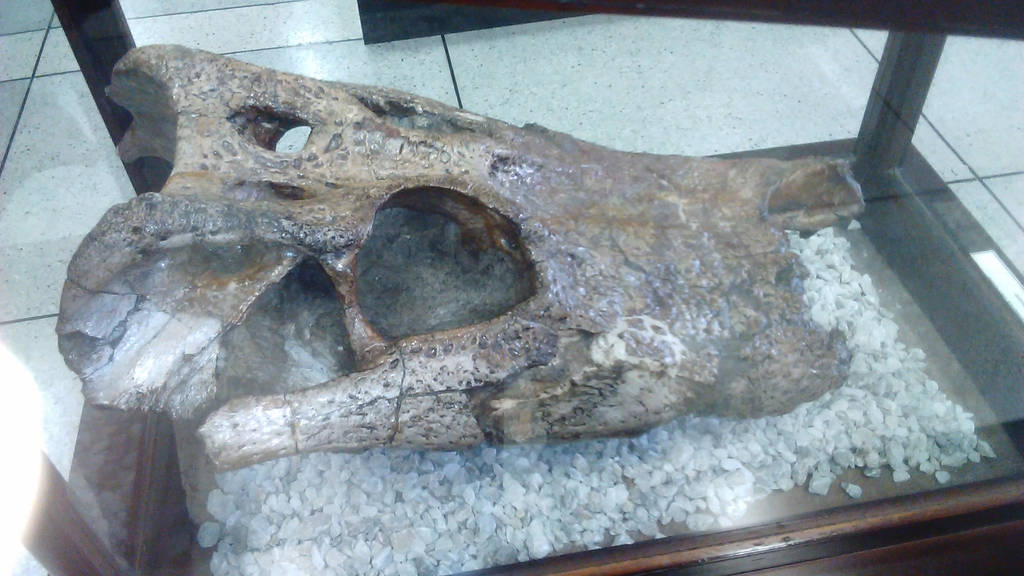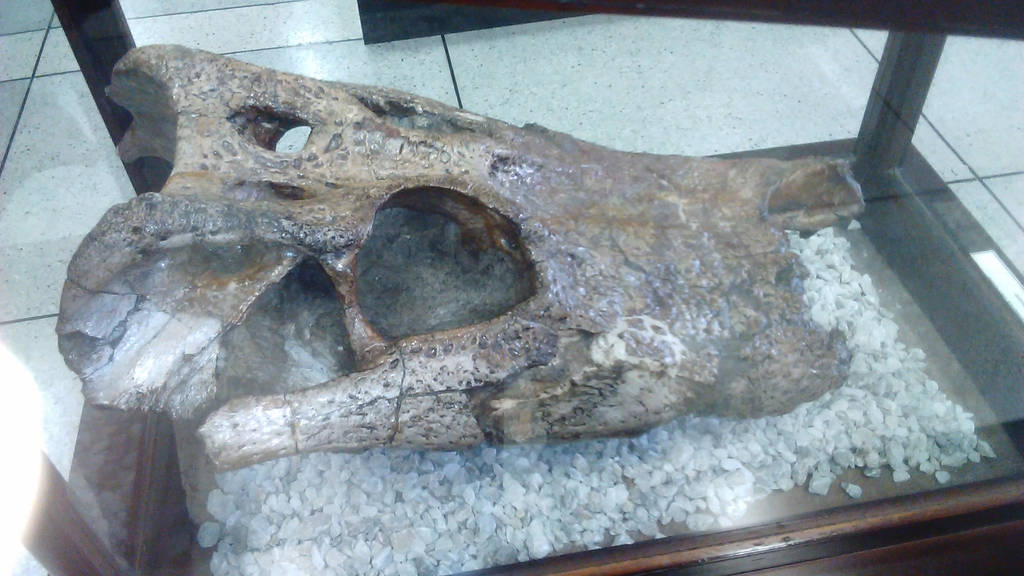 Watch
Skull from a juvenile specimen of Purussaurus neivensis from La Venta Fauna. Museo Geológico José Royo y Gómez, Bogotá. A more complete view of this specimen is here:
1.bp.blogspot.com/-ej6Qw3ZlGmQ…

Huh, surprised I haven´t seen this yet.
If the Skull is 40cm long, the caiman should have been between 2 and 2,5m in lenght, no? Still pretty big.
Also, I can´t seem to find skull images of adult P. neivensi, but from what I´ve found (
twitter.com/en_route_paleo/sta…
)this species seems to had a rather flat and "normal" looking skull, compared to the very massive one of P.
brasiliensi. Can you confirm or deny this assumption?
Reply

Hmm, I'm reading the description of this skull: actually measures 44,1 cm so is certainly a respectable size. There is also images of the adult skull, which measures about a meter in length, and these skulls have a smaller nose and not so flat appearance as in the recosntructions of P. brasiliensis. Jorge Moreno Bernal, who have worked with skull of Purussaurus, suggests that is better use this less collapsed reconstruction:
Reply

que maravilla, me habria encantado verlos vivosa los Purussaurus, claro desde un vehiculo blindado
Reply

Jeje, bueno con uno jovencito el vehículo no haría falta, aunque con adultos yo creo que sería mejor con helicóptero.

Reply

un tanque seria mas seguro, porque si sus parientes actuales son capaces de saltar fuera del agua ¿porque este gigante no?para el un helicoptero solo seria una pajaro grande, quizas apetitoso
Reply

Bueno, un helicóptero no tendría porqué acercarse tanto, y de todas maneras el ruido de las aspas ahuyenta de por sí a muchos animales, incluyendo cocodrilos modernos.
Reply

Mi tesis de pregrado / My undergrad thesis
Reply

Aww, it's cute~

I bet that was certainly a sight to see in person, huh? Something from only a juvenile that was already almost half a metre in length~ Really puts you into perspective with how gigantic these things were.
Reply

Indeed. Although Purussaurus neivensis is the smaller species between Purussaurus, still it was a large animal and is interesting to see that they begin their lives been more similar to a modern caiman, with large eyes.

Reply

Reply