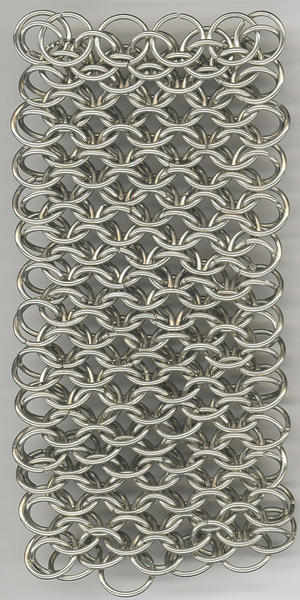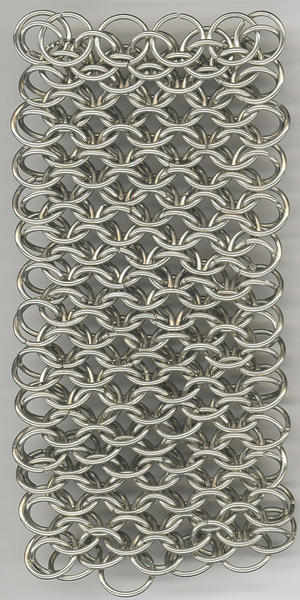 Watch
Dragonscale...with a name like that you know it has to kick ass

So named because it has two ring sizes, and the larger rings overlap in a way that makes them look like scales. The effect is difficult to see with these particular ring sizes, and the fact that I have it stretched out doesn't help it either, but trust me they look like scales

Maybe I'll post another scan later...

I'll agree that I love d-scale over many other weaves. I like the way 3/16 & 1/8 feels and even looks when in color.
Here is some of my recent work
with dragonscale. Not bad considering the start of the summer I never did anything but then my first project was 6-in-1 and these two were done most recently; projects three and four.
Reply

Dragonscale's definitely my favorite weave, and the fact that it has the most kick-ass name of the weaves is a big plus

Reply

Nice pattern. Do you have any direction to tutorials on how to do it?
Reply

You got it, I'll work something up in Bryce

Reply

Yea that looks really cool, sort of like chainmaille? (But obviously not...) the vest i mean btw. Anyways looks really awesome, you have some chronic-ass patience!
Reply

That is kick ass! I can see how they look like scales. What is this going to be and what would you say the size is?
Reply

ahh, keep forgetting to include the size information

hmm...I don't have a ruler handy but from looking at the patch I'd estimate it's about 4-5 inches long, but then I'm absolutely no good at estimating lengths
I'll dig up a ruler and throw the exact dimensions in the description later

this is just a patch I did while learning the weave, so I won't be turning this particular patch into anything, but I
am
working on creating a full
vest
out of dragonscale right now

Reply

A whole vest?!?! That's amazing! Oh I'm so excited now, I can't wait to see it!!!!!
Reply

Oh that one's gonna take a while, my first (well, second, but the first one was a crappy quick one) took me about 3 months to do. The dragonscale one will take at least 4-5 more months.
I am working on getting some decent pictures of my current vest, though.

Reply