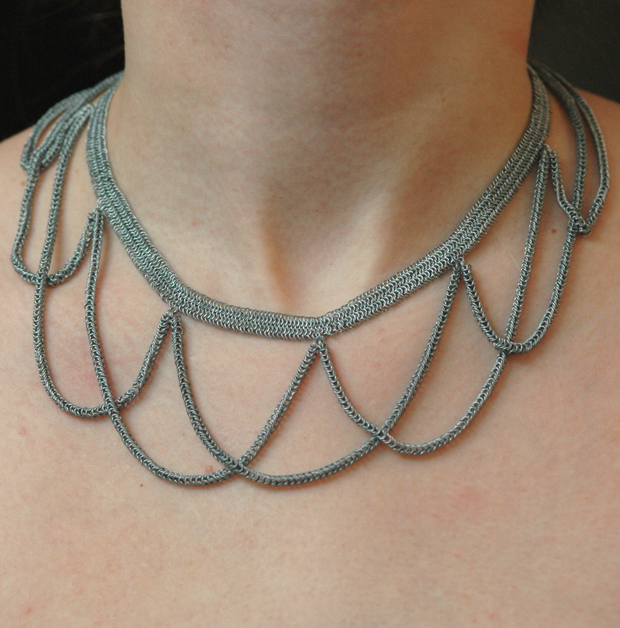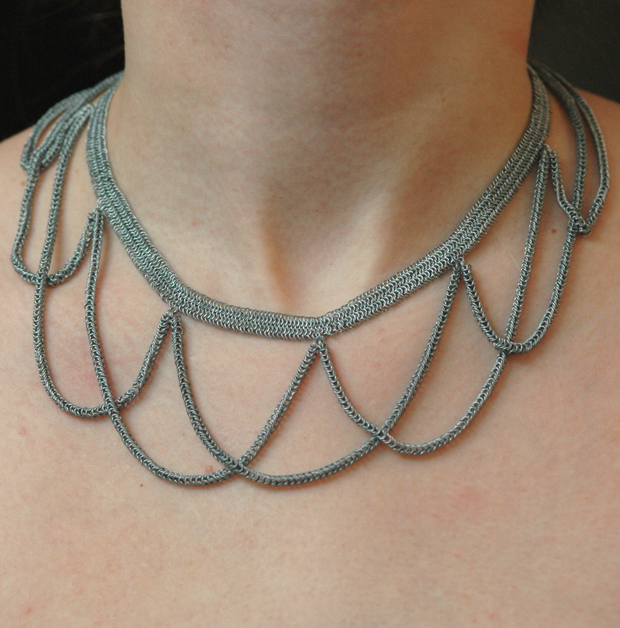 Watch
My choker of insanity being modeled by the beautiful Krista (a.k.a. *
spiralkitty
)
Choker is composed of 30 gauge aluminum, with the European 6 in 1 weave for the main band and Box Chain dangles.

This is amazing micromaille. Though I would never presume to duplicate the design, would you be offended if I borrowed the feel of it in my own work?
Reply

geez....what guage is that...talk about micro maille.
Reply

That's 30 gauge aluminum

Reply

where do u get 30g aluminium? i have yet to see that, now ive done 34g galvi and brass, but i havent seen aluminium that tiny
Reply

Picked it up at Wal Mart, I think it was categorized as "picture hanging wire" at the time

Reply

was it several strands twisted together or something?
Reply

I thought about looking for some of that because I'd like to go smaller, but this was actually sold as solid 30 gauge

Reply

Hell! I'll just come one with my request now! Could I purchase a choker of you? With a stone in it? I can pay by buying a three month sub to anyone of your choice or a print for you? I'd like the stone to be white and intwined in the metal like ~
Adaven
does. I've got loads of time though; I don't need it until Christmas. That is if you are willing and have the time yourself?
Mister Ingo
Reply

I'd love to try it, but I can't really commit myself to it right now as I'm not sure if I'll even be able to do it

I might be able to do it

Reply

As I said: you don't have to. Hehe... I have no doubt however that you are capable of doing it! I think your chainmaille is stunning! Absolutely fabulous!!!
Reply

I love it! The detail work is so intricate. All those little links would drive me mad! I'd love to see you incorporate some cut gems into it. I found that some rock shops will sell faceted garnets and amethysts for like 7 bucks. You're probably the guy I know who could make it work!

Reply

I'll definitely be looking into incorporating stones and beads into my jewelry. I never really had an eye for that kind of thing before, but *
spiralkitty
does so she'll be helping me out in that department

Reply

Reply

Mm, chain maille. This looks really wonderful. Have you considered doing smaller pieces, like rings? Wonderful job.
Reply

I have done some finger rings before out of 20 gauge galvanized steel, and I've considered doing some out of the 30 gauge, but I'm afraid that the 30 gauge aluminum would be too weak to survive being worn as a ring. It's worth a shot, though, I'll be sure and give it a try

Reply

Some of the jewelry I've seen made out of the 20-30 gauge is just stunning. It's amazing the amount of intricacy and dedication and TIME must go into these kinds of things.
Reply

Thank you!

I spent a lot of time on the 30 gauge stuff, the 20 gauge can go rather quickly if I stick with it but most of my 30 gauge takes upwards of a week of constant work

This necklace took me a full month of working during class and on breaks at work

Reply

yeah i like the other ones better...
Reply