Hey everyone!
On Web Activity:
It's been awhile since I've updated ya'll on what I've been up to, which seems to be pretty common honestly. Hope you've all been doing well! Lately, I've been most active on my
Twitter
, and have been posting a drawing every day for 132 days so far. Most are just little scribbles, edits, and colours on other people's stuff. But I've been trying to make sure I do a little something creative each day no matter how small it is. Most of it isn't good enough to put in my gallery here, which is why I've been using Twitter. Full illustrations are what I'll be posting here, same with Artstation when I finally make an account there.
On Sonic:
I'm very grateful to have gotten some work with IDW after endeavoring to break in for a while! My first colouring work for IDW's
Sonic the Hedgehog
comic was released online recently which you can see here: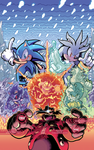 I've also got a (very) short Sonic fancomic in the writing stage that I'll be making when I've got free time! And there's one more Sonic thing in the works that you'll see...soon?
On School:
Taking 4 classes this semester on my road to finishing my BFA in Fine Arts, so it's been pretty hectic. I'll be going on a Field School Program to London, Venice, and Germany during the month of June, which I'm really excited about!
On Mental Health:
I don't get too personal on the web, but the last few years have been pretty terrible for me and my psyche, last year especially. A long term relationship ended like...5 months ago, and it had been making me increasingly self destructive and unhappy with myself. Now that it's over, I've been incredibly fortunate to have friends help me through the healing process. I've been working hard to be more self aware and accepting of my characteristics that had previously been criticized or ridiculed.
I also started going to counseling some time in 2017. It took a bit to find a counselor who could actually help with stuff, but I eventually did. And I'm really happy to say that I don't need it now. My wallet thanks me, since my insurance didn't cover it, but I'm really proud I could get through it. Actually acknowledging that I needed to go in the first place was really difficult, but worth it in the end.
On Evalla:


Hahahahahahaaaaaaa....I gotta re-upload those pages of Chapter 3 I deleted here. I haven't been able to keep up with it as my free time has been minimal, and I've been focusing on school, work, and freelance stuff. I found that having deadlines for art and schoolwork was way easier to get motivated, and with a personal webcomic, updating it began getting more tedious and unfun. I may be treating the first 3 Chapters as a "First Draft" ya know? I feel it had some good ideas, but the execution needed a lot more hammering down. I'm not getting rid of the characters by any means, I love 'em, but I may try to get Evalla out into the world in a different way. It may be a comic, something else, but I'll keep fiddling with the world and see where it takes me.
Aaaaanyways, have a great rest of your day whoever is reading, and please follow my
Twitter
for more activity!
All the best,
Reggie