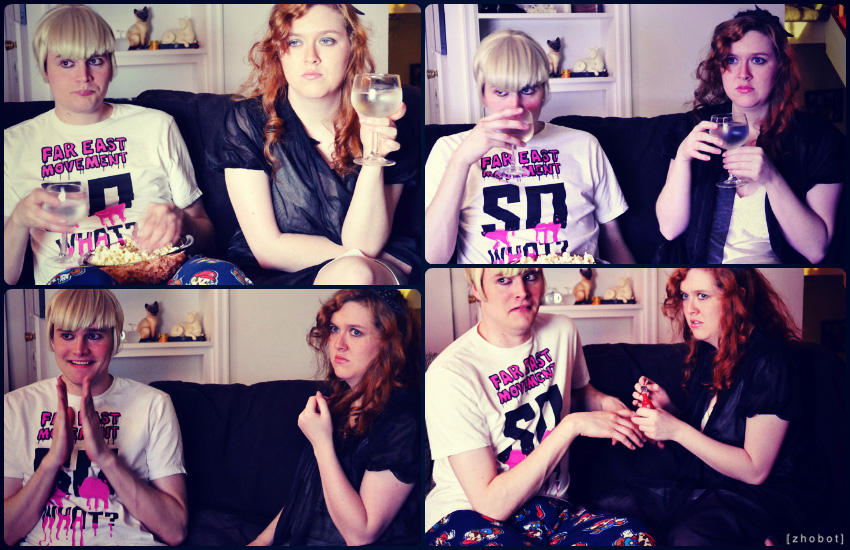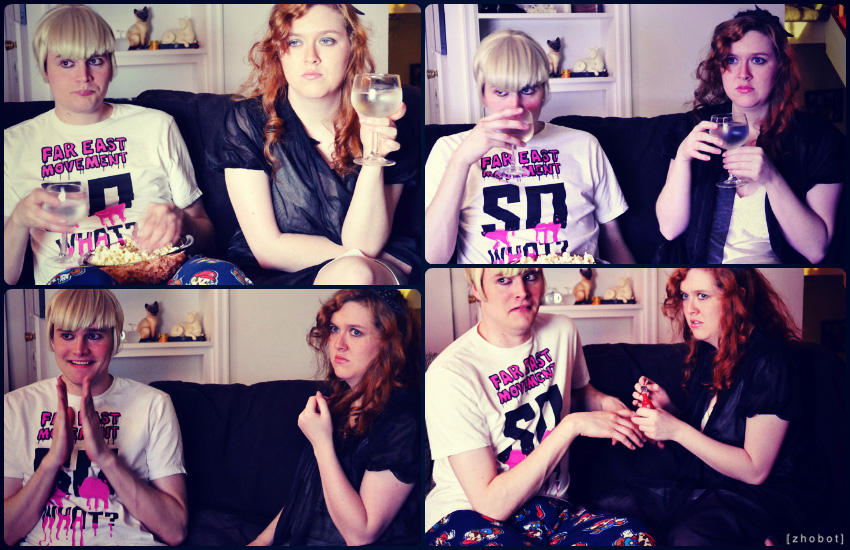 Watch
Sometimes when Angel was out of town visiting family and Jaryn was shopping or out at a club with her new buddy Dare, Kerith would bring a movie from his collection over for he and Aubrey to watch while they gossiped. She really didn't think much of his movies - they were usually too bloody, too artsy, too ridiculous, or all of the above. Whenever she would comment about the movie, Kerith would drop a line about all the cat knick-knacks she had around her house. They would roll their eyes at each other, laugh and continue watching whatever thing he had brought over. By the end of it, he was usually also wondering what the hell they were watching.

"I don't remember the movie being this weird."

"That's what you say about all of them."
...
These were originally posted on our tumblr (
[link]
) awhile back and I figured I'd just copy and paste some of the explanation from there to here!
"We were bored this weekend, if you couldn't tell. We were also supposed to be cleaning and working on costumes and we did… some of that. We also got a remote trigger for the camera, which is what we were testing here. We figured instead of just being lame and standing in front of the camera and testing it out, we'd have a little stupid fun with it.
Nate's wig was acting kind of wonky, but we didn't really fix it too much after putting it on him. He is disheveled sleepover Kerith after all, with his Mario pants and his Far East Movement shirt lololololololol.
We had so much fun finishing off the whipped cream vodka from Katsucon(!) and eating popcorn as SLEEPOVER!KERITH AND AUBREY that we'll probably be taking more photos for a Jaryn and Oblio set in the next weekend or two! We need a good story for them though. That's the difficult part with them. With Kerith and Aubrey we were just like, "sleepover, nail painting, bitching."
WE'RE RIDICULOUS I KNOW ALL MY SORRY SORRYS"

Lolol, aww. It made me smile.

Reply

You are just...too amazing :'D
Reply

Ahhhhhhhh, nooooo, just totally geeky! XD

Thank you! <3
Reply

OMG XDDD You should totally make more of these 'cause these are just fnjfhsdifaohi : DDDDDDDDDDDDDd Yeah I don't know a word to describe the awesomeness XD
Reply

Ahhh, thank you, hun! <333 We've been talking about trying more - they're way too much ridiculous fun to resist. It's hard to think of "stories" we can photograph though!

(We REALLY want to try some with Marcos & Frenchy costumes, muahahahahahha!)
Reply

You're welcome <3 Hahahha I can belive it's hard to come up with those xD

Oooooh that would be so awesome 8DDDDD It would be really nice to see that : D
Reply

Reply