9 Favourites
26 Comments
390 Views
I was listening to the Amelie Poulain soundtrack earlier and it kind of got me into a very French feeling, especially because I've also watched taxi 2 today

so I was just thinking about making a small collection of photos that remind me of France [ been there in 2003 ]. just want you to know that I don't mean strictly street photos, I also mean that small cafe look, the 2 lovers holding hands or simply kissing the hell out of each other, the croissants, the bistros, that specific music and all.. that French feeling.
:thumb30244441:
:thumb44082612:
:thumb41074007: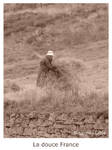 :thumb47708450:
:thumb13795767:
et maintenant quelques photos avec la cite que j'ai visitee quand je suis allee en France, c'est Rouen.
:thumb27271134:
I'd also like to recommend to all of you a song by Carla Bruni [ it's in French and it kind of completes the wntire atmosphere ] - L'amour ->
youtube.com/watch?v=flmoa2dVOS…
I hope you like it.