So I hear there's been a rash of deletions of erotic images here on deviantART lately (it's too bad there's no equivalent to the Adult Flickr Members group here on dA, to keep track of everything going on), and I've finally been hit. My initial reaction was righteous indignation, of course, but I'm going to approach this rationally instead of emotionally. I don't know what the cause of this "sting" is - most people suspect new staff members or an army of TOS violation reporters (who have no doubt taken a tip from Communist Russia - keep an eye on your neighbors!) - but the most plausible explanation I've heard is utilization of a new image recognition program (the future is here!). This is actually
more
terrifying than the other possibilities, because now our freedom of expression is subject to the whims of an unmerciful, inhuman program. Now this is just a rumor (I wish I could find the comment I read that suggested this - these kinds of things disappear surprisingly well on deviantART), but the most salient detail of all these deletions is just how arbitrary and inconsistent they are. A human being (whether staff or upset user) could easily find worse images to single out.
Anyway, I should consider myself fortunate that out of hundreds of nude and erotic images I've posted to this site, only three (so far, at least) were flagged for deletion (and not necessarily the worst, crudest, or most suggestive ones). You win some and you lose some. But it's worth considering which images stuck out, in comparison to all the ones that have
not
tripped any wires. (Especially if this is an AI we're dealing with, so we can reverse engineer its algorithm, learn what its triggers are, and begin to predict what will set it off). There's just one problem with that. Although the notifications I got in my inbox for the deletions name (and shame) the allegedly policy-violating images, the links to them are broken because they've already been deleted! How am I supposed to learn what a policy violation looks like if I can't see which of my images violated the policy?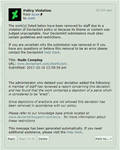 Luckily, I keep meticulous records, and I've been able to - with fairly good confidence - track down the three images that have been deleted, by cross-referencing the posting dates with my original files. All three images were reportedly removed for the inclusion of "a penis which is considered to be 'erect'", despite the fact that I have deliberately filtered all images with erections out of the pool from which I choose to upload deviations to this site. So it would appear that this is another case of the age old question,
how erect is erect?
(And the answer would seem to be: not very).
Which begs the question, how erect am I in these three pictures? I will concede that we're wading into murky waters here, but allow me to make my case. By my own definition, I would not describe any of these pictures as including an erection, although there may be some partial engorgement involved (as happens naturally for a male, especially in the course of a nude photo shoot). Still, there is no rigidity, and the penis (where it hangs freely) curves towards the floor. I would argue that the defining quality of an erection is the way it sticks out, and stands at attention. To judge an erection based sheerly on length or girth is to discriminate against the well-endowed. To whatever extent it may be considered that erections pose a viewing "hazard" (to minors or prudes or whatever), it should be the
erectness
of the penis and not its size that is considered. Or are we saying that big penises are more sexual than small ones? That to be well-endowed in a nudist or artistic environment should be considered a sex act?
My position - however logical I think it is - would be easy enough to refute. You could write me off as a pervert (I plead guilty) trying to circumvent the rules (to that I'd have to mount a defense). But listen. The penis is a highly mutable organ. It fluctuates constantly, adjusting to environmental stimuli - such as heat and pressure. It has functions beyond the sexual. Sometimes it's larger and sometimes it's smaller - the same way the scrotum rises and falls and undulates, or the way that nipples harden. It's largest when it's erect, but not all growth indicates sexual stimulation. Sometimes my penis shrivels up like a frightened turtle. Other times it sticks its head out proudly, like a rocket on a launchpad. Most of the times it's somewhere in between.
I suppose I'm at a disadvantage because I've taken lots of pictures of erections, and know what they look like.* An erection is not ambiguous, by its very nature. A penis that hangs down, curving towards the floor, not protruding exceptionally far from the body, cannot be described as an "erection". I think it's only fair that anyone (man or machine) whose duty it is to censor erections should be
mandated
to view images of
actual
erections, regularly. So they know what they're looking for. Because when erections are banned (as they have been on this site for as long as I've been a member), and nobody sees any erections any more, then people will look at the penises they
can
see, and start to judge those that are slightly longer or thicker or more protruding than the rest as erections. And after
those
penises are banned, what happens next? Only men with pencil dicks will be allowed to pose for art? This is the very definition of a slippery slope.
We put so much effort into controlling the exchange of information, propping up in our minds this illusion of the harm that an exposure to human sexuality allegedly causes (when the reverse is probably true - making sex a taboo rots the brain). To what ultimate end? The sanitization of people's minds? (Not that that even works - we're still quite filthy, in spite of any attempts to prevent this). But, it's probably useless to try to rationalize what, I suspect, will ultimately turn out to be a completely arbitrary and inconsistent application of the rules of this site, in the never-ending war of the forces of hatred and darkness against anything that could perceivably give someone else joy of an erotic nature (oh, the horror!). As long as I can keep posting
some
images of my naked body that will surely get audiences hot and bothered, then my goal is fulfilled. And if, in the future, posting rules become so tight as to be stifling, or if deviantART correctly identifies me as a "deviant artist" - and therefore unfit for this website - then I assure you there will always be
other ways
to access my work.
*Perhaps the strongest argument in my defense is a piece of evidence that,
as I have lamented before
, is inadmissible in court - an actual picture of an erection for comparison. I put together a personalized response to deviantART on this matter. I can't show you here for obvious reasons, but if you navigate to my erotic photography blog, Truth & Beauty, look for an image at the top of the sidebar on the right.