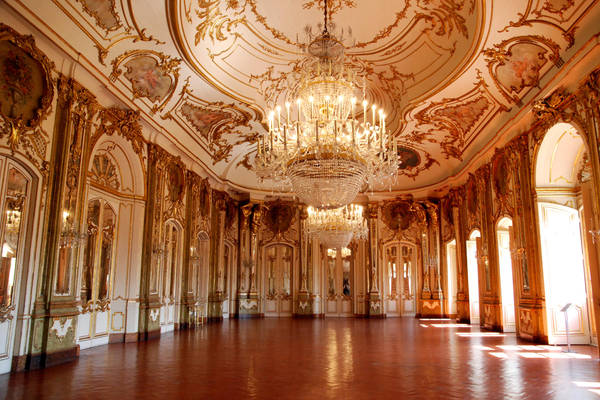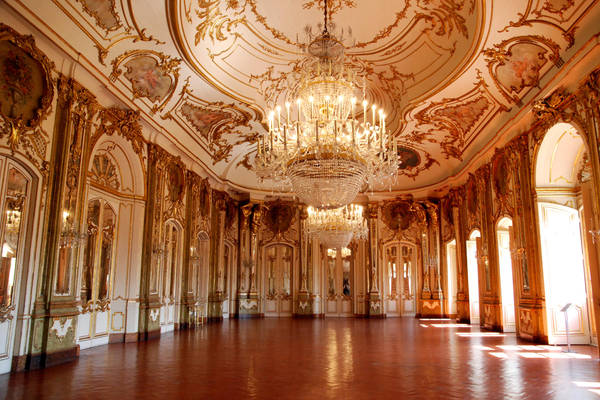 Watch
The Queluz National Palace is a Portuguese 18th-century palace located at Queluz, a freguesia of the modern-day Sintra municipality, in the District of Lisbon. One of the last great Rococo buildings to be designed in Europe, the palace was conceived as a summer retreat for Dom Pedro of Braganza, later to become husband and then king consort to his own niece.

The Ball Room
The Ballroom, the last of the palace's three largest rooms, was designed by Robillon in 1760. To create this oval room the architect combined five smaller rooms. The ormolu Rococo ornament takes the form of heavy gilding to the walls and ceiling, of such richness that it has been compared with that of François de Cuvilliés' Amalienburg at Schloss Nymphenburg. The walls and doors are mirrored and the painted and gilded, coffered ceiling is supported by golden caryatids.

The entire place has mirrors everywhere. A little unnerving place to live back in the day.

If you look closely, you can see my reflection in the back. This one has turned out to be my all time viewed and favored shot on my Flickr Account. I can see why ... it is not necessarily my photography, but location, location, location.

Please note, this is not a stock image and cannot be used for that purpose.

A fantastic piece of photography! It looks so beautiful. Definitely one for the favourites.
Reply

Random anime geek, has never touched a camera in my life but as i was passing looking for a good ballroom photo that I may use when I saw this one, I just gotta say this one is really good. The lighting, the color, and I love how you include background information too. After graduation and I go to Europe I gotta make sure I see this place for my own eyes.
Reply

very beautiful rich interior! magic light! great photo!
Reply

Beautifully captured Don - I'm surprised nobody else has commented on this. Good exposure, lighting and a convincing feeling of depth.
Reply

Thanks Wayne, this is one of my favourites from my trip to Portugal. It was the place that was so amazing. That and the Hall of Ambassadors which is in the same castle. This was one of my early shots I posted here and had not got to know many people yet. But as you know, the most popular pictures are often among the attractive ladies, cute things, and specialty themes.

For example, My Hall of Ambassadors has received about 60 views on my site, but a nice young person asked permission to use it for a Cosplay theme, and so far they have received 500 Comments, 1300+ Favourites, and 17,000+ Views by putting a Cosplay scene in action using this picture. I am glad it worked for them too.

It is an interesting world we live in.
Reply