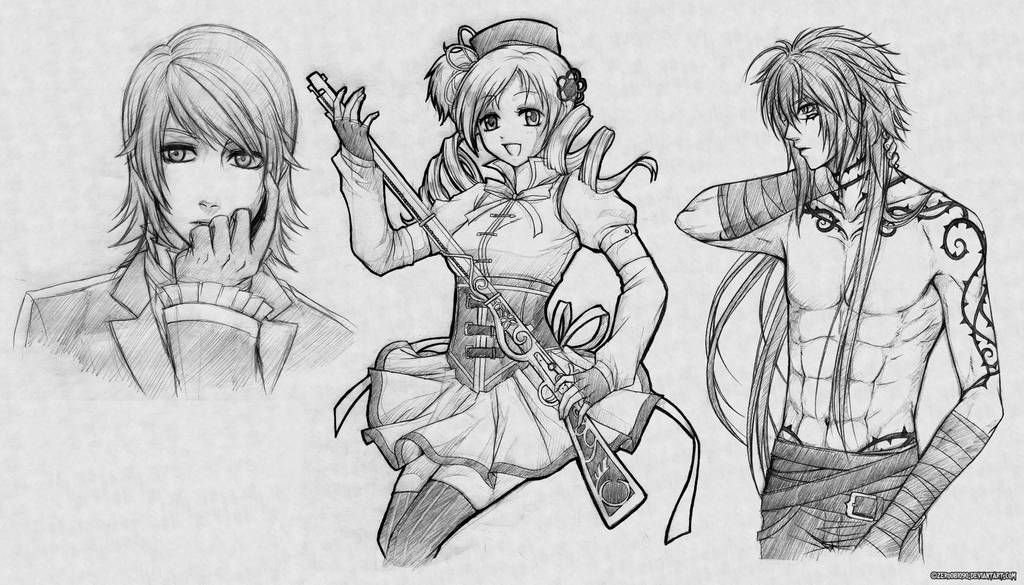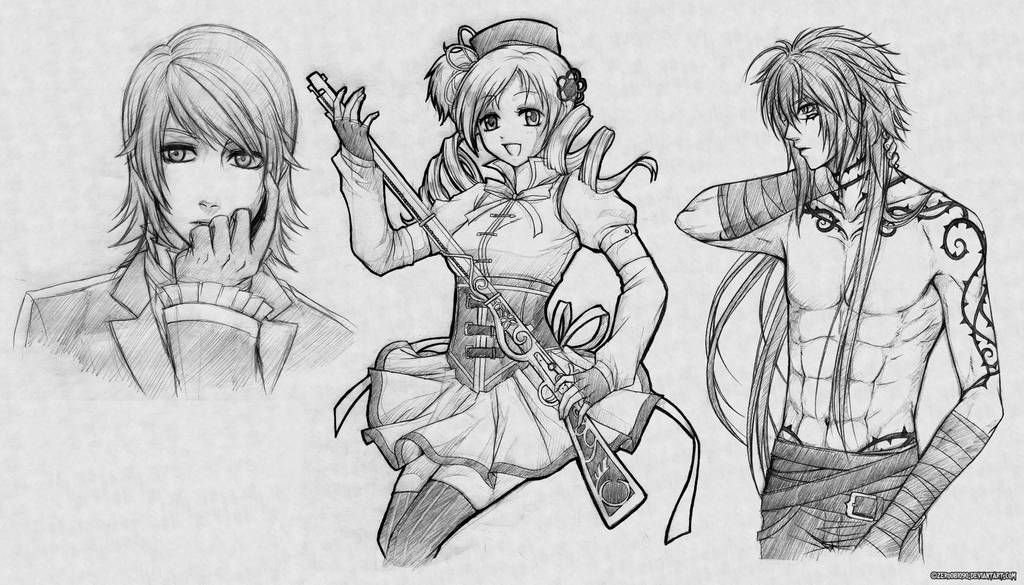 Watch
Sketch time!

However. Pencil on paper, I only arranged a little brightness/contrast and added the texture ('cause all that white made me anxious xD). ...I don't think somebody cares about this, though xD

1. My OC Liam.
Finally a drawing of him that I like...

2. Mami Tomoe (Maho Shojo Madoka Magica) © Shaft, Aniplex, whatever.
Last Wednesday there was Madoka Magica to (at? in? on? My english get worse ever and ever... Don't correct me, let me drown in my own ignorance XD) the cinema. I already knew the anime, though I never watch it - I saw a couple of episodes, nothing more. I also knew a little about the story, I mean, I knew that wasn't the classical majokko, that it has horror elements etc. ...
So, I went to the cinema. And it was... awesome! (Except for the close-up of Kyubey's face - or, even worse, Kyubey's eye - big as all the screen... that's the most disturbing mascotte I've ever seen... so creepy O_O) And there also was a long-haired guy sitting next to me...but we aren't here to talk about my hair fetishes! xD I adored those fighting sequences... expecially Mami's ones! That's why I drew her ^_^ She's so... aaaaaw, I think I'm in love! <3 xD
Maybe I'll make a coloured version, sooner or later... ...we all know I won't, right? xD

3. My OC Wraith.
I don't like this kind of build. But I wanted to try, and he seems the right character for this. ...or not? xD well, however, I don't like this kind of build. I hope that somebody out there will appreciate this more than me! xD And oh, by the way, ignore the right arm, please. I know it sucks. U_U
Huh, wait, it seems he's watching Mami... Run away, Mami, quick!! He bites, and I don't think guns will help you! xD

So pretty and awesome!

I love Mahou Shoujo Madoka Magica, it was just brilliant (I mean TV series, I have never watch the movie).
Reply

Thanks!

Well, I said "movie", but it was just the adaptation of half of the episodes for cinema.
Reply

I wish my sketches could look this clean and awesome xD Mine looks like derp and I always think "I will fix that in photoshop" xDDD
I really like the Mami and Wraith sketches the best, the look dynamic!

Reply

Thanks!

Well, mine are fixed A LOT with photoshop...xD
Reply

I'll love to see that Mami colored uwu
Reply

MAMIIIIIIIIIIIIIIIIIIIiiiiii //piange in un angolo
Reply

A chi lo dici ç_ç

MAMIIIIIIIIIIIIIIIII *va a piangere in un altro angolo, che il primo è occupato*
Reply

SO Awesome!

Reply

ohh so beautiful

the boy is

jejeje xD
Reply