Be carefull....I am an INITEJ
The Strategist/Mastermind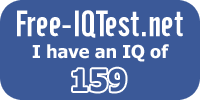 IQ Test For Free
Current Residence: Would you like to know...
Favourite genre of music: JRock/Pop, Game and film scores
Favourite photographer: Myself
Favourite style of art: Anime/Manga
Operating System: Windows 7 Ultimate
MP3 player of choice: A old piece of junk that I got when I was 14

Shell of choice: Thalassa shell
Wallpaper of choice: Something related to Stark Industries (S.I.A)
Skin of choice: Mine?
Favourite cartoon character: Tony Stark, JARVIS the Android, Sherlock Holmes (They are not cartoon characters! They are MOVIE Characters!)
Personal Quote: "I have a perfectly good explanation for this!"