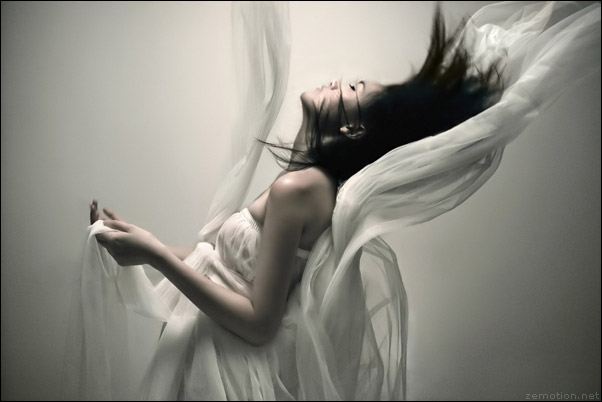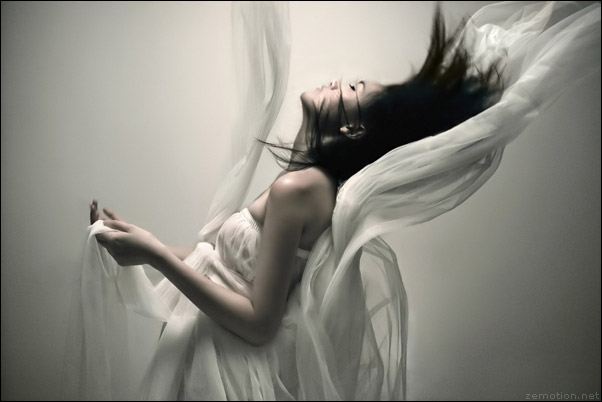 Watch
The fallen angel rises...
-
Photography/direction/styling: Zhang Jingna
Model: Pauline

💥 Print: www.zhangjingna.com/store/rede…
I designed and sewed the dress, it was shot before and not inspired by 300 the movie. There were some 20meters or so of chiffon and tulle, many hours of sewing, unpicking, resewing involved. Hope you enjoy. <3
More of this dress in the Forgotten Fairytales series:


©
Zhang Jingna
Copyright Notice
✨ My photography course, Artistic Portrait Photography:

http://

zemt.io/n-learn 😁

Follow me~!
- facebook.com/zemotion
-
Instagram
-

http://

zemotion.tumblr.com
Simply great!

I like the soft light that seem to give the model a glow, combined with the motion blur in the hair, it gives a very soft feel altogether. The diagonal composition from the corner fits the motion of her har perfectly, and is crossed by the angle in her arm. I am also a big fan of the colorchoice, the desaturated, almost black and white feel add to the soft mood of the picture.

The only negative point I can add is that her face feels too obscured by her hair, in combination with the lighting that blows out parts of her cheek and nose.
A minor detail, that doesn't affect the overall feel in the photo, which is magnificent.
The Artist thought this was FAIR
68 out of 74 deviants thought this was fair.
A brillient shot!

I love how this shot has a light and dark feel to it, the shaded edges give it aa nice touch to. The idea was fairly original and i have not seen any other deviation that has taken this angle. I like how she is holding her hands out which makes her look like she's falling but still seems peacefull. I think it would have looked better if the hands looked more defined as they are slightly blury, also i think it would have looked nice in a full body picture with the girl leaning back while on her toes but this shot still has a good feel to it. I like the colour pallet, how the greys and whites stand out nicely against the white - dark edged background. Having the eyes closed was a good idea but i think it would look just as good with the eyes wide open with shock, over all i have no major problem with this peice and think that all of these favourites are well deserved.
The Artist thought this was FAIR
169 out of 182 deviants thought this was fair.