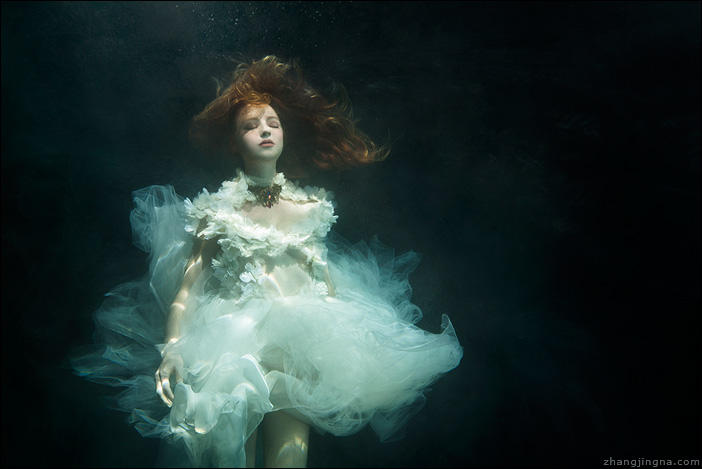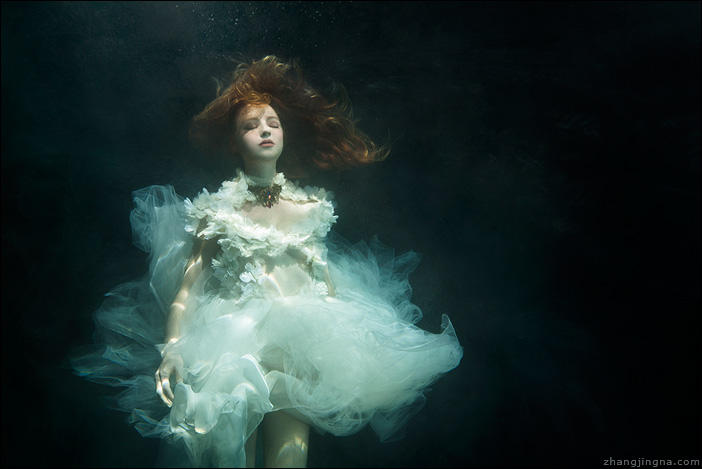 Watch
Get prints for this piece here: zemt.io/mc-prints 💖

✨ My photography course, Artistic Portrait Photography:

http://

zemt.io/n-learn 😁

Photography: Zhang Jingna zemotion
Makeup: Lindsey Rivera
Model: Jessica Dru Johnson
Photo Assistants: Tobias Kwan, Alex Stoddard, Diana Chao, Sophia Chang
Dress: Michelle Hebert
Choker: JuleeMClark
Housing and strobe rental: AB Sea Photo, LA



Follow me~!
- facebook.com/zemotion
-
Instagram
-

http://

zemotion.tumblr.com


Motherland Chronicles:



© Zhang Jingna
Copyright Notice | Facebook | Tumblr | Instagram
The very moment I opened deviantArt, and in the moment my eyes were laid on this photo (it was really hard to tell without reading the description!) I had to open it and comment - this is a piece overflowing with the soft sensation between movement and stillness, sound and silence, light and dark that it interrupts the viewers thinking for a moment. It leaves you breathless, gazing at your screen in awe.

From tip to toe (or tip to thigh), the model is beautiful, clad in pure white dress and set in an illusionary state underwater which reveals all the softness in uncountable layers of canvas and her hair moving in all directions, lingering all in an antigravity-like manner and making this piece like a scene only seen in the wonderlands of our dreams. That is one of the main and inspiring points of the project - it lets us, the viewers, with our minds imagine further the sensation of being in a state as the model is.

Next is the darkness - what does it hide from us? A creature behind her? Even amidst the seemingly endless dark you see small details of light - hints of lighter gray light emitting from the upper left side down and the white, pearlish bubbles escaping up from the girls warm, chestnut-red hair. It's these kinds of details and contrasts in the background that make you gaze at this piece longer - anxiously trying to see more of what you've left to see of it.

About the details of the model, her choker and dress, I find them very inspiring. The dark copper-colored choker resonates with the hair colour and adds some needed sharpness to the picture. However had the dress been a work of mine, I would have left the sides of her chest, the piece along the ribs under her arms without the details that looks like feathers, for it would have looked more fitting and reminded me more of the dresses ballet dancers wear - but that is only a matter of taste, not correctiveness nor must.

As for the photo itself, it is simple and beautiful - a capture of the female beauty and fragileness - the model doesn't seem sad, it's hard to tell what her feeling is, if there's anything she feels at all - all I see is a personation of a dreaming motif veiled in both dress and smoke-like light with some time before being engulfed in the darkness...a radiating work which I find hard to say anything criticizable. I just don't know how. I just breathe in the feeling.
The Artist thought this was FAIR
39 out of 39 deviants thought this was fair.
First off, this is very beautiful. It has defiantly caught my eye in a glance. I actually thought it was a drawing and I had to catch myself before actually posting. The timing of this photograph is phenomenal from her breathless emotional expression to the scene setting! It actually looks like a scene from a move much like an actual dream itself!

The dress and lighting is so crisp and flawless and makes it look exactly like a dream so the name of your photo suits the emotional impact making come off very natural with out forcing it. Great job!
The Artist thought this was FAIR
34 out of 36 deviants thought this was fair.