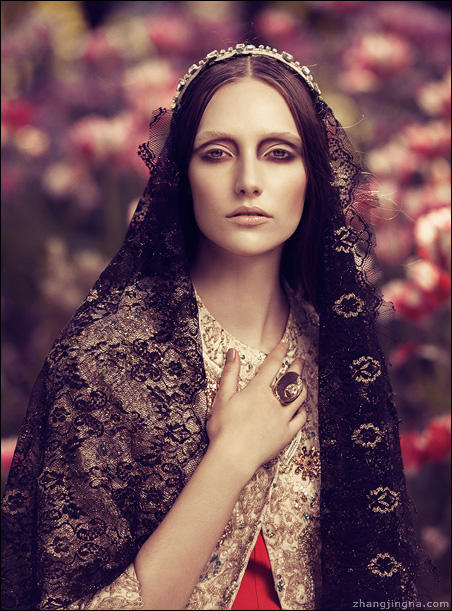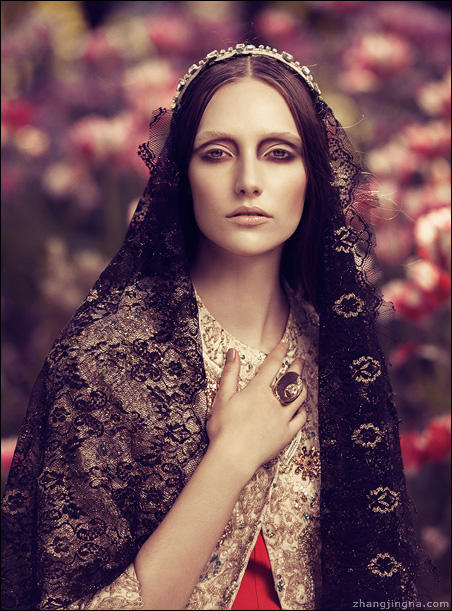 Watch
Shot this when I was in Toronto recently! Check out the full story here
blog.zhangjingna.com/2013/07/f...
Full of Grace
FILLER Magazine Summer 2013
Photography: Zhang Jingna
Styling: Alicia Simpson
Art Direction: Ryan Johnson
Hair & Makeup: Anna Nenoiu @ Page One Management
Model: Kenley @ Elmer Olsen Models
Photo Assistants: Ben Von Wong, Sam Tsang
I also got a Weibo account!
www.weibo.com/zemotion1
Check out my artbook project

!
©
Zhang Jingna
Copyright Notice
|
Facebook
|
Twitter
Okay this piece is certainly beautiful and unique.She looks so peaceful sitting there. the colors are well-blended and match well. Her outfit matches the background well and she looks flawless. I like her ring and makeup, It suits her contours. I dont know exactly what ethnicity she is supposed to be but in some cultures its illegal to show that much of her face and wear any makeup at all. BUT! You made a statement that says that woman are beautiful and need not hide themselves. I see a story in her eyes that she is breaking out of the social norm and showing her true colors. I truly love your work!
The Artist thought this was FAIR
12 out of 14 deviants thought this was fair.
I find this piece quite exhilarating. It is unique in its own way, and the way the colors are in the picture just take my breath away! It sends thunderous emotions tee moring through my very soul! The impact, is absolutely large!! I am a huge fan of artwork, and I know a good art piece when I see it.
What I truly look for in a story, photo, and most definitely in a piece of art, is its originality. I find that originality is very important when doung anything that involves the arts. It shows the independency and creativity in an artist. In this piece, the originality/ creativity is good, the details are exquisite and mesmerizing. I just find that a little bit more background is an order. I saw that all I notice is the character that is in the middle of the picture. Background sets the mood and it defines a characters personality as well. Other than that, you did an excellent job!
The Artist thought this was FAIR
5 out of 5 deviants thought this was fair.