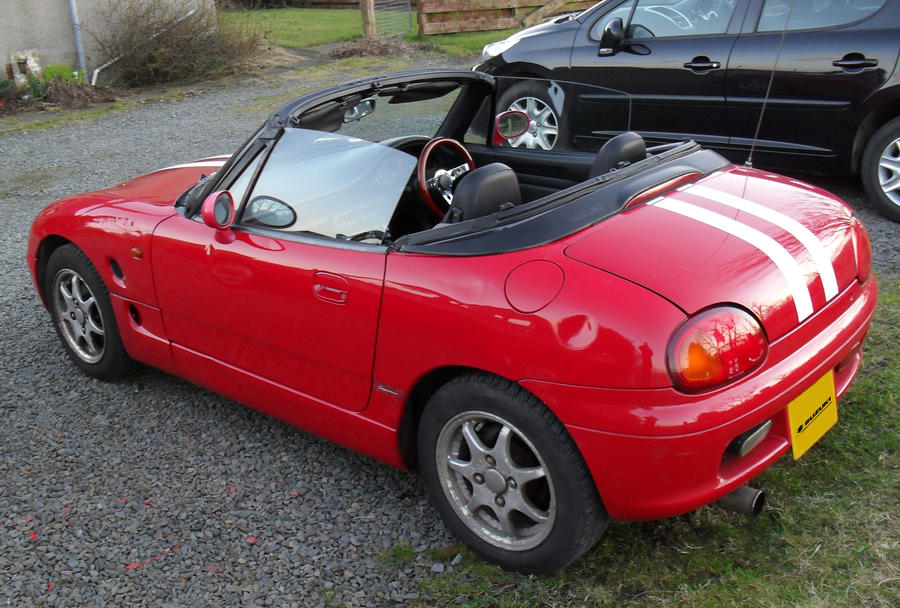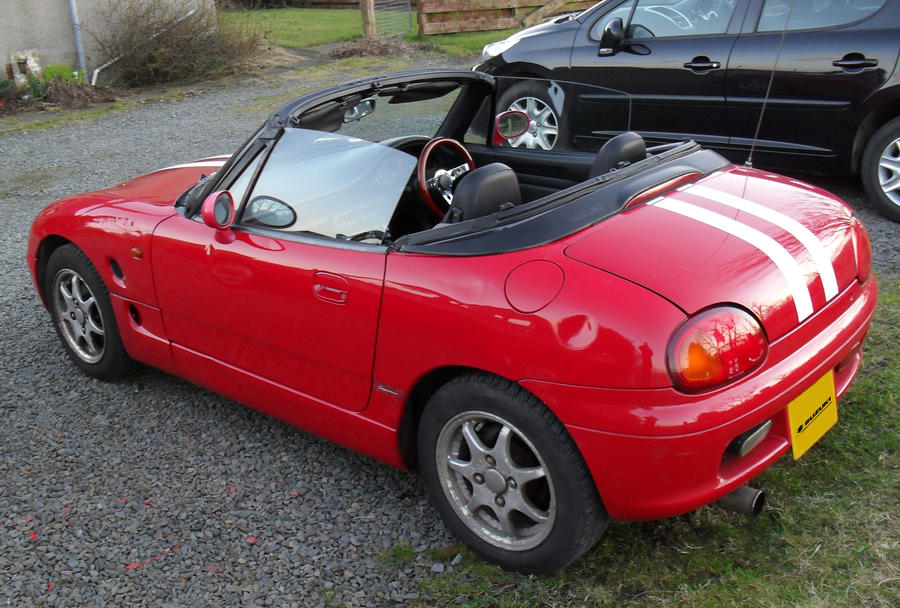 Watch
I did promise that I wouldn't start turning this page into a never-ending automotive diary didn't I? A promise I seem to be utterly failing to obey!

Aaaanyhow, Sunday saw two very important things happen.

1. I had the roof off the Cappuccino for the first time of the year. Briefly. Sunny or not, it's still freezing! This was partly because it was sunny, and partly because I wanted to clear out all the roof drains and such of the winter gunk and to treat all the seals.

2. I finished applying the racing stripes. The rear ones aren't perfect - but from a distance look okay! I may re-apply them on a day when the wind is being less "helpful" than it was on Sunday, and when I've actually got my measurements right!

Next steps cosmetically will basically include a proper polish, touching up some of the paintwork, then getting the wheels painted. That should at least help with keeping things presentable for a while.

It's never going to be a tidy car in cosmetic terms (there's not a single dent-free panel!), but it can still be a lot of fun, and can look all right at least from a distance!

Also for those of you who live in countries where it doesn't exist, the black car you can see in the background is a 2010 Peugeot 207. It looks a bit odd at the front because the sloping front of the nose has been cut off by my Cappuccino's windscreen pillar! If anyone's curious I can probably dig out (or obtain) some photos of that too. Not exactly as exotic as the Suzuki though!

Really great work on those stripes, they've come out really nicely! It's a great idea, and I think you've implemented it well. Looking forward to seeing the Cappuccino again soon!
Reply

Thanks! Think they do work pretty well. They're not perfect - but I think the best goal to go for with cosmetics on this car is get things so it looks decent from a few paces away. There are enough bits missing, dented or held on with string and duct tape that getting it pristine is a lost cause! Well - without thousands of pounds worth of work done by a bodyshop anyway.

Bit of a nervous time of year for the Cappuccino to be honest, MOT is looming in May...Keeping my fingers crossed at the moment!
Reply