Well, it has been a really long time since the last I've been here. Time sure flies



First thing first, I have just finished a new game,
Anicon - Animal Complex - Sheep's Path
recently! You can get the full game here:
www.zeiva.net/anicon/game_buy.…
You can try the game demo here: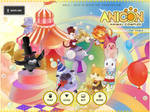 muhoho-seijin also made a complementary Sheep sticker for LINE, which you can find here: store.line.me/stickershop/prod…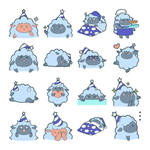 Okay, that's enough advertising for now.

;;

As for my life, last year and early this year have been turbulence for me. Lots of terrible stuff happened (5 funeral in a row, getting a bacterial and viral infection, mental and physical burnout, the list goes on...) So, I took a bit break from social media and from work - decided to reevaluate how I do things. Often times, I tried to do too many things at once and ended up not finishing anything. That's why I have decided that I should focus on doing what I love the most, which is making games. Even though I have yet made anything successful after X-note, I'm never going to give up. (๑˃̵ᴗ˂̵)و
As for Deviantart, this is the place where I used to spend the most time in the past. Things have changed a lot since then, as I'm not drawing as much anymore (which is sad). But, I have no intention of ever abandoning this place. I will still try to periodically upload my random art (and plugging my latest games as usual). Hope you all still enjoy what I made!

Last but not least, stay healthy and happy, everyone!╰(*´︶`*)╯♡

----------

- Support Us: Homepage | Patreon | Steam
- Game Updates: Facebook | Twitter | Tumblr
- Illustrations: Instagram | Youtube