The weekly give away
- those who Follow me
DeviantArt
or my channel on
youtube
will be given the Priority.
- the gives away would be only
one character only
.
- either
level
or
.
- this request doesn't allow any
sexual themes
.


P.S: I will start the gives away for people who commissioned me during the last quarter of 2018.
the current request:
Commissions Levels
Illustrations & Animations
Level B+=
Illustration without backgrounds, starting from
100

(can have a very basic background)
Level A+=
full advance Illustration including a detailed background
200

Level S+=
(not active)
a simple animation with no background, starting from
400

(can have a very basic background)
(up to 5 secs)
Level S++=
(not active)

the payment can be Split on each stage and the price will be flexible depending on the length of the project along with the complexity.
I will provide initial sketches for every stage.
for any additional changes/upgrades/updates I might charge an extra fee.
Illustration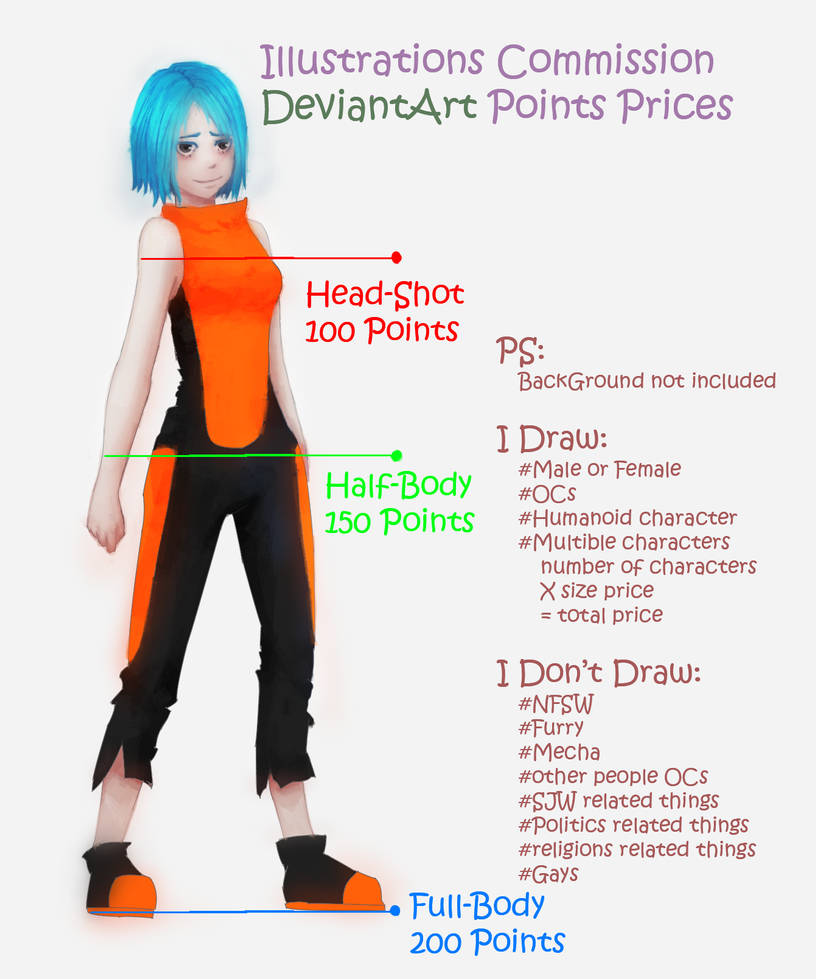 Animation
Operation:
To start the
commission
you simply have to sends me a
note
stating your
commission:
Commission level.

The character name (up to 5 characters).
Link to a reference image if possible.

Any description if possible (to help drawing the personality).
What I can't do
NFSW

Mecha.

Gays.
anything that is related to any religion.
Ocs that don't belong to you (exclude my Ocs).

anything that is related to politics or SJW.
Animals/Furries.
Answers&Questions
Q:
What payments you accept?

for now I can only accept DA points.

Q:
Why you accept

only?

I don't know how to use paypal account and beside I can use the points to active core membership.


Q: How do I know if my commission were accepted?



I will replay to your note and let you know if it is accepted.




Q: When do I pay?



you can either pay the full price in front or just half the payment and the other half once it is complete.




Q: Is it only bust-up drawing type available? Or it can be half body, thigh-up, full body, etc. as well?



half or full body or anything else it can be done.





Q:
Can I have more than one character in my commissions?


Q: Is transparent PNG background available if the commissioners don't want any type of backgrounds?



I can do a transparent PNG background if wanted.




Q: Will you let the commissioners see the sketch (or WIPs) of their commissions before you continue working?



Q:
Can I re-upload my Commissions into my page?
You can repost/re-upload
commissions
as long as you do the following:
credit me.

link my commission information somewhere in the post.

Q: Any Future updates or new levels are added?


yes, there will be:
custom 3D models with ZBrush (can convert the file type if wanted).
custom 3D models for 3D printing (made with parts to make it easy for printing and assembling).
---
(if you have any questions write it in the comments or send me a note)