And with that, all the key players are (finally!) on the board, Chapter 3 is over, and with it the first act.
The mysteries of Ed's past and identity are solved, but the reason for his arrival in Equestria remains unclear, as do the motives of the Osiris and their minions!
Where do we go from here? That's a surprise, but with these equines' luck it'll be quite the trip!

Kazziepones
- inks, colors |
Zaron
- writing, pencils
Lonely Hooves is a fan work. MLP © Hasbro
ARCHIVE
||
TUMBLR
||
DISCORD
||
TWITTER
Previous: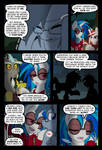 Next:
Image details
Image size
1300x1900px 1.72 MB