Watch
Someone asked if Gaster ever did the
marshmallow test
on the brothers and I'd never heard of it before! The image of one of them petting a marshmallow was just too adorable to resist, haha. Also something for those who wanted to see Gaster have trouble picking something up with his hole hands. The brothers would be around like 4-6 here probably, mentally.
Goatdad dads you. Alternate ending: Gaster leaves them both in there, gets a phone call, then completely forgets about the entire thing for like an hour before remembering and coming to get them.
Some alternate panels: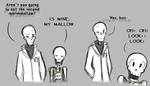 Index
Edit -
Check out Fiore!Sans's dub! (Spanish)
And Bettina Levy's!
And Frank Hyuga's! (Spanish)
Português do Brasil
Magyar
Español
中文
Suomen Kieli
Sans, Papyrus, Asgore, Gaster (c) Undertale: tash mallow