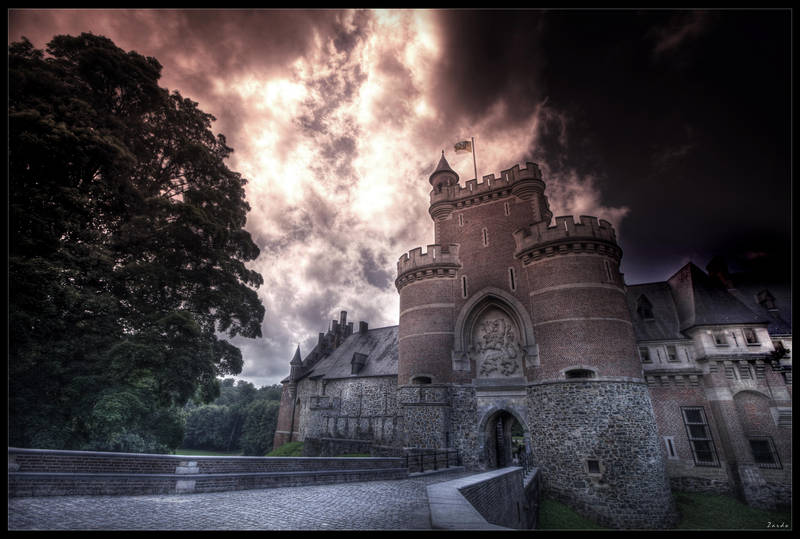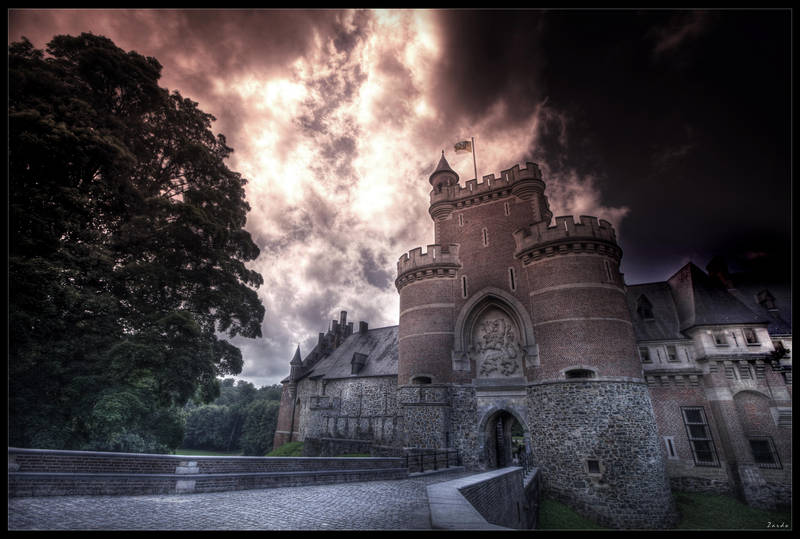 Watch
Photograph taken in Belgium / Gaasbeek with the canon eos 5D Mark II + canon 16-35 L Mark II + cokin Z-pro 124 + tripod manfrotto 190 XPROB.
More photos of this place :
MORE PHOTOS AT : [link]
Become a fan on facebook : [link]
Copyright © Behrouz Riahi, allias Zardo. All rights reserved. My images may not be reproduced or used in any form without my written permission.
Well, let's begin.

To start, I'll say that considering the lack of photomanipulation involved, and just being a photo, it's an excellent piece.

At first I was unsure of the quality - the coppery/slate colours that were evident in prominence suggested to me a colour fade - I have seen its application, and careful use of it could have achieved such a result here.

Even then, if it were not for the close-up of the bridge, I could have mistaken it for a 3D castle construction in a computer software, the red of the castle complementing the sky in what seems to be a very fortunate circumstance.

In a sense, you were lucky with this - the sun, the clouds and the time of day were all spot-on. and the selection of where to take the shot itself was a stroke of skill on youre part. I find my eyes repeatedly drawn to the burning centre of the picture, where the sun breaks through the clouds, that part of the scene intersected by the spire of the castle-town itself.

The open gate and position on the bridge leads me to imagine a batallion of knights riding forth into the world. Speaking of whihc, the tree and those next to it also serve to ground us in reality, to show that we are still on Earth, and not spirited away to some far land.

The blackening clouds on the right carve a section out of the picture, making this pitch-black void. It was a good choice - had the clouds been grey or pinkish as the centre is, it would have detracted from the overall effect of that concentrated area.

"To brave the fire, the skies and the stone is not to prove yourself worthy, but to prove yourself able." ~ Therix
The Artist thought this was FAIR
3 out of 3 deviants thought this was fair.