I'm @ Browny In Search of my cutie mark.
Currently not producing much for Deviant Art, since i try to learn tings like;
potentially modelling, animations, sprites making, game programming, game scripting, game story, others tings for game, more game tings...
It is Unknown if i will become skillful or give up interest into this objective after failing to earn a cutie mark of game development&production and join the CMC's =@
In the past i did some MLP Gif animations out of short scenes from the official episode, but deviant art refused to keep them hosted here and i never uploaded them elsewhere. Even produced a subbed version of the pinkie pie awesome smile song, wit near perfect timing :
Pinkie pie Smile song wit karaoke&Lyrics, on Youtube
Sometime i add video, MP3 and game saves on my skydrive, they are available for public. The link for them are usually in the concerned video description. You can search in the "Pro Games" playlist in my youtube channel.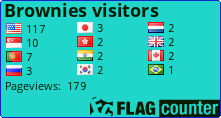 Current Residence:
www.youtube.com/user/ZarcanRad…
Favourite cartoon character: cant choze~ PinkiePie4songs,Luna4awsomness,RainbowDash4Being20%cool, DerpyHoves4BeingLikeMe