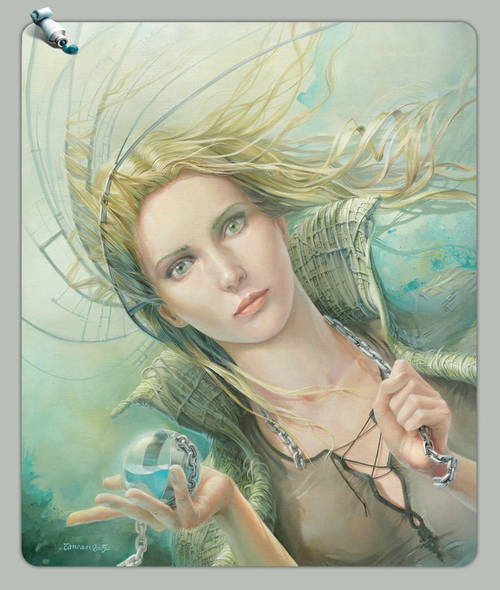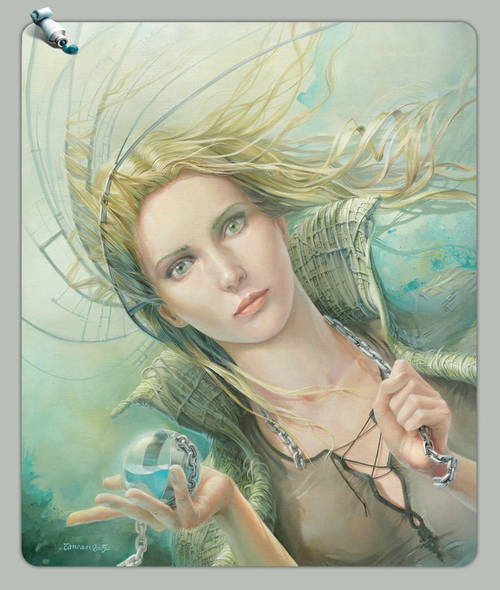 Watch
The Queen of Technical Nonsense
I drew her eyes 3 years ago and swirled around them in a abstract fever whose meaning I never really understood.
Each time I entered my parent's home I was captivated by her look from the other side of the corridor. I always wondered what unspoken thought could hide behind her pale forehead, what mysterious secret could drive me hypnotized to the depths of her pupils.
One day at in a sudden impulse I grabbed a random blank canvas and started to sketch my Queen again. I painted during one month. Feverishly.
I struggled with the hues to keep her face cold but still feel the life breathing underneath.
I blew wind in her hair and colored her lips with purple.
I spent tenth of hours with tiny brushes to carve the surface of her mechaorganic coat.
I reworked her eyes several times until I felt trapped in her look again.

But I still wonder so many things about her.


Close-ups
here

Reference drawing
here

Related scrap
here
*
edit
*
I was much pleasantly surprised this morning to find out my Queen had been featured as a daily deviation. She told me that she felt really honored by such a great distinction. Allow me to transmit her words of thankfulness to all of you.
Daily Deviation
Given 2008-06-12
In my belief as far as I have seen of zancan's work I believe he is as far as I know one of those people who has achieved excellence in renditions of the feminine form.

The sheer organismic detail of this particular painting is stunning in it own right ... If I thought I was impressed by the graphite version then in my opinion this version has indeed left me with very few words.

the first word that comes to mind is BEAUTIFUL.

That Being said now I shall begin with my interpretation of the painting... the original artist is of course entitled to agree or disagree in any case

First off the title probably said it all .. the painting itself only elaborates it.

The flowing hair is and the space effect the background creates may be interpreted as something of a peaceful emptiness and also wind in my opinion in most cases represents change.

the fact that she holds an orb in her extended hand which was clearly worn around her neck as the severed chain suggests and the slight tired expression she has (or atleast that is how I see it) appears to show that she is fatigued by the burden that she carries and is willing to share it, all one needs to do is extend one's hand.
The Artist thought this was FAIR
9 out of 9 deviants thought this was fair.