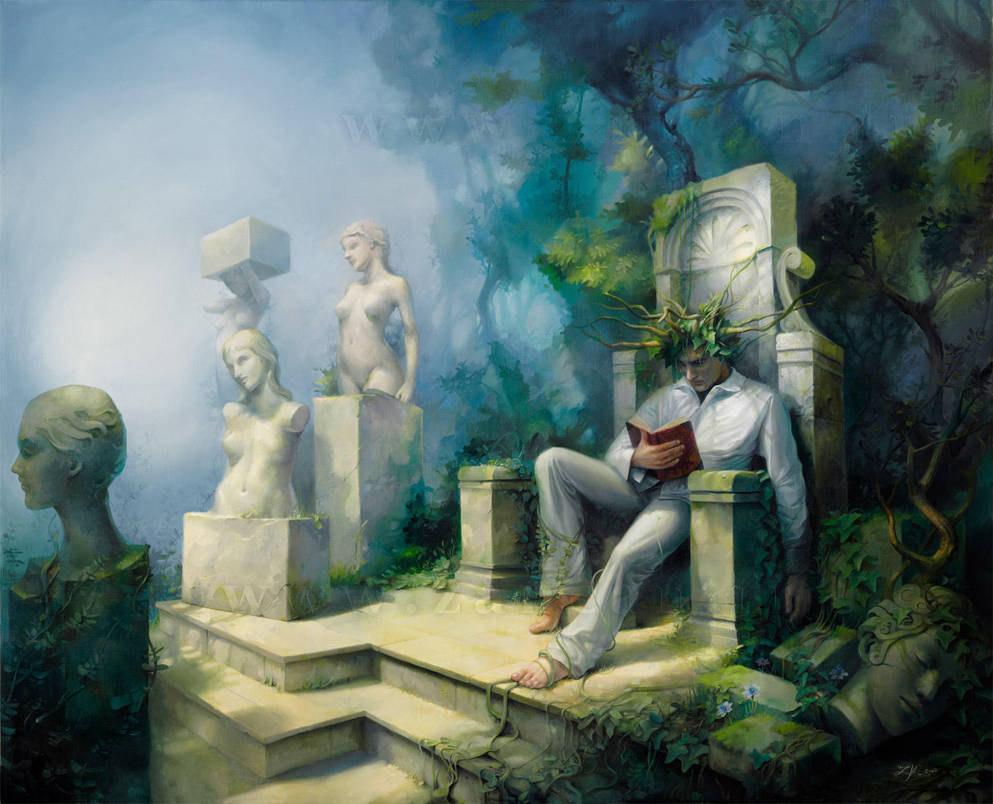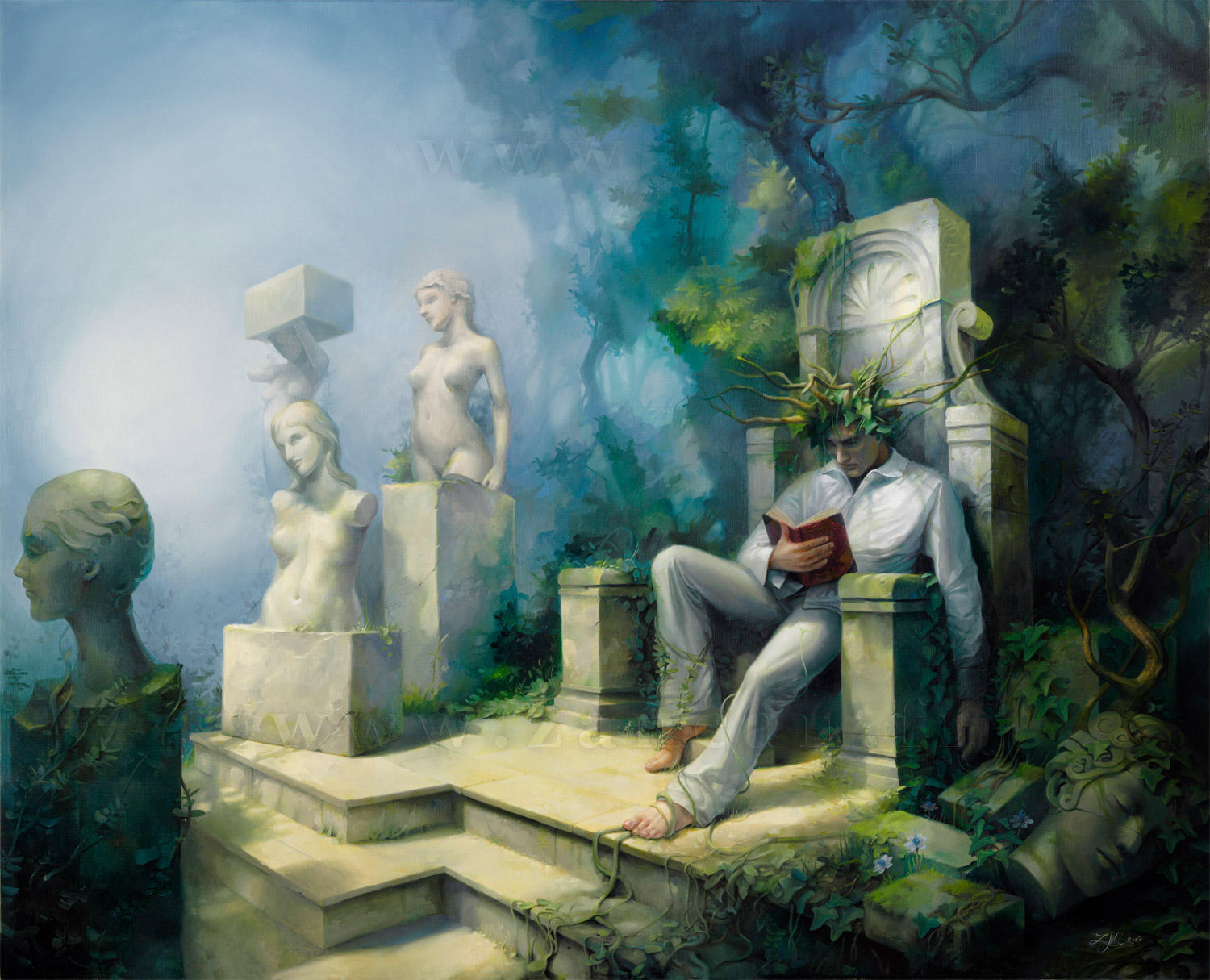 Oil painting on canvas 100x81 cm ( 39x32 '' )
This painting was done during the year 2007; it took me a lot of time before I could showcase it. There were scanning issues, but also a certain angst about it.
You will probably not feel comfortable about an image that has this personal a meaning, and that also has a darker mood than the previous ones I painted, almost unhealthy. I also believe that nobody is going to want a print of this!

... that's why I wanted to provide you with a higher resolution file, for the small details and the dedication poured on it to be appreciated.

Some close-ups and additional information can be seen on my website on this page.

Thanks a lot, for watching !

I came to this picture the usual way - jumping from one deviant's favourites to another, checking out the deviant who created the much favourited piece every now and then. Until I came to `
zancan
's profile and this particular picture of his caught my eye. Sitting alone in its own box, the preview of a lone Oberon of sorts grabbed my notice immediately. The moment I saw this work of art I knew I hadn't made a mistake coming here.
The picture more than just grabbed my eyes. It grabbed my heart. The moment I saw it, I said to myself, this is exactly how it is when a person finds a good book. You read and you read and you get immersed in it till there isn't just a person and a book. There is just a book.
The figurines around him, are like people. They don't understand the world he's in, how he feels right now. But the person doesn't care. To him they're just statues. He is already in the world of make believe, where all he hears, sees, reads, sleeps and eats is the world inside. The forest is silent, the foliage continues to grow undisturbed, letting him be, absorbing him within themselves. His body is slowly, tenderly being devoured by the vines creeping delicately up his feet, while his mind is already captured by a stronger Liana, which in turn crowns him for his absolute engrossment. The forest behind, meanwhile is darker, with more secrets. And the throne will sink further and further into it, until they are inseparable.
Of course, what he holds isn't just a book. It's a fixation, an obsession. The subject's gloomy brow almost seems to indicate that there is a mystery within what he holds that is yet to be solved. It intrigues and frightens him at the same time. And some part of him may want to break away, but he is already hypnotised. Sinking further into the chair, he is trapped. His now vacant eyes tell me he's already gone where noone can reach him now.
I don't know much about technique, being a writer myself, but the picture feels so alive I couldn't help but give it 5 stars. And of course, the vision and the originality are both fantastic, and nothing less than 5 stars was deserved. The impact of course, can be seen by how absurdly long the critique is, and how I keep staring at it, letting my eyes travel over the whole scene repeatedly, unable to take in everything, but trying my hardest to.
I apologise to readers and to the artist for the length of this critique, and how long winded it may seem at times. It was all just an outpouring oh how much this moved me. I also apologise for not being very objective. Then again, this critique came more from a non visual artist to a visual one, so it becomes difficult to restrain the words.
And now I very much look forward to keeping a watch on the artist for more such inspiring masterpieces. Keep up the excellent work!
The Artist thought this was FAIR
170 out of 172 deviants thought this was fair.
Wow. I stumbled upon this piece in a friends favorites and was blown away.

As a writer and musician I know very little about visual arts other than what I like. However, this is more than just liking a piece. This is finding that one song in millions that will make you cry.

The colors and the blending of them is stunning. The light in the center draws you into the picture and makes you feel as if you are a part of it. We all know how it feels to find a good book and be completely oblivious to our surroundings. So, I applaud the artist on taking a simple thing, one that everyone has felt, and turning it into a world of color and magic.

This is something I would be proud to hang on my wall. I look forward to seeing more from the artist.
The Artist thought this was FAIR
216 out of 221 deviants thought this was fair.