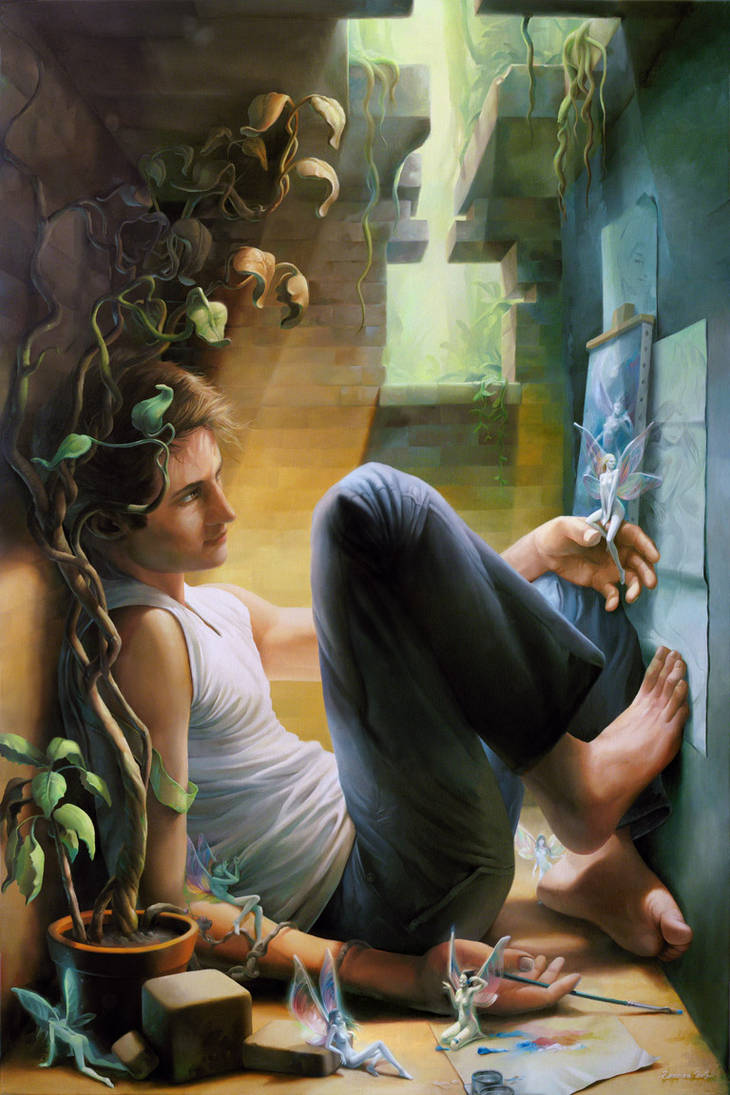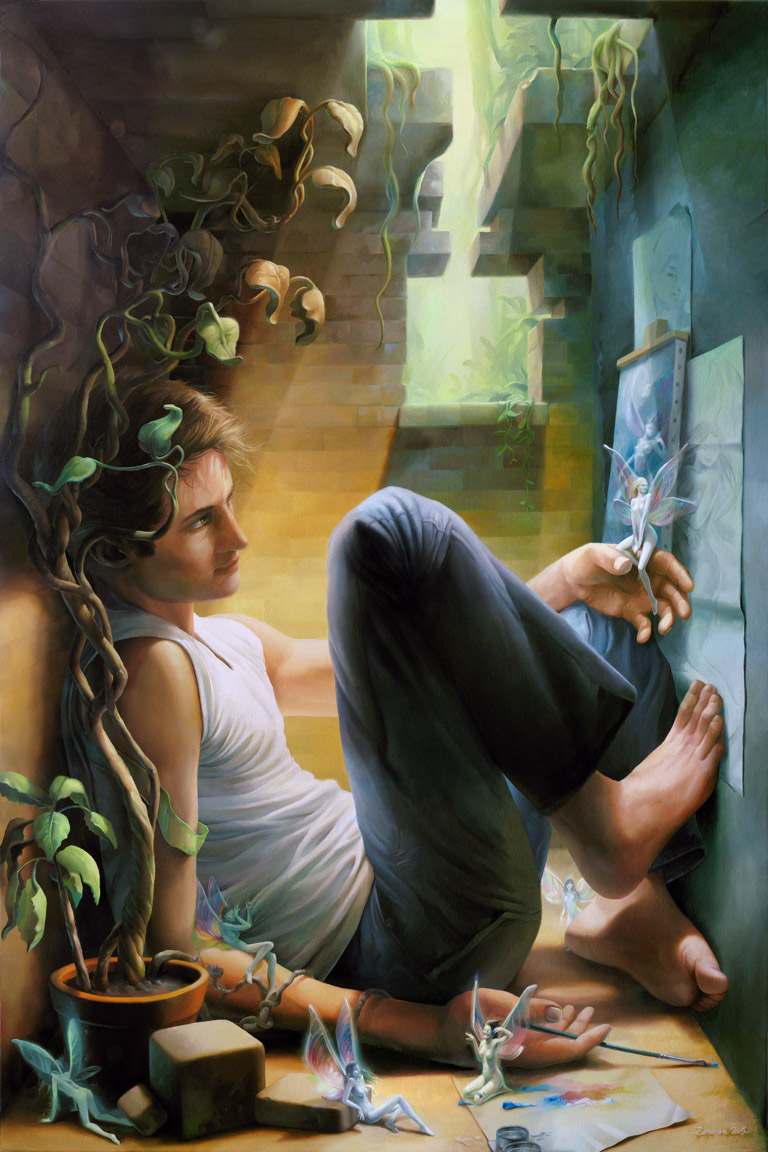 Watch
So you caught me in this reverie,
There at home where I could stay for hours.
You thought I was trapped from within.

I won't blame you, if you couldn't notice
That my aloneness was filled
Richer than all the madnesses and frenzies
You all live in.

The austere discomfort I am coiled in
Beneath that hole on the ceiling
Is a whole universe of fancies
And the sweetest haven for heart and soul.

-------------------------------------------------
Oil painting on canvas - 120x80 cm (47.3x31.5 inch)
March 2005
Making-of steps
here
.
Related scrap
here
.
(I do live in a small appartment)
To be honest, I can't believe that this is a painting.. It's so breathtaking, beyond words actually. That someone can be so talented and has such a great technique in painting (which can be really difficult) is overwhelming.

The colors are very well chosen, they appear magical, which (I think) is done on purpose. The warmth they express is really saying that it's "Home". And it's such a great concept.

Oh and the anatomy is just so perfect! And the shadows on the shirt are just.. Amazingly done. Also the expression of the man is so interesting.. It's so wonderful that this entire painting has so much little secrets and mysteries to keep you looking for quite a while. It never gets boring.

The perspective is great and doesn't seem weird at all. The placement of everything in the room seems to be right, like it just came from a picture.

The light from the roof just gives it more atmosphere.. Which it already had from the colors and feelings. It's just so beyond this world, which is the whole subject.

The unfinished painting on the floor is so nice, it's almost that it gives more sadness to it, more hopelessness.. But the fairies make it right, they seem to make the whole thing a lot happier. They look so pretty and relaxed that you can't help to get a warm and comfortable feeling from these little creatures.

Even though I know my words won't do justice, and there are a lot of things left unsaid, you'll understand my enthousiasm about this piece. Just looking at it makes me dream away, and it's also really inspiring. Great, amazing, wonderful work.
The Artist thought this was FAIR
1196 out of 1241 deviants thought this was fair.
The colors in this painting are absolutely beautiful. The warm feeling they create adds a reality rarely scene in art, without taking away interest.

The position of the body, while a little awkward, shows a brilliant amount of personality in the body.

The main thing to improve on in my opinion would be the stone, although you did go for a soft style, I think that if you had added detail to the stone in the background you would have furthered the amount everything else stands out, it's not thought of this way in photography, but certainly if you think about it like a cloud against brick, then the cloud stands out in such contrast that it makes the person look focus in on it, and because you have alot going on you definitely would better it in that way, unless you don't want to sacrifice style, which I understand. [just on the back brick wall and the bricks by the plant pot, and the plant itself, except for the leaves]

And maybe the colors of the fairies, they vary like navy and black, but I believe if they varried more in detail, personal features, stature, and maybe even in more contrasting colors it would compliment the paper palette he was painting from.

I also believe the drawing behind the canvas should have been made a little bit more like van goghs first sketches, it seems like he already has a visual stereotype for fairies, and for me that takes a little bit away from the coherence of the piece, a little more rough and sketchy lines, and a little less cartoony would make it all the better, imho.

The person himself, if you wanted it to appear as though he has been transfixed a little longer, you could make a little bit of stubble evident on his face to illustrate time. And the cream color down towards his waist could be less saturated to fit in with the rest of the shape, to me that shadow appears to be a little too warm.
The Artist thought this was FAIR
432 out of 479 deviants thought this was fair.