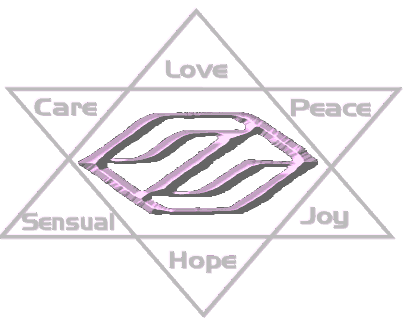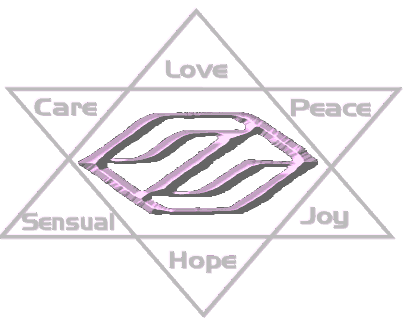 Watch
Here is my "Z" Logo for Zana, and I had been using this concept of placing it the Star of David/Hexagram for a long time if you know me... More information is in my website.
Ironically it matches up to the things I discovered ironically, the Raelian Symbol.. way back long ago before I knew there was such a thing..
I now share this with you because its the important concepts of life,
You may not use it commercialy, but you may use it to spread the message with the fruits of life

Of Love, Care, Peace, Sensuality, Joy and Hope.
Note to Raelian Visitors and others:
Please note that this symbol. I had done or derived originally in 2004, before i discovered the Raelian Movement in 2009
[link]
and discovered the similarities, and its noted to be older than life on this planet..
The original one is here:
[link]
This is symbol in my art gallery is not the official symbol, but an artitistic representation of the original..This one is my own personal one, in connection with my elfies.
Extra notes for interest sake:
Also I decifered this one by another artist in 2008,
[link]
(see my comment) where i did not know it was a Raelian Symbol, neither does the artist there know...
The ones on my site I will also privide the explanation.

Thank you very very much



I am glad you love it

You free to use and share it

Reply

hhmm you useally don't see sensual in the same list but it really fits your art for sure

Reply

Thank you, hmm sensual is in the same list

its what is lacking from this planet, perhaps the reason why it first in with my art is perhaps i may not be completely from ths planet but even made parts of it ?
Thank you


Reply

hmmm the world we live in is a nonending compromise so it's not strange that in the end people don't always feel connected with it.

hmmm practicing my sage routine how enlightened did that sound? Should I start growing the grey beard yet? *smiles mischievously*

Anyhow time here is short so make te best of it. There may be an afterlife there may not be (or worse you may have been praising the wrong god).
Reply

Hmm true perhaps

naw.. but it may improve your telepathy (((hugs)))

Hmmm yup true.. lol

I feel you are judged to how much you love and care despite what you believe in.

Reply

God is always something people can disagree on. Still I feel much of the choice of god seems to be made on upbringing.

Kinda strange that most of the people in one country feel one thing is the truth while in another country the majority all thinks something else is the ultimate truth.

In the end I think nothing written can be true, becuase if god exists it's in a way we can't understand and religion is just a way to give it a shape as much as we can.
Reply

Reply

Wow - that's clever! Now you've got a zeal, hun!


Reply

Reply

Reply

It is and quite fascinating

and i am searching for the reason why this is so... but points to my origins. Yes the star is quite common, because it came from a common source

, and thats from other planets, if you look at the galaxy for example, the six clusters in the arms produce the star, which i find fascinating

Norse art, then its from the elves

which in drectly were the Nordic visitors, it is older than the planet itself but was adopted by many cultures. Hinu also use it

if you read in my extract of decoding sensual tantra, it depicts "Tantra/sensual interaction" between two sentient beings

, where they state as gods and godesses.
Reply

Makes me wonder if Spocks ears was just a coinsidence

Nevertheless, a david star or david seal is quite easy to conjure up. People have always been playing with combos of triangles, in everything from letters to architecture. So combining them like this can't 've been that hard.
So regardless if the aliens started it or not, I'm not that surpriced to see it everywhere.
Reply

Reply