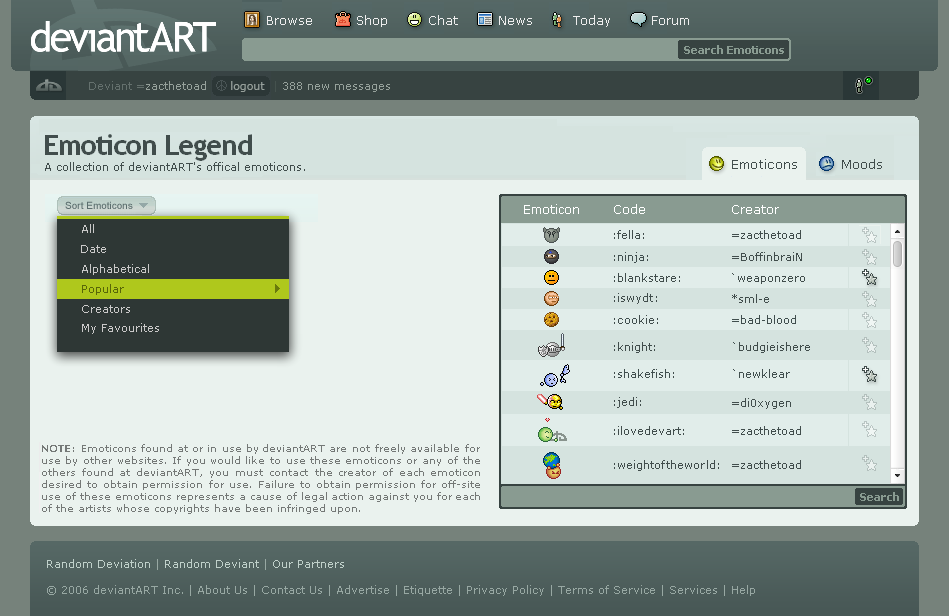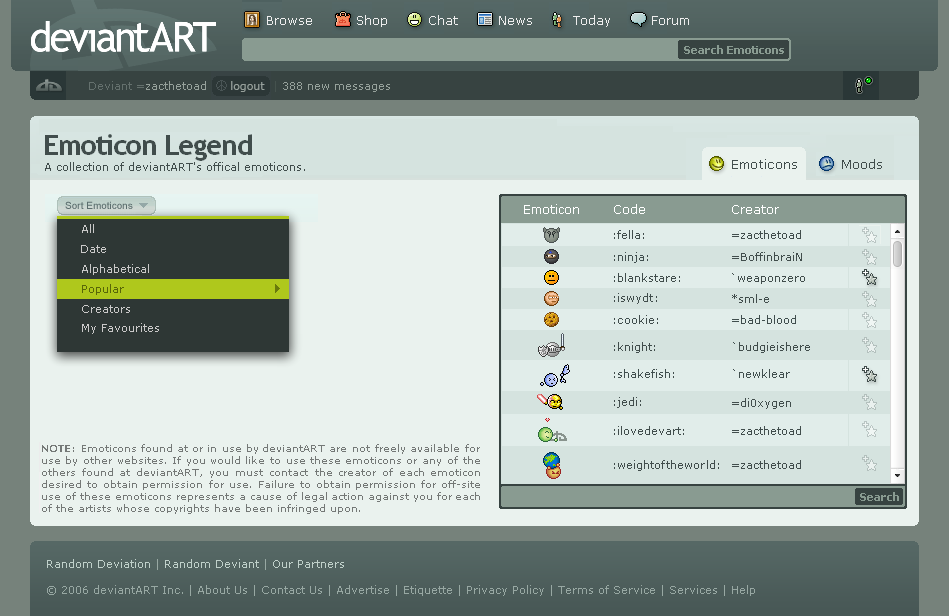 Watch
Here is something that I have thought needs to be remade for a long time. With the release of deviantART Version 5, nothing changed, so here is a compilation of ideas, thoughts and somewhat of a layout that I thought would work nicely. This is of course the Emoticon Legend.
The current one has been around for a long time, and is clearly out dated and quite basic. Back in early 2004, `
hprince329
had a similar idea, and made a mock up design of a new Emoticon Legend. From the look of the comments, the programmers looked interested and it seemed as though something might actually happen! `
hprince329
's
Emoticon Legend
was a great concept, far better then the current one we have today. It also incorporated a number of new and exciting ideas, all of which would benefit the usual deviant enormously. However, nothing has happened and I've never heard why.
So I decided to take matters into my own hands. Using some of the existing ideas, along with a few of those from `
hprince329
and a few of my own, I attempted to created a modern, up-to-date Emoticon Legend. I would have easily spent well over five hours working on original sketches for layout, navigation, design and colours as well as the incorporation of as many ideas as possible. Whilst I do not actually expect this to be implemented, I would like my ideas to be seen and perhaps even considered. Any critique on the design or any ideas about the layout or even some feature I haven't thought of would be greatly appreciated. Please let me know what you think!
There are a number of new ideas in this design, here is a list containing the majority of them as they can be sometimes hard to see with a static image.
Possibly the biggest difference between the current Emoticon Legend and this one is the fact this one is part of deviantART, that is it won't open in a new window, and it still contains the same styling and theme of deviantART.

You may also notice that in the top right hand corner of the white area, there is another tab to Moods. Recently with the introduction of deviantART Version 5, so to was the Moods System introduced. Having Emoticons and Moods in the same area is a sensible idea, and as they are both somewhat similar it will work effectively for the average user. This will also solve the matter on where to place the current list of Moods. Clicking that tab would open a similar window to what you see in front of you, with similar layout etc.

On the top frame, there is now a search bar. This would be used to search unofficial emoticons on deviantART.

Towards the bottom of the screen, there is a second search bar. This would be used to search through the official emoticons, using keywords. This function would allow users to find what they are looking for quickly with minimal hassle.

This official search will also allow you to find emoticons based on tags. So if you were to type in 'happy', the results would show five or six different emoticons that would be appropriate.

This design contains a new drop down menu allowing users to sort the emoticons into different categories. Whilst the old version had this, it was somewhat hidden. The menu idea is easy to see and easy to use. Selecting one of the categories shown will limit the number of emoticons you see, allowing you to find certain types, or for example you could search for emoticons based on who created them.

This brings me to probably one of the best features of this Emoticon Legend. The My Favourites feature. On the table on the right, in the far right column, there are +fav and –fav icons. Using this tool you can select your favourites of all the emoticons shown, and then when sorting the list, you can easily access your favourites. As shown in the example above, two of the emoticons seen have been added to the My Favourites list. To remove them you can simply reclick the correct icon.

The legal information regarding the use of deviantART's emoticons is now in the bottom left, however it is always visible, rather then only when you scroll to the bottom of the screen.

On the emoticon list, there are now four columns. As explained above, the far right is used to determine which will appear in My Favourites. The first column shows the emoticon itself, while the second one shows the code that is used. However, the new feature in this design is that the creator's name is always shown next to the emoticon. You can also sort the creators alphabetically with the sort function.
So there is the complete list for what I would like to see in our Emoticon Legend. Please feel free to comment on design, layout or with any ideas that you would/wouldn't like to see.
Emoticons shown in the list are copyrighted by their respective owners. Emoticons used for the Emoticon/Mood tabs are copyrighted by =BoffinbraiN. Permission was obtained for all emoticons in use within this deviation.
Thank you to =ipholio, who gave extremely useful help with both design issues and ideas.

Update: Adjusted slightly and updated the emoticons listed (12/10/07).