UPDATED| Updated examples and tweaked and added a new commission type!

Hello there.
As times have changed and the like, so have the reason for these commissions.
Whatever proceeds from this would allow me to be supportive of indie developments, including art endeavors. Hopefully methods work out and I could channel some to charities as well. :u
Please be noted as well that I do limited request runs at certain times of the year! (previous journals will attest to that)
---
Commission Information
I'll be doing;

Greyscale (lineart w/ greys)
,

Digital coloured
drawings and


Storybook
medallions and illusts.
- Traditional coloured drawings are discontinued for the time being!

Prices

All pricing is in
USD.

Greyscale


Headshot/Bust: 150

| $1.95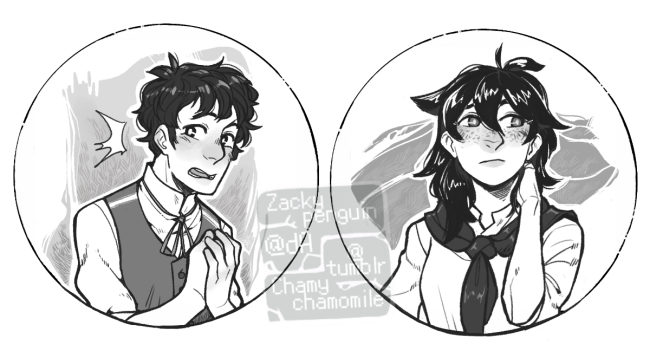 Knee up: 385

| $5.00

|

Fullbody: 750

| $9.75
|
Additional things [in the same picture]:
Another head: +50 | +$0.70
Another waist up: +120 | +$1.45
Another fullbody: +500 | +$6.50
Complex background/Scenery: +200 | +$2.50
Grey accents will be added where necessary! (i.e dark coloured hair/clothes/skin)

Digital/Traditional coloured


Headshot: 385

[$5.00] |
Headshot (watercolour) : 400

[$5.00]

Waist up: 800

[$10.00] |
Waist - up (watercolour) :700

[$8.75]
|

Fullbody : $19 |
Fullbody (watercolour): $25.00
|
Additional things [in the same picture]:
Another head: +150 | +$1.75
Another waist up: +385 | +$5.00
Another fullbody: $10.00
Smudges/shadows/blocks of colour background: No charge
Background (random or specific): +200 | +$2.50
Maximum number of characters per order :
3 characters.
All drawings, except fullbody, will have a base size of 1200 x1200 px unless you state the size you want.
The backgrounds I add in my personal drawings are random. These are up for discussion, so feel free to mention what you have in mind and I will add it to the sketches to ensure the best fit.


Storybook

Commissions under this category will always be
semi-chibi
.

Storybook - Medallions : 500

| $6.50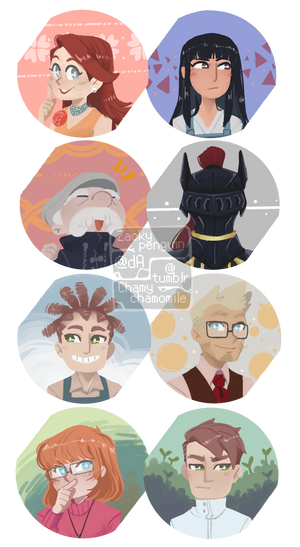 These are limited to one character bust per medallion.
Bulk orders (6 medallions onward) will price at 400 points | $5.20 each.
Each medallion will be sized at 800px x 800px (unless specified).

Storybook - Illustration : $40


The base size for these will also be 1200px x 1200px (unless specified).
The price is set for any number of characters, however the maximum number in a single picture is 3 characters.
If there is a specific shape/environment/background to be had, feel free to tell me and include references so that I may build the background as accurately as possible!
---

The Dos and Don'ts


The character can be an original character or fan character. For legal purposes, fanarts will only be a request thing.
Kindly supply a reference for these characters.
Written refs are fine, but picture references (for the character, or for their clothings/aesthetics) are best for coloured commissions.
Lay your descriptions of their personalities on me! The more I get to know them, they better I can depict your character.
Alternatively, you may ask for a certain style/look like that you've seen me do before (do link it to me!), and I will price based on the categories here. (i.e if it has fullbodies then it will cost the amount of a fullbody, etc)

No yaoi, yuri, shounenai, shoujoai, hentai, S & M, bed scenes, religion-related, politics-related or excessive gore. Kisses are okay, but make-outs aren't. Work with me to keep my page PG 13, please.

I do not encourage mecha, and definitely not fullbody anthro/furries.
The only exception is the Sharkies species and Pokemon, as I do draw them!

I will only accept
OC x OC
pairings.
---

How it works


You can choose to have any combination, it could be headshot+waist-up, headshot+headshot and the like, and they can be of different characters. Price will then be headshot price + waist-up price, etc.

Once you've decided on the character and the setting, note them to me. If it is unclear, then I will note you back for clarification.

If you have specifics, mention them in your note! This includes background preferences (if you're going for background) and anything that is clearly off the table for the commissioned character(s).

Alternatively, you can email me your details to
zackypenguin (at) hotmail (dot) com.

On payment

Payments could be made through
Skrill
at
chamsyazwani(at)gmail(dot)com.
For Paypal users, I'll be disclosing the email in note! :'o
Alternatively, you may contribute directly to a charity/fund of your choice. ouo Screenshot your contribution and it would be considered as paid-for!
You may also pay through Deviantart Points, and will have to be paid directly to the Zackypenguin account.

You can choose either to pay on order or pay upon receiving.
If you decide to pay upon receiving, then I will first send a note telling you that I've finished, then wait for your action before providing the actual finished piece.

I usually complete commissions within 3 months, but if I make no peep to you, or in a journal after that time
which is highly unlikely but can happen
, then feel free to note me!
---

Disclaimers


I have the right to reject your order if you are asking me to do something that I clearly stated in the Dos and Dont's that I don't want to do,

The commissioned piece is yours to keep and do whatever you please, but always credit where credit is due!
-----------

Thank you for your attention and consideration!