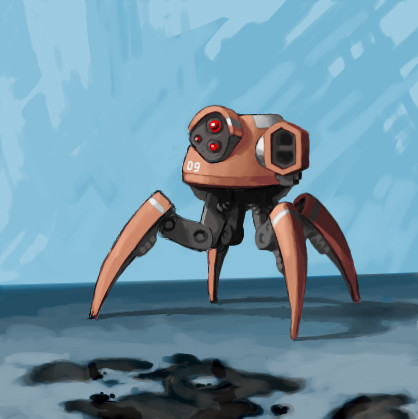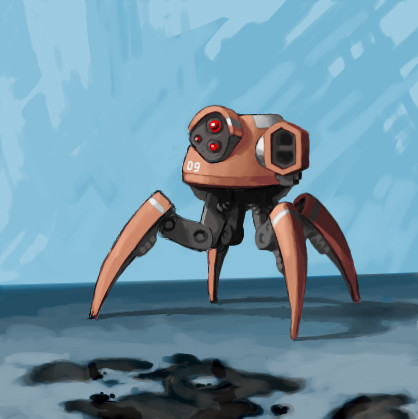 Watch
It just occurred to me today that my DA gallery was missing a few good works from back when I was active on 2draw.net in 2006, so I went back and picked a few of them out to upload to DA.

This one took about 3 hours in Lascaux Sketch. It was originally submitted for a contest and I wrote a pretty detailed description for it:

"Intended for mild security duty, the Slider is armed with a dual laser turret and three targeting eyes to help it discern distance and movement. On flat ground it can maintain a maximum moving speed of nearly 15 MPH, and due to its lightweight construction it has a vertical jump of 4.2 feet. However, Sliders have severe difficulty making sudden stops or turns at speeds above 6 MPH, prompting their nickname.

"The standard Slider model shown here weighs in at a mere 180 lbs and stands about 4' tall. While the dual laser turret remains the most popular choice of weaponry, Sliders are also available with dual submachine guns or a single high-caliber machine gun in the turret.

"Although not a particularly fearsome robot individually, Slider units are able to wirelessly communicate with each other to swarm a foe. Those who are interested in low-cost security often will purchase a few Sliders rather than spring for a larger, more expensive robot due to how easy it is to upgrade a security force by adding extra Slider units."

Can I have one? Adorable.
Reply

Reply

loving the way you've detailed the leg mechanisms a bit - i've been working on a comic with a similar kind of robot and having a hell of a time with the legs! >.<;
Reply

Thanks! Yeah, it is kind of tricky to give them a cool design and still look functional. Just gotta keep practicing.

Reply

great piece of work and liked the technical details added extra depth to the whole thing.
Reply

i am loving that crab looking mech. looks like a class of battle mechs that i made up but haven't posted. i like this. i like how you gave statistics of the robot like how fast it could move. i did't think it moved that fast. but as a battle machine speed is pretty important.
Reply

Thanks, I'm glad you like it! Yeah, I think it'd be a good design to use as enemy fodder in a video game or action movie. It seems like it'd be an intimidating sight to see a bunch of them scrambling out of a bulkhead or something, like that scene in the third Matrix movie where a horde of Sentinels are flying around.
Reply

ues indeed. in fact i designed a class of robo mechs very similar that i wanna use in my own video games, they are basically walking tanks. except their leg spands not expanded just standing up are 3 - 6 meters in width.
Reply

Oooo spider/crab robots intrigue me.
Reply

It's a bit of a departure for me. I usually draw the gigantic anthropomorphic piloted mech type, but this time I was thinking along the lines of "what would make a good badguy in a videogame?"
Reply

My ears... err... my eyes (?) are burning. (?)
...
This is an awesome, design. You must draw more 'bots.
Reply

Thanks Hunter! I've got one design as a WIP painting in my "studio", so hopefully I'll have it ready to go up soon.

Reply

I remember this one Zacky. Hunter Killer just did something like this over there
Reply

Yeah, the one Hunter is drawing is from a popular anime series called Ghost in the Shell. It's a cool design, but I can't claim to have inspired it.

Reply

Them damned Sliders will get ya every time. Who doesn't love this piece? Funny you should post this now, recently someone did a sketch on 2Draw that slightly resembles this bot, perhaps you inspired them?
Reply

Thanks Clox! Your comment made me poke around 2draw a bit to see, and it looks like 2draw is doing better than it was last time I checked. There may not be an abundance of submissions, but at least what's there isn't garbage. I'm a total Photoshop whore now, but it might be fun to mess around in Lascaux every once in a while.
Reply